Sharp TV model number 2016
Compared to 2015 in 2016 there have been minor changes in the marking caused by the use of more modern technologies.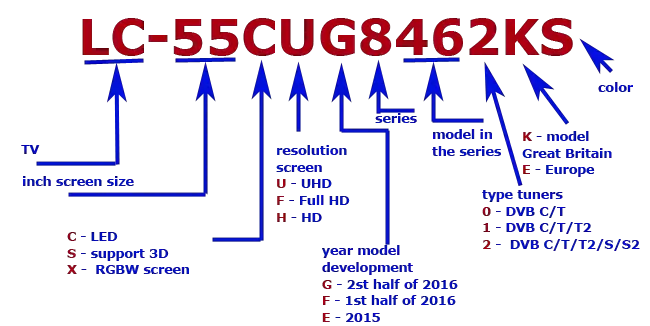 LC-55CUG8462KS
LC - It means that the product belongs to the TV
55 - inch screen size
С - type matrix screen on TV,  С - LED телевизор, S - 3D support, Х - screen with 4 colors RGBW (red, green, blue, white).
U - Screen resolution in this case, UHD or 4K
G - year model development, but even more correct release number. Sharp unlike other manufacturers to produce a model of the TV for several years, and for example at the beginning of 2016 have been released TVs with the letter F, and in the second half of the model with the letter G.
8 - series
46 - model in the series
2 - type tuners in TV
K - region for which released the TV, such as K - means that the TV is released in Ireland or the UK, it has support service broadcasting Saorview Ireland or support similar service Freeview HD for the UK.
S - S frame color screen - Silver.
Example decryption models Sharp TV from 2015

Example decryption models Sharp TV until 2015
LC-60LE857E
LC

-code assigned by the manufacturer to indicate that the product belongs to the class televisions.
60

-screen size  inches   LC-60ххххххх
5

-year development  LC-60LЕ85ххх
year development   LC-60LЕ857RU,