Active Motion & Resolution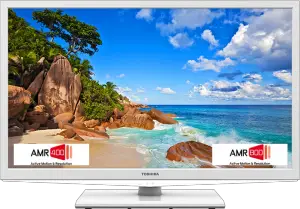 What is Active Motion & Resolution is a technology developed by Toshiba allows improved dynamic scenes when watching TV.
On the company's website provides the following description of the technology.
For smooth and clear picture of movements on the screen processor calculates the additional "image" - the intermediate image and increases the total number of frames per second, that is, the frequency of
With ACTIVE MOTION & RESOLUTION 800 increases the number of images in e few times, as a result of giving even more noticeable and smooth display of moving objects on the screen. 800 is simply an index indicating the degree of image enhancement.
Active Motion & Resolution, standard technologies designed to improve image display on TV, especially in active, dynamic scenes filmed with low frame rate of 24-30 frames per second.
How does Active Motion & Resolution
Built-in image processor processes the two technologies used to add an identical frame in the gaps between the frames and the second inserting extra frames created from two adjacent. This achieves a reduction in motion blur.
Backlight - used scanning backlight or gated lights all this short backlight off at the right time, which also provides a visual smoothness of the image and reduces blurring image.
These factors create for the viewer a smoother image much difference between 200.400, 600, 800 Hz. no.