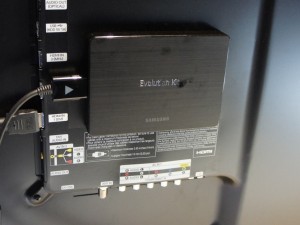 Evolution kit or even call it Smart evolution kit device developed by Samsung as an additional module that will be installed on some TV models, and in particular on the issue of separate models of TVs since 2012 have access to Smart TV.
Evolution kit has additional processors and memory. Setting evolution kit user increases the speed of your TV. You can draw an analogy with the computer, the computer may be a motherboard with integrated video card, but there is also an additional socket to which you can install a dedicated graphics card, and due to this increase the speed of your computer graphics applications.
description
Evolution kit-a 4-core CPU, RAM: DDR3 (1,5 GB) and 4 GB of flash memory, and comes complete new console designed for easier control in the browser or when using the Smart TV.
Which TV model suitable modules
SEK - 1000
Compatible with LED - TV: ES7500 series and above (2012-2013)
PDP-E8000 (Plazma)
SEK - 2000
TVs - 2014 year
What is the processor used in the Evolution kit SEK-1000 module it was originally announced that the 2-core processor will be installed in the module, but due to the reduction in the cost of components and how to say catching up with the development of television, it was decided to install in module 4 nuclear processor.
How it works-in TV special socket set, the TV performs all the available functions and features, but in 2-3 years or more such as is being developed Ultra High Definition Television (Ultra High Definition Television (UHDTV) in this format, there are many films but your TV with a low-power processor can not handle the signal conversion with UHDTV in HDTV image slows, lags behind the sound. Evotion kit will help to solve this problem for $ 200-300. by purchasing module you upgrade your TV.
Additional features - using the module, you can:
control your TV with voice and gestures
It will also be available Face Detection
Support AllShare (content sharing)
will be available the software Smart Hub 2013 (although there is nothing stopping to receive updates and without the module, except that the manufacturer deliberately will not develop new software for old television sets in order to encourage the purchase of the module.)
It is stated also that Evolution kit will be able to solve the problem installing a new memory capacious and resource-intensive software, and will significantly improve the user's interaction with a TV.
On this path of development while there is only the Samsung, the other TV manufacturers, is not developing this direction.