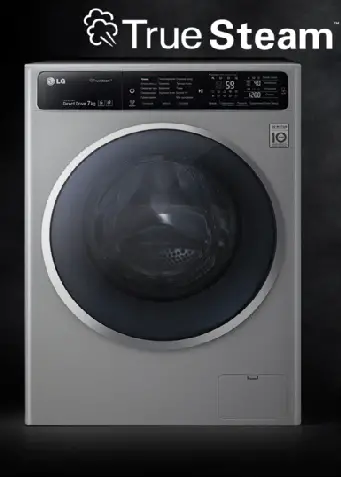 LG sets in their washing machines steam supply system. The system works very simply the water is heated and fed into the washing machine in the form of steam. Installed steam into the washing machine. Washing machines with steam generation function have in the designation True Steam function.
How does it work TrueSteam
Acting on clothing, namely in the form of minute particles in the form of moisture vapor, steam penetrates more deeply into tissue as it is hot, there is a better cleaning of garments.
Benefits:
Better cleaning of clothes
The ability to refresh clothes just steam
If the clothes are dried up before ironing can also be slightly moisten
Reducing water flow
Promotional stunts:
Removing allergens, alas steam to remove allergens can not be, the allergen acts or the fabric itself or detergents. For better removal will only extra rinse. Removing allergens just a publicity stunt.
Under the influence of steam laundry always has a temperature 50-60 ° C, such temperature underwear only at the moment steam blowout once it begins to wear clothing has a water temperature.
What do not they say in advertising:
Synthetic things have washing temperature 30 ° C, such clothing must not be treated with steam for a long time, the clothes will overheat and lose its shape.
Reduction in water consumption, just when the steam cleaning function, less hardware is added to the wash water, reducing water has practically no effect on the quality of washing, but since less water is dialed it be saved.
Overall opinion:
To some extent the steam function True Steam, helps wash clothes better and has its advantages, but to say that steam is much better quality washing impossible.