Wi-Fi Smart Screen is the ability to transfer digital video to other devices such as a tablet or smartphone.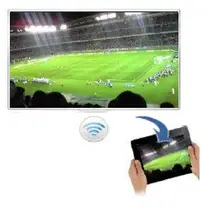 For example, such a function is implemented in Philips TVs for its implementation must be installed on the mobile device software Philips MyRemote, after installation, you have the opportunity to control your TV with your tablet or phone. And also you can enable image acquisition with a TV in this case the TV via WI-FI will be transmitted to the mobile device video streaming.
You can go to another room and continue watching TV is not a TV, and a tablet.
To some extent function like and not particularly need a modern mobile devices can independently how to go online and have the ability to install software specifically designed for viewing on Internet TV. Nevertheless, this feature is implemented in televisions, and used part of the user.