The advertised every year new opportunities TVs are actually advertising only. The present invention, which made it possible to move the TV to the higher quality levels:
The invention of color television
The transition from CRT TVs to flat screens
TV Integration with a worldwide network of Internet
These are the basic steps that have been televisions. Since 2010, despite the desire of manufacturers to imagine something new, unfortunately not very successful.
Let us remember what the main advantages in TV manufacturers touting lately.
2010

- USB ports on your TV, making it possible to view video directly from a flash drive.

2011

- To connect the TV to the Internet, only the first premium model.

2012

- the ability to view 3D images on a TV.

2013

- mass production TVs with the view 3D images

2014

- Issue TVs with OLED screens, as well as with curved screen TVs.

2015

- UHD TVs, TVs with 4K resolution

2016

- HDR support in TVs.
2017-2020 - it can be assumed that, since the revolutionary inventions not yet in sight, there will be improvement of the individual functions. If the developers decide to TV screens it will be released probably support touch control, or for example the main screen will be duplicated on the tablet or phone, and already on it will be possible to control your TV. There will be televisions with optical network ports.
Consider what actually happened to the TV over the past few years
USB port, good but unfortunately can not transfer HD videos to do this, HDMI, ports are used but rather limited. Standard USB 3.0 allows you to transfer video resolution even UHD, but we need a device with a memory of several hundred gigabytes. For one film.
Connecting the TV to the Internet, it is really a big step forward, but the clumsy management of the browser and the agony when you enter with a standard remote control of text, very annoying. It should be noted that manufacturers are aware of these problems and adapt TVs to smartphones, allowing you to control the TV via a smartphone or a set of premium TV special panels with support for voice dialing, text, as well as implement the ability to connect to the TV via USB keyboard or mouse. Very often, manufacturers want to make money by selling accessories to the TV, you can connect only the keyboard manufacturer.
3D advertised toy, quite a lot of customers first choose the TV because of this function but gradually come to understand about the uselessness of 3D. Interestingly analysts manufacturers saw great fast 3D sunset and quite a significant advancement of 3D TVs in the US, as most people in the US looks new 3D movie in a movie theater in the US only with 3D TVs sold 8 and 9 series. After 3 years of 3D TVs in almost none.
| | |
| --- | --- |
| pixel color | the life of a pixel clock |
| | 130 000 |
| | 50 000 |
| | 15 000 |
Curved TVs and TVs with OLED screens, the picture quality is much better, but the price of this TV in countries with low per capita income does not allow to make them available. Besides, no one yet knows how to behave these screens after 5-10 years of operation, as well as OLED screens tend to lose brightness over time. As an alternative to OLED screens TVs were invented quantum dot, but in reality it is a mixture of common OLED and LCD technology, part of the pixels is made on OLED technology (green) on the part of the LCD technology. Since this is a hybrid of the advertising campaign for TV quantum dot has not been evaluated.
Curved screens, unusual but not more than that, you can look great and flat screen TV.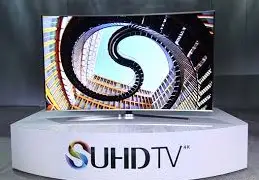 UHD TVs, completely useless improvement, content with such a resolution yet, manufacturers of TV movies and other content only master FULL HD and is not planning a massive shift in the UHD. After 2 years of UHD will not remember how and 3D. Of course the industry will go on release matrix with a resolution but these TVs will be popular after the cheapening of production 4K matrices.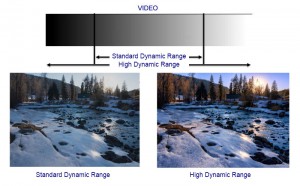 HDR,  in 2016. There is nothing new in televisions, it was extended HDR technology which has already been in TV since 2012 (eg Sony). For normal operation of the TV in the HDR mode, one of the main conditions for the transfer of video captured using HDR. But again in video quality adjustment of the image using HDR function is already performed when shooting. Probably the most useless feature on TV. Manufacturers understand this and virtually ceased in advertising to pay attention to the presence of HDR.
Television as well as other electronics, peaked improvements for better transition to something new is necessary breakthrough in technology, and this takes time.