Chinese concern TCL, after presenting its TVs under the brand TCL, Thomson, RCA, Rowa. The names of their TVs for each region, if Europe were popular brand Thomson and most TVs are marketed under that name.

Designation of TVs for different regions differ quite substantially, this indicates that the manufacturer does not have a single center for the development of models, probably just to make purchases of components and assembly of the TV depending on the vendor and logistics. Therefore, if in America there are two plants, they are focused on the assembly of TVs for North America and South America. Designation is different depending on which factory made assembly set.
Description TV TCL Europe
In Europe, as the TCL brand in Europe is not known for the majority of TVs sold under the Thomson brand. TCL TV redstavleny only in Poland, Spain, Germany and France.
Example decryption of TV TCL Europe
U65S8806DS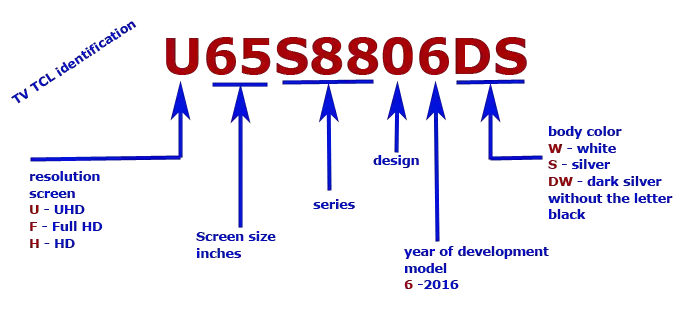 U – screen resolution U-UHD, F-Full HD, H-HD
65 – inch screen size
S88– series
0 – design
6 – year development model
DS- color, W- white, S – gray, DS – dark grey
Designation TCL televisions, USA, Canada.
In the US and Canada, TCL TV models next designation
55UP130
55 – inch screen size

U

– screen resolution: U – UHD, F – Full HD, no letter HD.

P

– Remote control type: P – remote control TV with the possibility of listening through headphones connected to the remote control, S – standard remote control.
130 – series