In mid-2015 Chinese group buy Hisense TV manufacturing plant in Mexico, and with it the right to sell in the US, Canada and Mexico under the brand Sharp TVs Hisense production. On the official websites of Sharp in the United States is no longer presented TVs released in 2016.
The promotion of Sharp TVs in the market of North America, the owner of the trademark Hisense, does not. Almost stopped selling TVs in Canada and Mexico.
Trademark Sharp for TVs, is actively used only in the US, although in terms of technical characteristics it is Hisense TVs.
As a rule, it is not always profitable for companies to support several brands in one group of products. Sale of TVs under the brand Sharp is likely to be discontinued in a few years.
Sharp TV identification models number for North America (made by Hisense)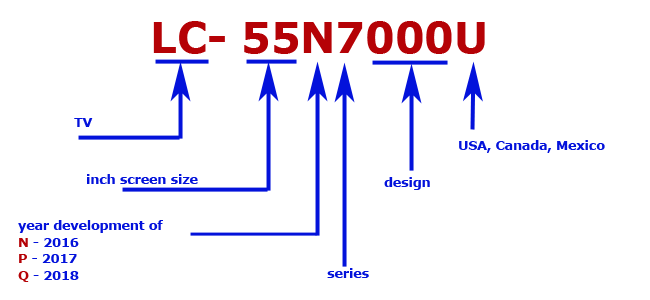 LC- 55N7000U
LC – TV
55 – inch screen size
N – series of 2016, series 2017
7 – series
000 – design
U  – TVs for the US, Canada, Mexico.
2018
In 2018 nothing new with TVs did not happen, the same models of 2017 only with a new designation of the TV model number.
2017
A set of functions standard for HDR TVs, Smart TV, 4K screen resolution.