Processors from intel are marked which defines the basic parameters of processors.
Applicable at this time the marking has been introduced since 2011 and began to be used in the second generation series processors i3, i5, i7.
The clock frequency of the nuclei depends on the type of processor and may vary to a rather large range. Also, processors have a base frequency and maximum frequency in turbo mode with Intel® Turbo Boost technology is turned on.
Explanation of designations Intel i-series processors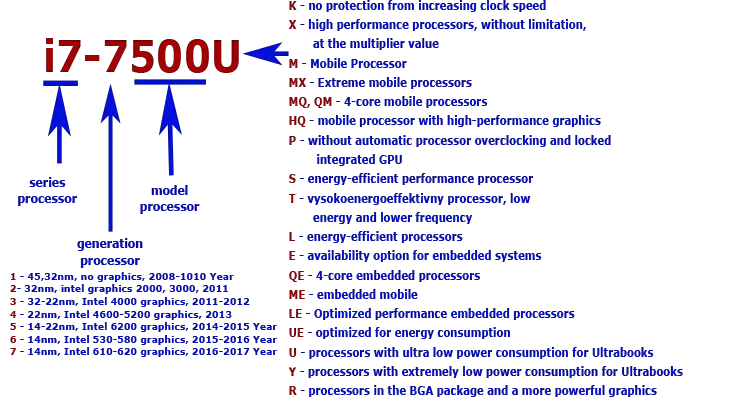 i7-7500U
I7 - processor series
7 - processor generation
500 - version of the processor, the more the more technical designation possibilities.
U - features processor
K —not by increasing clock frequency protection
X — high performance processors, without restrictions on the value of the factor
M — mobile processor

MX — Extreme mobile processors

MQ, QM

— 4-core mobile processors

HQ - mobile processor with high-performance graphics
P — without automatic processor overclocking and blocked integrated GPU
S — energy-efficient performance processor
T — highly energy-efficient processor, low power consumption, and lower frequencies
L — energy-efficient processors
E — availability option for embedded systems

QE — 4-core embedded processors
ME — embedded mobile
LE - Optimized performance embedded processors
UE — optimized energy consumption

U — processors with ultra low power consumption for Ultrabooks
Y — processors with extremely low power consumption for Ultrabooks
R — processors in the BGA package and a more powerful graphics