Samsung offers several types of refrigerators,
with a freezer bottom,
with a freezer at the top, but such refrigerators are not sold in all countries.
refrigerators with a freezer compartment on the side side by side (in some countries) such refrigerators are called, American type refrigerators or family refrigerators.
many door refrigerators, such refrigerators have doors more than two, also such refrigerators are called French Door (French door).
Decode model number Samsung refrigerators 2012-2018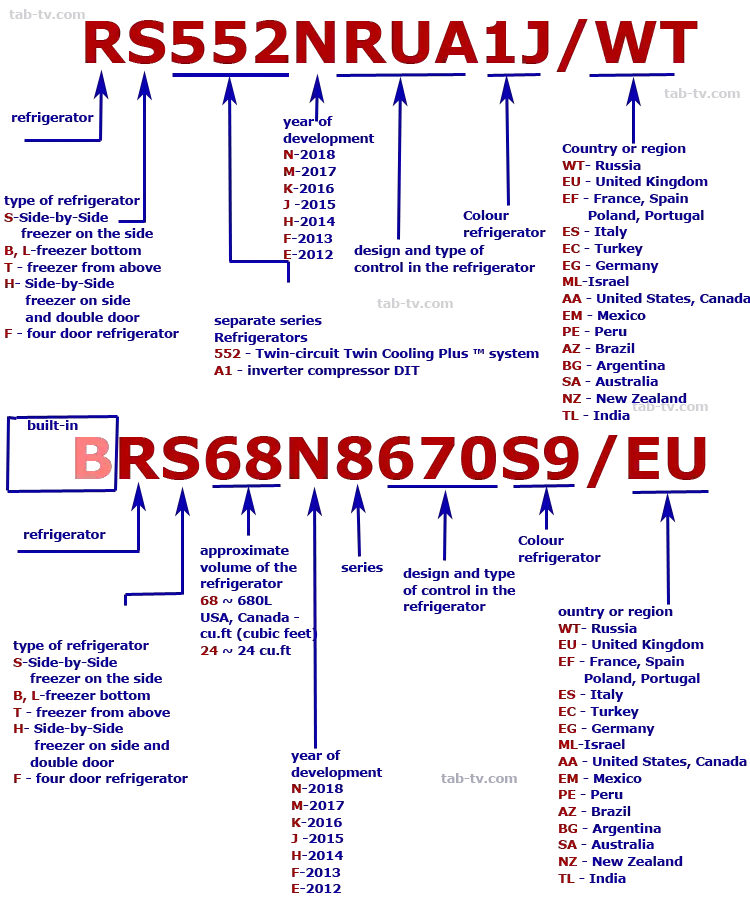 In the labeling of refrigerators, the manufacturer indicates information about the type of refrigerator, its volume, type of control (although this information is of no practical use), the color of the refrigerator and the country for which this refrigerator is manufactured.
Example decryption
RS68N8670S9/EU
В – first letter, indicates that the refrigerator is built-in
R – refrigerator, means that this product is a refrigerator
S – type of refrigerator, S-Side-by-Side freezer on the side; B, L-freezer from below; T-freezer from above; H-Side-by-Side freezer on the side and a double door (an additional door with glass, lets you see that in the refrigerator without letting out the cold; F-four-door refrigerator; R-refrigerator with one door.
68 – Approximate volume of the refrigerator (for countries using the metric system of calculation in liters, in the US, Canada and a number of other countries that use the English system in cubic feet).
N – year of development,  N-2018 M-2017 K-2016 J -2015 H-2014 F-2013 E-2012
8 – series
670 – indicates the type of control and design of the refrigerator (the presence of handles, dispenser)
S9 – color of refrigerator
EU – the last two letters, the country for which the refrigerator is made. Since a compressor is installed in the refrigerator for a certain voltage, it is important that the refrigerator gets to the country for which it was made.
Also released several models of refrigerators in which did not specify the volume for example RSA1SHVB1, RF24HSESBSR or RSG5UUMH1, these refrigerators were positioned as a series of A1, G5, 24. In the refrigerators of these series, some one feature was elevated to the rank of advantage, although refrigerators of other series also had this function, (marketing move).
The color range of refrigerators is very diverse, each year there are new shades, for acquaintance in the table are collected the most common colors of refrigerators.
color designation of the refrigerator
designation
Color
RS, SR, US
Stainless steel
RL63GABRS
BG, 2C
Black glass
RSH5SLBG
MR, 2A
specular
RSH5ZLMR
WG, 1L
White glass
RL55TTE1L
TB, BC
black
RL50RECTB
VB, EF
Beige
RL57TGBVB
SW, WW, WP
White
RL59GYBSW
PS, TS, SA, SH
Silver
RB38J7761SA
PN, IH, IS, SS, S8
INOX (imitates stainless steel)
RSH5SBPN
SL
INOX 2 (imitates stainless steel)
RL55TEBSL
X4
Elegant steel
RL52TEBX4
7F
Elegant steel
RH60H90207F
XB
Brown
RB41J7751XB
3L
TL
DP
Noble bronze
RH60H90203L
RL55TGBTL
MG
Silver
RL59GYBMG
5K
Steel under glass
RL57TTE5K
1J
White under glass
RS552NRUA1J
S4
Steel
RB41J7857S4
5H
Steel under glass with engraving
RS844CRPC5H
XW
Stainless steel with engraving
RF905QBLAXW
2B
Black glass with rhinestones
RS844CRPC2B
9M
Bordeaux
RS552NRUA9M
UT
Purple
RT53K6340UT