General Electric also manufactured household appliances under the GE brand. But in 2016, the home appliance business was sold to the Chinese concern Haier. Which under the license continues to produce household appliances GE. The GE trademark remained the property of General Electric.
The designation of the model of General Electric washing machines allows to determine the main characteristics of the washing machine.
General Electric washing machine, types  washing machines GE
General Electric washing machines, produced in several types.
Front loading
Top load
A series of washing machines that can be put one on one.
Small washing machines
Laundry centers
Decode model number washing machines GE (General Electric)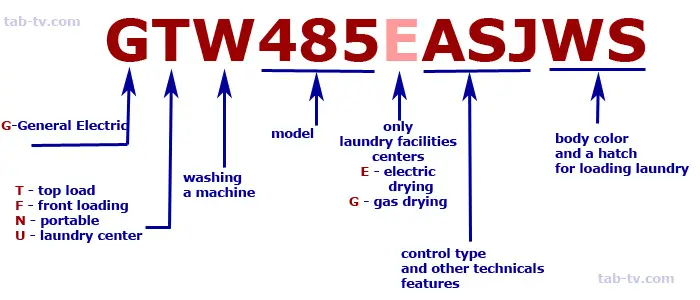 Example decoding model number of washing machine GE
The designation of the GE washing machine model is not complicated and is easy to decipher. Let's look at an example model number GTW485EASJWS
G – General Electric product. 
T – indicates the product feature, (E – top loading, F – frontal, N – mini washing machine, U – laundry center).
W – product type washing machine.
485 – Model washing machine
E – only for laundry centers with a dryer, E – electric drying, G – gas drying.
ASJ – type of control and other information about the model of the washing machine, mainly needed for service centers.
WS –  is the color of the case of the washing machine and (the door or the hatch). W – color of the case, S – color of the door.
The main colors of GE washing machines
DG – Diamond Gray, алмазный серый.
WS – White  Silver.
WW – White and White.
RR – Ruby Red.
As can be seen from the designation of the number and model, it is almost impossible to obtain special useful information. The fact that the washing machine, for example, with top loading, is already understandable, the buyer will vibrate from the washing machine with the top loading. In the Main model number in washing machines is used to identify the product at the time of purchase. More or less useful information about the color of a particular model of the General Electric washing machine.