General Electric is an American company producing household appliances, including refrigerators. Like other manufacturers, refrigerators have a model number. Knowing what information the manufacturer reflects in the label, you can find out about the main technical characteristics of the refrigerator.
GE refrigerators have two types of model designation.
Side-by-side or French-style refrigerators.
Refrigerators with a booth at the bottom and a freezer at the top.
GE (General Electric) refrigerators model number type French door and side by side decode, exlained
Consider the example of the model designation refrigerator PSB48YSKSS
P – refrigerator series GE Profile™
С – refrigerator series GE Café™
G – refrigerator General Electric
The second letter indicates the type of refrigerator, design features
S, Z – side-by-side refrigerators, in these refrigerators the freezer is located on the side.
Y, А – fridges of type french door, in the freezer drawers.
W, N – Refrigerators without a dispenser have this label.
The third letter indicates the design features.
B -built-in appliancesа
E -ENERGY STAR® Refrigerator Series®
D -a series of refrigerators with double doors of the door in door type.
48 – refrigerator model, features of management and placement of shelves.
SKSS – the last letters indicate the color of the refrigerator.
SHSS – stainless steel
SKSS – stainless steel
BLTS – black stainless steel
MKES – gray with blue shimmer
ELDS – black with blue tint
GKBB, GLBB – black
GE (General Electric) refrigerators with freezer top and bottom decode, explained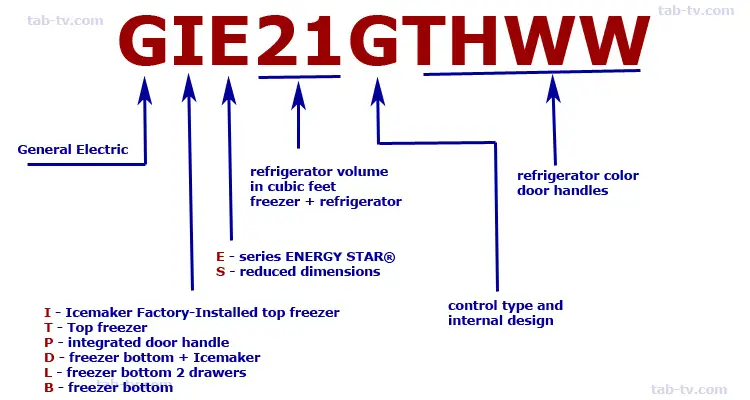 Model designation for refrigerators with lower and upper freezer is different. In such refrigerators, the designation is as follows, consider the example of the model of the refrigerator GIE21GTHWW
G – the first letter indicates the product General Electric
I – indicates the type of refrigerator
I – ice generator installed at the factory, fridge with top freezer.
T – Top freezer
P – built-in door handle, freezer on top.
D – freezer bottom + Icemaker
L – freezer bottom and has 2 drawers
B – freezer bottom
E – Refrigerator series, ENERGY STAR® series or with reduced dimensions – S
21 – as with French door refrigerators, indicates the volume of the refrigerator in cubic feet.
G – changing the design and type of control of the refrigerator
THWW – refrigerator color, refrigerator handles, doors