The Samsung washing machine serial number can be deciphered to find out where the washing machine is made.
And you can also get an answer to the question of how, find out the date of issue of the washing machine.
The designation of the model number of washing machines indicates the year when the model was developed and production began, but it must also be borne in mind that washing machines can be produced for several years.
Where is the sticker for Samsung washing machine located?
Samsung places one sticker behind the washing machine, the other under the hatch to load laundry. The shape and content of the stickers may vary. The shape of the sticker varies depending on the plant where the washing machine was manufactured and for which country it is delivered.
Interpretation of the serial number of the washing machine Samsung for example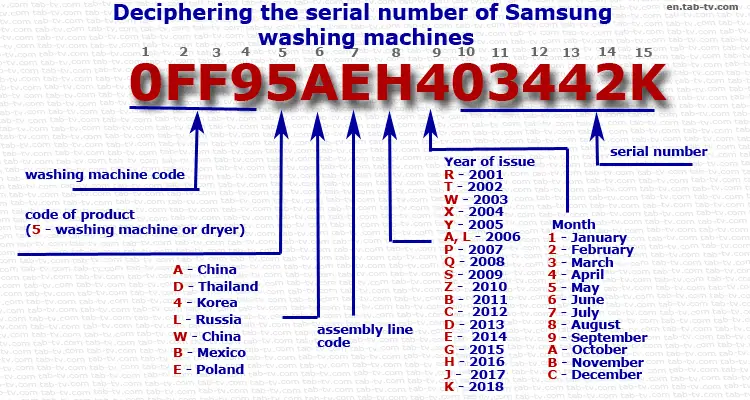 The serial number of the washing machine, like other Samsung products, consists of 15 characters. Example of the serial number in the picture, 0FF95AEH403442K
The first four characters OFF9 are the code of the washing machine, in which there is information about which plants supplied the parts of the washing machine for the assembly of the finished product.
The fourth digit is 5, it indicates. what is household appliances for washing. The number 5 denotes washing machines and tumble dryers.
The fifth digit is the code of the plant where the washing machine is assembled.
A – China
D – Thailand
4 – Korea
L – Russia
W – China
B – Mexico
E – Poland
The seventh digit code of the assembly line or assembly line.
8 and 9 digits is the year and month in which the washing machine left the assembly line.
Year of issue
R – 2001
T – 2002
W – 2003
X – 2004
Y – 2005
A, L – 2006
P – 2007
Q – 2008
S – 2009
Z – 2010
B – 2011
C – 2012
D – 2013
E – 2014
G – 2015
H – 2016
J – 2017
K – 2018
Month
1 – January
2 – February
3 – March
4 – April
5 – May
6 – June
7 – July
8 – August
9 – September
A – October
B – November
C – December
The last 5 characters, this is information about how the washing machine was produced.