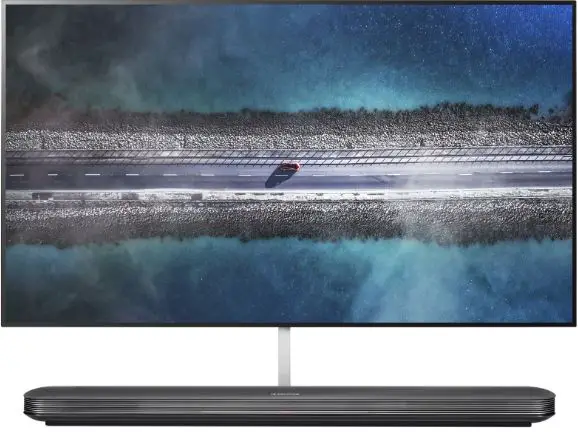 Let's see how LG OLED TVs are different from the W series. As we know, different models of TVs are assembled for different markets. Differences in the type of digital tuners Europe adopted the standard DVB, USA ATSC / ClearQAM. And of course, different electrical networks in terms of frequency and voltage, although now it's not critical, modern TV power supplies can be universal, if the manufacturer so decides.
Model TV series W9, W8 (2019-2018) USA, Canada, Europe
Europe – OLEDW8PLA (2018) and OLEDW9PLA with screen sizes 65 and 77 inches. TV models OLED65W8PLA, OLED77W8PLA (2018), OLED65W9PLA, OLED77W9PLA (2019).
USA, Canada – OLEDW8PUA also with screen sizes of 65 and 77 inches. TV Models OLED65W8PUA, OLED77W8PUA (2018), OLED65W9PUB, OLED77W9PUB (2019)
The design of the size of the TV has not changed. The changes affected only technical improvements in some aspects, we will consider this in more detail.
What's new in the LG OLED W9 TV
Screen Dimming System, W9 Pixel Level Dimming, W8 Self Lighting Pixel. Some sites say that the changes affected the hardware in the model W9 uses a separate chip to control the backlight. But our opinion is that a separate chip was also used in the W8 model, perhaps it was built into another component. To control the backlight you need a controller that regulates the voltage levels that are fed to the screen pixels. Otherwise it is not possible to implement the function of dimming the screen. The changes are not significant, the software algorithms may have been slightly modified, but this cannot be called a big improvement.
W9 a9 Gen 2 Intelligent Processor, W8 a9 Intelligent Processor. What exactly the differences between the processors is unknown. Description on the official website of LG says that the second-generation processor is steeper, but all the improvements do not relate to hardware, but relate only to the improvement of software. The only hardware improvement is support for 8K resolution, but this only means that the processor has a graphics processor that supports 8K resolution
The operating system is updated in TVs in 2019 to WEB OS 4.5
Bluetooth – new version 5.0
HDMI 2.1 standard in 2018 HDMI ports were standard 2.0. What gives the installation of new HDMI ports. Ideally, your TV will be able to support the new features implemented in the standard HDMI. But do not forget that the second device that will be connected to the TV must also support HDMI 2.1. And you also need a new HDMI 2.1 cable. And most importantly, you need content in which there is data that supports HDMI 2.1
So, we looked at the differences in the LG W Series TVs, in more detail about all the technical characteristics in the table below.
LG OLED W9 vs W8
| | LG OLED W9 (2019) | differences | LG OLED W8 (2018) |
| --- | --- | --- | --- |
| screen | | | |
| Screen Size inch | 65, 77 | | 65, 77 |
| Screen Size real | 64.5", 76.5" | | 64.5", 76.5" |
| Style | Flat Panel | | Flat Panel |
| Resolution | 3,840 x 2,160 | | 3,840 x 2,160 |
| screen bit | 10bit | | 10bit |
| type screnn | WRGB | | WRGB |
| screen technology | OLED | | OLED |
| Backlighting | No | | No |
| Dimming Technology | Pixel Level Dimming | ✅ | Self Lighting Pixel |
| Video | | | |
| refresh rate | 120 | | 120 |
| Color | Intense Color, Billion Rich Colors, Advanced Color Enhancer, True Color Accuracy Pro | | Intense Color Billion Rich Colors, Advanced Color Enhancer, True Color Accuracy Pro |
| Contrast | Object Depth Enhancer, Ultra Luminance Pro | | Object Depth Enhancer, Ultra Luminance Pro |
| Clarity | Quad Step Noise Reduction, Frequency Based Sharpness Enhancer | | Quad Step Noise Reduction, Frequency Based Sharpness Enhancer |
| Recolution Upscaler | 4K Upscaler | | 4K Upscaler |
| HDR (High-Dynamic Range) | 4K Cinema HDR (Dolby VisionВ®, HDR10, HLG), HDR Dynamic Tone Mapping Pro, Advanced HDR by Technicolor | | 4K Cinema HDR (Dolby VisionВ®, HDR10, HLG), HDR Dynamic Tone Mapping Pro, Advanced HDR by Technicolor |
| Picture Processor | a9 Gen 2 Intelligent Processor | ✅❗ | a9 Intelligent Processor |
| AI TV | | | |
| LG ThinQ AI | Yes | | Yes |
| Google Assistant | Yes | | Yes |
| Alexa | Yes | | Yes |
| Google Home Compatible | Yes | ✅ | devise sold separately |
| Amazon Alexa Compatible | Yes | ✅ | devise sold separately |
| Intelligent Voice Recognition | Yes | | Yes |
| SMART TV | | | |
| OS | Web OS 4.5 | ✅ | Web OS 4.0 |
| Remote control | Magic Remote Control | | Magic Remote Control |
| LG Content Store | Yes | | Yes |
| Web Browser | Yes | | Yes |
| Audio | | | |
| Dolby | Dolby Vision & Atmos Cinema | | Dolby Vision & Atmos Cinema |
| DTS | Yes | | Yes |
| Sound Output | 60W (20W Woofer) | | 60W (20W Woofer) |
| Woofer | Yes | | Yes |
| Speaker Type | 4.2CH | | 4.2CH |
| Bluetooth Audio Playback | Yes | | Yes |
| LG Sound Sync | Yes | | Yes |
| Game Mode | Yes | | Yes |
| CONNECTIVITY | | | |
| Wi-Fi | Yes | | Yes |
| Bluetooth | Yes Version 5.0 | ✅❗ | Yes Version 4.2 |
| Screen Share | Yes | | yes |
| HDMI-CEC (Simplink) | Yes | | Yes |
| Smart Phone Connectivity | Yes | | Yes |
| HDMI | 4 (2.1) | ✅❗ | 4 (2.0) |
| Audio Return Channel Support (ARC) | Yes | | Yes |
| USB | 3 | | 3 |
| Ethernet | Yes | | Yes |
| RF In (Terrestrial/Cable) | Yes | | Yes |
| RF In (Satellite Input) | Yes | | Yes |
| Digital Audio Out (Optical) | Yes | | Yes |
| Digital Broadcasting US | ATSC/ClearQAM | | ATSC/ClearQAM |
| Digital Broadcasting Europe | DVB T/T2/C/S/S2 | | DVB T/T2/C/S/S2 |
| Analog Tuner | Yes | | Yes |