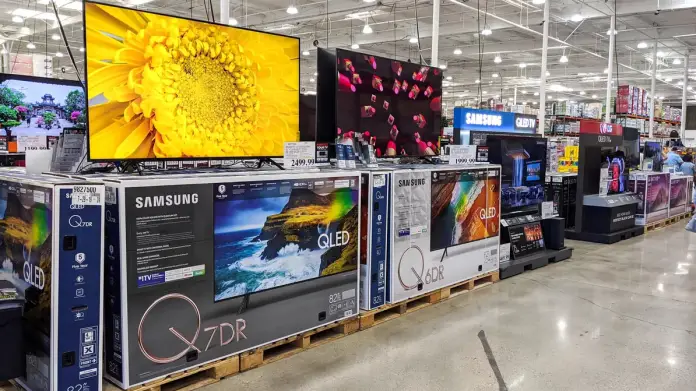 If you have decided to buy a new TV and your budget is limited, there are a few things that can help you save money when choosing a TV. I think almost every buyer doesn't want to overpay, and the best option is to buy the best TV for the least money.
Of course, if you need a TV right away, the only thing you can do is choose the right model, but if you have the time, picking the right purchase period can save you money on buying a new TV.
How the pricing policy for TVs changes throughout the year
You should know that TV manufacturers update their TV lines in different ways. For example, Samsung, LG, Philips, Sony, Panasonic start producing new TV models at the end of the first quarter and in the second quarter.
And Vizio announces new TV series in the second half of the year.
After the new TV models are announced and go on sale, the price of last year's models is reduced by $200 to $500.
This is a good discount if you are willing to buy a TV model that is not the latest. Typically such discounts start in May, the price gradually decreases and stabilizes by the end of the year.
How the price of TVs changes on Black Friday
Black Friday is a traditional time for massive discounts on TVs. However, note that, as a rule, large discounts are offered on TV models of not very famous brands and on TV models of previous years. For the most recent TV models the discounts are usually not very big, only about 5%.
Recommendation: Check and write down the price of the TV models you are interested in and compare the price change on Black Friday.
As I said, the price of new models usually doesn't change significantly, but it is possible that this year the sales of some models were not as successful as the company expected and there will be a good discount on this model.
How the price of TVs changes in retail chains
You may not have known that the big retail chains only order TVs for sale through their stores.
These televisions have a slightly different model number. For example, Walmart orders TVs from Samsung to sell in their stores.
Due to reduced logistics costs, such TVs are $200 to $300 cheaper than a similar TV made for mass sale. You can hardly call it a discount, but it's a saving you get if you buy a TV at a major retailer.
How the price of TVs changes on Amazon
Amazon is a big marketplace, and it offers Amazon itself as well as many different sellers.
You have to understand, the bigger the buyer, the more they can demand a bigger discount from the manufacturer. Look at the example below, Amazon is offering a $198 TV cheaper than other sellers.
I want to save money when buying a TV, what should I do
I will tell you how to find the cheapest option for buying a TV. If you have decided on a TV model, do the following:
Find that TV model on Amazon, check the prices of all the sellers
Find this model of TV at big retailers like Walmart, compare prices.
If the purchase is not urgent, wait for the discount season, Black Friday or Cyber Monday.
See what electronics stores are near your home, use Google or Apple Maps. Visit their websites, compare prices, or drive through their stores. It is possible that you will be able to negotiate a discount on the spot.