TCL TVs who is the manufacturer
In the TV market, TCL offers quite a few TV models. TCL is a Chinese company specialized in manufacturing electronics. Using an aggressive pricing policy, offering televisions with large screens but at an affordable price. Applying new technologies in televisions, for example, TCL in 2019 produces a TV model with a QLED screen, purchasing screens from Samsung. TCL has become a leader in the number of televisions produced and produces about 30 million televisions per year. Part of the TVs is assembled under other brands under the outsourcing scheme.
What you need to know about TCL TVs
The models of televisions manufactured by TCL are very different depending on the country. Although TCL mainly produces budget televisions. For the markets of the USA, Canada, Australia, Europe, more modern TVs are produced. Although there are also many budget models. For other countries, these are television sets of only the budget segment. TCL does not develop its own operating system for TVs. In most cases, Android is used, for the US TVs with the operating system from Roku TV are produced.
Quality TVs TCL
Like other manufacturers there are defective TVs. With the launch of a new screen factory, display quality has improved. TCL assembles other brands of TVs from its components as well as other brands on order. Do not expect anything special from TCL; these are Hisense, Toshiba and other Chinese TVs. The advantage is a price that is 10-40% lower than LG, Samsung, Sony.
Where are components manufactured for TCL TVs?
TCL produces all components for TVs in its factories. Screens are manufactured in China at the factory of China Star Optoelectronics Technology Co., Ltd. This company is part of TCL and produces screens for telephones and televisions. Production backwaters are located in Wuhan and Shenzhen. Boards and TV cases are also made in China.
TCL TV Factory Vietnam
Vietnam has recently become very promising for the location of production. So TCL has two factories, the first one located in Dong Nai and produces about 500,000 televisions per year. The second plant under construction in Binh Duong, the construction of the plant began in 2019 and consists of three phases. Upon completion, plants will be able to produce 3 million televisions per year. It is planned that the factory's TV sets will be delivered to the markets of Vietnam, the Philippines, Thailand, the USA and Europe.
Television Factory TCL Poland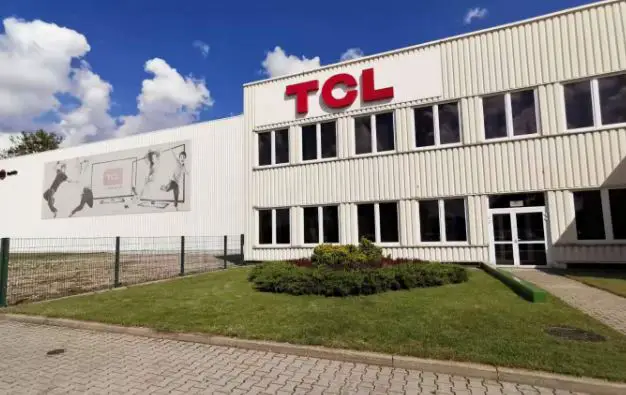 TCL Plant in Poland (TCL Operations Poland Sp. O.o.) is located in the town of Zyrardows. The plant produces both TCL TVs and other brands according to the outsourcing scheme. The production volume of TCL TVs and other brands is approximately 50/50. In 2017, it was planned to increase the number of assembled televisions to 3 million units per year. As of the beginning of 2020, the plant's capacities allow it to collect about 2 million TV sets per year. Components for TVs are supplied from China. Manufactured TVs are sold in Europe.
TCL TV Factory India
For the Indian market, televisions are manufactured in Tirupati. The plant's capacity allows it to produce 8 million screens for TVs ranging in size from 22 to 55 inches, as well as 30 million screens for smartphones. After the assembly lines are fully launched, the plant will assemble 6 million televisions per year. Mainly for the Indian market.
TCL TV Factory Mexico
TCL collects televisions in Tijuana, the plant's capacity allows to collect about 2 million TVs per year. Market North America, Central America.
TCL TV Factory Brazil
In Brazil, TCL created a joint venture called SEMP + TCL, SEMP K previously produced Toshiba TVs. Now the factory is going to TCL TVs for South America.
TCL TV Factory Egypt
In Egypt, a joint venture for the assembly of televisions TCL. The founders of the joint venture were Elaraby Group and TCL. TCL has modernized Elaraby factories and now in Egypt, about 1 million televisions are assembled per year. TVs are supplied to the markets of Africa, the Middle East.
Factory for the production of TVs TCL Russia
In Russia, there are no TCL plants for the assembly of televisions; some models are assembled according to the outsourcing scheme at the Telebalt enterprise.
TCL TV Factory China
TVs are also being assembled in China for the domestic market and some countries, for example, some TV models are made for Australia.