Who produces OLED TVs in 2020
Since 2016, when the first OLED TV appeared on sale. Many companies have begun to produce televisions with OLED matrices. The technology for producing organic LED screens is not new. But only LG has taken the path of developing large screens. LG Display supplies other companies with large-format OLED displays for television production.
List of companies producing OLED TVs
OLED TVs are manufactured by LG, Sony (leaders), Panasonic, Philips, Skyworth, Hisense, Konka, Changhong, Crundig. There are companies that started the production of OLED TVs, but failed, although you can still find such TVs on sale. These are Metz, Loewe, Bang & Olufsen, Vestel. OLED screens on all LG TVs are typically 55 and 65 inches. Such OLED screens LG produces the most mass.
Having bought a screen, TV manufacturers install screens in their own TVs, and processors, image processing algorithms from each manufacturer are individual. The highest quality image on TVs Sony and LG. Other manufacturers are trying to make the cost of the TV as low as possible in order to compete in the market for prices, but quality suffers from this.
OLED TVs LG 2020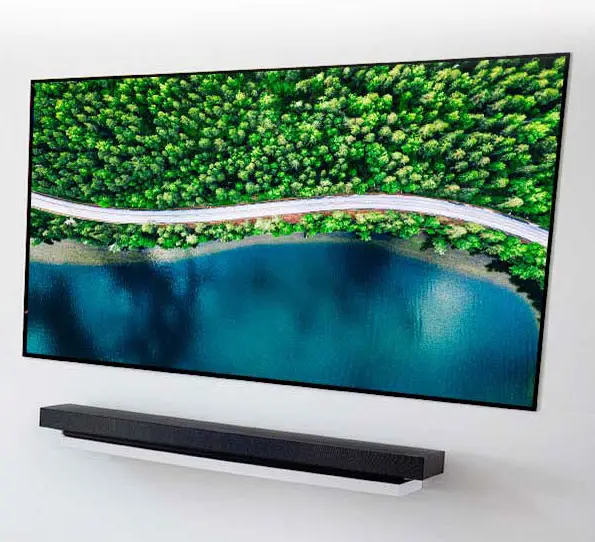 The first OLED TVs began to be produced by LG. The line of TVs is quite diverse from inexpensive models to TVs worth several tens of thousands of dollars. Getting around the LG OLED model numbers is pretty straightforward. A letter is assigned to TVs, the further the letter is located alphabetically, the more expensive the TV and naturally has features. So in 2020, LG offered OLED TVs of the BX, CX, GX, WX, ZX series
• BX, CX, GX – standard layout televisions
• WX – TV with a separate control unit
• RX – the TV screen rolls up
• ZX – OLED TV 8K resolution
OLED TVs SONY 2020
Sony for its TVs is buying screens from LG. Depending on the country, the number of TV models is different, for example, in Europe there are OLED TVs A8H, A85H, A9H. In the United States for the first half of 2020, only the A8H. Sony OLED TVs uses its element base (processors, main boards, acoustics). TVs are of good quality but they are more expensive than LG
OLED TVs Panasonic 2020
Panasonic is trying to revive the former glory of its televisions. Despite leaving the US market, in other countries there are quite a few models of TVs with OLED matrices. In 2020, TV models HZ980, HZ1000, HZ1500, HZ2000 are offered. Matrixes for TVs manufactured by LG and basically these are the most bought screen sizes of 55 and 65 inches. TVs are distinguished by the quality of acoustics, the number of speakers and power. 2020 OLED TVs will go on sale in the second half of the year.
Philips 2020 OLED TVs
Since Philips TVs have been manufactured by different companies for 10 years, the approach to production is different. In the United States and Canada, these are cheap budget TVs that have not claimed leadership for a long time. Therefore, in the USA, Canada, Mexico, Philips OLED TVs are not for sale.
In Europe, over the past 7 years, Philips TVs have been manufactured by a Chinese company. But since the Philips brand is more popular in Europe than in America, OLED TVs are offered. So far in 2020 there is only one model OLED805 / 12. Screens are also purchased from LG. Given the many complaints about software quality, buying a Philips OLED TV isn't the best solution.
OLED TVs Vizio 2020
Preliminarily announced that Vizio plans to start ordering the production of OLED TVs for sale in the United States. But the new Vizio TVs are always presented in the second half of the year and it is not yet known whether OLED TVs will be offered to the buyer. Vizio has always positioned itself as an inexpensive brand, and whether the decision will be made on the release of televisions in the upper price range will tell time.
OLED TVs Loewe 2020
Loewe is a German OLED TV company. Due to financial difficulties, she stopped developing new televisions since 2017. The ongoing crisis in television sales exacerbated the situation and in 2019 the company was declared bankrupt. The rights to the brand were bought by the Skytec Group Ltd. investment fund. Which intended to revive production in early 2020, but this did not happen. The reason is that Loewe TVs are a premium brand, attention is paid to workmanship and materials, this makes Loewe TVs 2-3 times more expensive than LG counterparts. On the market, you can still find OLED TVs 2016-2017.
OLED TVs Hisense 2020
For some markets, Hisense introduced Hisense 55O8b OLED TVs. It was an experiment to see how the market reacts to such a TV. Hisense OLED TVs are not available in the US market, but are commercially available in Europe. Whether Hisense will continue to produce OLED TVs is still unknown, but if you look at Hisense sites, preference is given to televisions with quantum dot screens, Hisense calls such televisions, ULED televisions.
OLED TVs Skyworth 2020
The Chinese manufacturer of TVs, since the end of 2019 began the production of OLED TVs. At the beginning of the second quarter of 2020, new TV models were not presented. Available OLED TVs S9A, XA8000, XA9000
OLED TVs KONKA 2020
The Chinese TV manufacturer KONKA also produces OLED TVs, models 793 Series, 798 Series, 799 Series. Televisions are still being sold in China.
OLED TVs SHARP 2020
In 2020, Sharp begins production of OLED TVs, but only for the Japanese and Chinese markets. For all other regions, Sharp trademark rights have long been licensed to other companies. True for the markets of America, Sharp bought back its brand and promised to launch the production of TVs at the end of 2019 for the markets of the USA, Canada, Mexico. But this did not happen, perhaps the production of televisions will begin later or the brand will again be licensed.
OLED TVs Grundig 2020
The German company Grundig ceased to exist in 2003. The rights to the Grundig brand were bought by the Turkish concern Koç Holding, a trademark of Beko. He continues to produce Grundig TVs including OLED TVs but only for Germany. In Germany, the brand's position is strong, and many buyers don't know that for a long time it's only a brand that has no relation to Germany. OLED TVs have model numbers 9089 and 9099