Xbox is one of the major players in the market of game consoles. It's a product of Microsoft, which is one of the most powerful consoles on the market. At the moment, the main Xbox competitor is the PlayStation. Of course, like any console Xbox has its own operating system and store where you can buy digital versions of the games and apps you need. However, what to do if you had a lot of purchases and would like to keep track of them?
In that case, the purchase history will help you. On Xbox it is made very conveniently, in a single list you will see all the games, subscriptions, and other payments that you have made with Xbox Store. To access your purchase history you just need to have an Internet connection and turn on your console.
What is purchase history on Xbox
Video games play a very large role in the lives of many people today. Many people like to relax in front of the TV in the evening after a hard day playing their favorite game. It's not surprising that the video game industry is growing more and more every year. Dozens of different games are released every month. The main question most gamers have is what device to buy to play games.
At the moment one of the current platforms for gaming is the Xbox S Series and X Series. These are modern devices that have a lot of features for a comfortable game, such as DirectStorage. On this console you can find thousands of different games, in addition, Xbox users are invited to buy a subscription to game service GamePass with which you get access to hundreds of games.
As you may have realized there is always something to spend your money on in Xbox. At some point, if you like to play a lot, your library can fill up with a lot of different games. To keep track of how you or your family members spend your money in Xbox, there is a feature called Purchase History. You can access it directly from the main menu of your console. In addition to games, it will display all of your purchases, such as subscriptions and any items you've purchased through the Xbox store.
Read also:
Where you can find purchase history on Xbox
If you need to find the history of your purchases it will be quite easy. You can access your account history directly from your console settings. Remember that if you have other accounts connected to your account, for example, if you have family access, you will be able to see all purchases that have been made from all of your accounts. In order to do this you need to:
Turn on your console and press the Xbox button on your gamepad
Then go to the Profile & system tab.
Next, you need to select Settings and go to the tab Account > Payment & billing.
Here, just click on the Order History button.
That way you will be able to see your purchase history, but you will be able to see up to 6 months of your purchase history. If you made a purchase later, you have to go to the official Microsoft website and see this information there.
What to do if you can't find your purchase on Xbox
Sometimes the Xbox can have different crashes and system errors. For example, some users report that the Xbox can occasionally shut down by itself. However, there are also cases when users have made a purchase, but cannot find it in the list of purchases. It can even be active. In this case, Microsoft advises trying the following simple solutions:
Check if you're logged into the right account. If you have multiple accounts on your console you might just get mixed up and log into the wrong account.
Try rebooting your console and updating its firmware.
Try re-logging into your account, maybe that's the problem solution.
Another possibility that you may not be seeing all of your recent purchases is that you may have a disconnected internet connection. Check any other app or device to see if everything is working.
If these tips didn't help you, you may need to contact Microsoft support, or you may have had a problem with a purchase and your purchase isn't appearing in your account. The main thing is to make sure that the money has really been deducted from your account, maybe the transaction was just rejected.
What to do if you have been charged but didn't make a purchase
If, on the contrary, you have not made any purchases, but saw that you were withdrawn from the money, then in this case don't panic. Perhaps there was just a misunderstanding. Microsoft support specialists advise checking the following options before sounding the alarm:
Check to see if you have a trial subscription to Xbox Game Pass. The thing is that after 30 trial days, the subscription automatically renews by default and you will be charged for the next month of use. In this case, the money can be withdrawn without your consent.
Check other accounts that your card may be connected to. The thing is that if you have, for example, a family payment active, other members of your family may make purchases for you.
Also, check to see if someone could have bought something from your account without your knowledge. For example, if you shared your account with someone and didn't put a password on it.
In case all these versions aren't confirmed, then you can safely contact Microsoft support. You should also worry about the security of your account if you think you may have been hacked.
Read also:
How to see order history on a PC
If you want to view your purchase history beyond 6 months, or if you just don't currently have access to your console, you can do so with your Microsoft account and a browser on any device. All you need to do is:
Go to the home page of your Microsoft account. This is where you need to scroll down a little bit to the Order History option. You will find the View Order History button.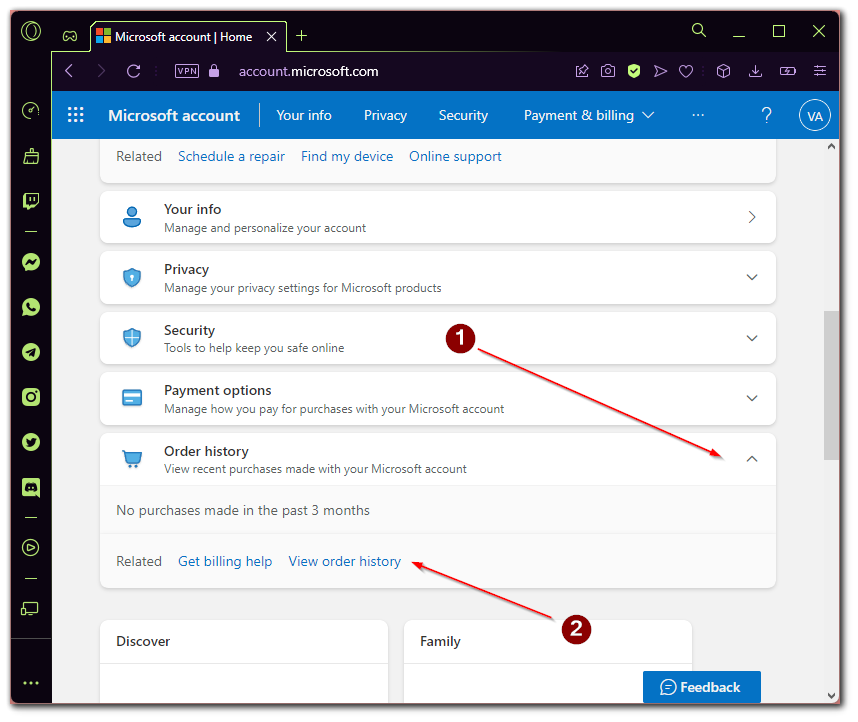 Then you need to click on the pop-up menu next to Ordered within and select the time period you want to view your purchases.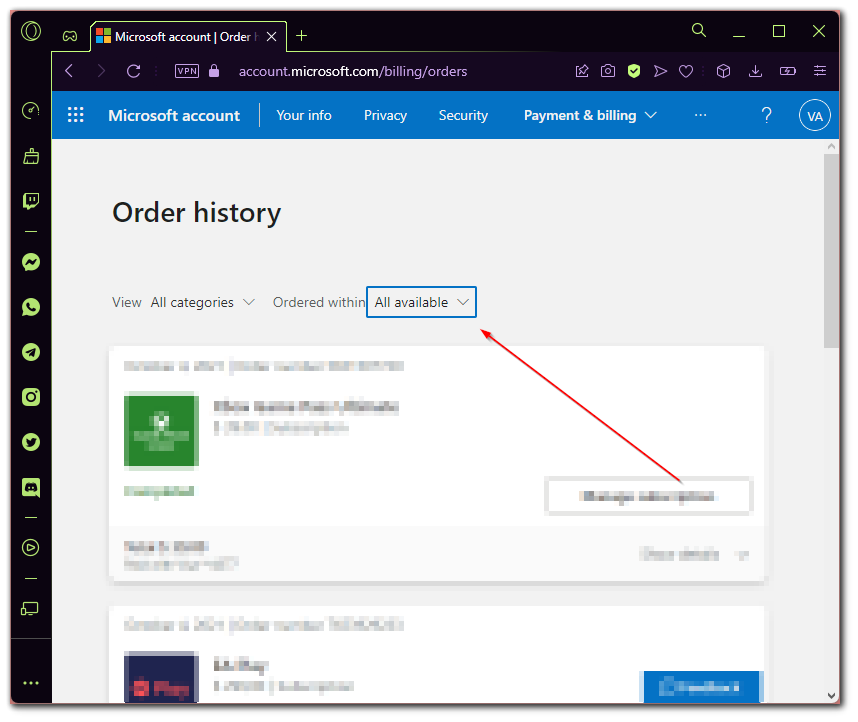 Note that this will display all of your purchases from this account. Here you will see all the games and subscriptions you have bought, as well as various services, such as Microsoft's Office suite.