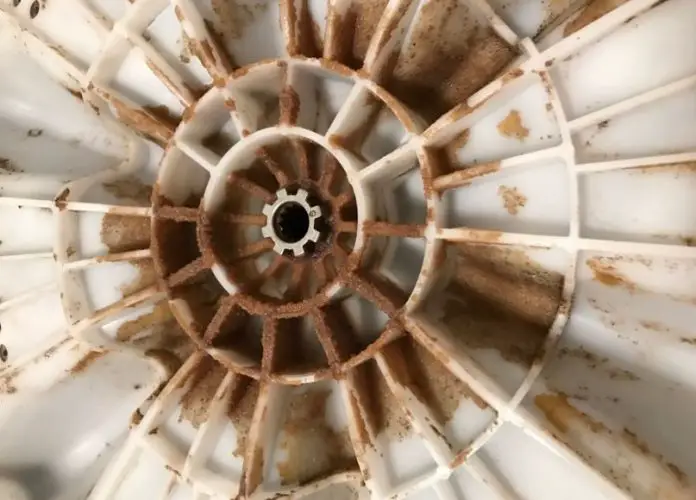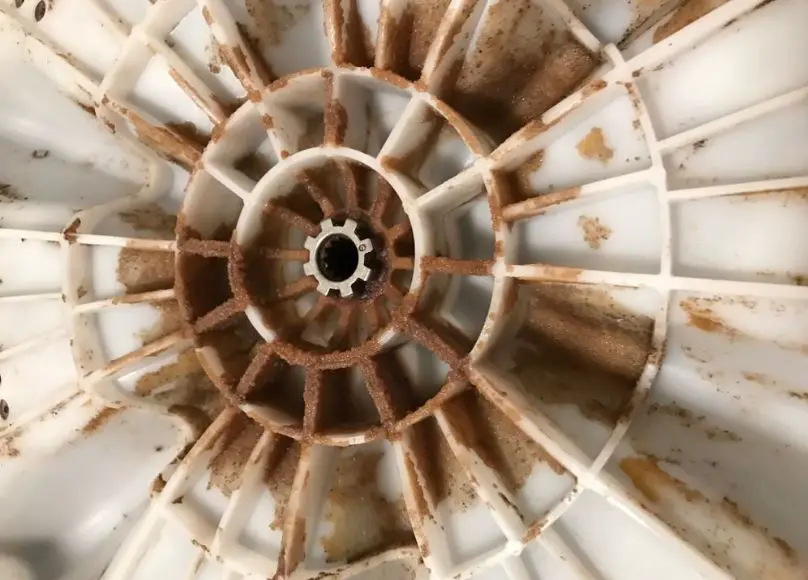 Dirt flakes in the washing machine, such a problem sometimes occurs with washing machines. After washing in the washing machine brown flakes remain on the laundry, these flakes stain the clothes or you can see brown gunk in washing machine. If you take the washing machine apart, you can see that this brown substance is covering the surface of the tank and other parts of the washing machine. Various attempts to remove these flakes do not bring any results. And, as a rule, such problems occur in washing machines with a top load of laundry.
Why do brown flakes appear?
Many people think it is mold, but in fact it is not mold, but iron or manganese. The water may contain iron or manganese oxide, visually the presence of metals in the form of oxide is impossible to notice. But when washing with detergents that contain certain components, usually detergents containing chlorine or active oxygen, a chemical reaction occurs whereby the iron and manganese particles crystallize and stick together to form flakes. In turn, these flakes adhere to the parts of the washing machine and can sometimes form very interesting patterns. We used to call such deposits rust.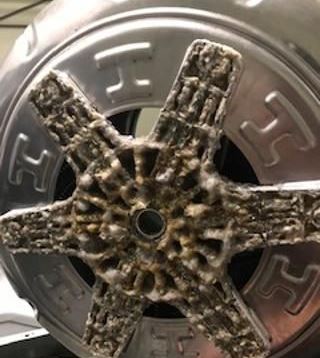 Why brown flakes appear in top-loading washing machines.
Iron or manganese are equally generated in a front-loading or top-loading washing machine. But thanks to the design of front-loading washing machines, they are easily washed away before they adhere to the parts of the washing machine. In a washing machine with a vertical load, especially in which the tank rotates horizontally, flakes accumulate in places where there is no strong water flow, which is at the bottom of the tank, stick, and as the weight of deposits increases, they come off and get into the laundry. There is some design flaw in this washing machine, but when using water that does not contain iron oxides, there will be no problem.
How to remove brown flakes from washing machine
There are many different recommendations for removing brown flakes from the washing machine. Let's look at the wrong recommendations:
Carry out a self-cleaning cycle, but this is not effective, a self-cleaning cycle is washing at maximum temperature and without laundry, this self-cleaning removes some deposits, but it is ineffective because of the design of the top-loading washing machine. Iron particles must be dissolved, it is impossible to remove them mechanically.
Pour vinegar and baking soda into the washing machine and wash – this is also ineffective, acetic acid, baking soda is alkaline. If you mix vinegar and baking soda, you get a neutral solution, it's like just doing a self-cleaning wash cycle.
Using chlorine-containing substances is also wrong, chlorine is a peeling reagent and won't work either.
Using substances to remove rust – yes, this can work, but such substances are very aggressive to iron, you need to get the timing right, but these substances can also damage the iron parts of the washing machine and make it unusable.
The right way to clean your washing machine of brown flakes
It is best to treat scale with citric acid or vinegar, but citric acid is better. It reacts with iron oxides and acts gently without damaging metal surfaces. You can take 20 to 30 grams (1 ounce) of citric acid or the juice of two to three lemons. Fill half a bucket of water and add the juice or citric acid, stir in the washer, and leave it for 3-4 hours.
If you have an automatic machine, use instead of laundry detergent, or just add it to the tank and turn on the longest wash, or just pause the wash to let the acid dissolve the brown flakes longer.
After that, complete the wash cycle. Check to see if there are any flakes left, if there are, repeat the cycle, doubling the time, the flakes did not have time to dissolve in the first wash, you may have to repeat the wash.
You can also use special tablets for washing machine cleaning, thanks to properly selected components, they have a more pronounced effect and can show an effect even better than lemon juice or citric acid. In any case, try them, they are not expensive and can help clean the washing machine.
How to get rid of brown flakes in washing machine
This problem can occur in any washing machine. Therefore, the question of how to remove brown flakes in a Samsung washing machine or how to remove brown flakes in a LG washing machine is not quite correct. Simply removing the flakes will not solve the problem, you need to eliminate the very cause that is causing the brown flakes. Even if you clean the washing machine, after 5-10 washes of laundry, the problem of brown flakes will return, and maybe even earlier.
To solve the problem of brown flakes that can stain clothes, you need a comprehensive approach.
How to get rid of brown flakes in the washing machine – first tip
Consider whether you have started using a new detergent, in many cases this can be the cause of brown flakes. Look at the detergents you are using, if they have chlorine or active oxygen in their descriptions, then those detergents are not right for you. Try using a different kind of detergent.
How to get rid of brown flakes in your washing machine second tip
If you use fabric conditioner, clean the washing machine of brown flakes and try not using conditioner for a while. For example, LG says there can be a reaction between laundry detergent and conditioner if there is residual laundry detergent left in the washer before adding conditioner, although this recommendation is given on LG's New Zealand website.
A third option for removing brown flakes
As an option, you could install a water de-ironing station, but that's expensive. A cheaper solution is to install a whole-house filter. These filters have cartridges that trap manganese and iron. I would recommend trying a filter.
The fourth option is to get rid of the brown flakes.
As an option, you can change your washing machine, buy a new one that doesn't have the elements that leave flakes on it. But honestly, this is not the best solution, it is better to find and eliminate the cause.