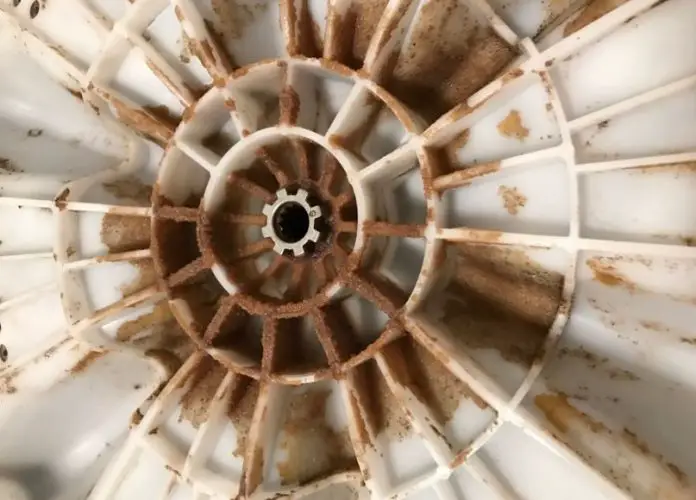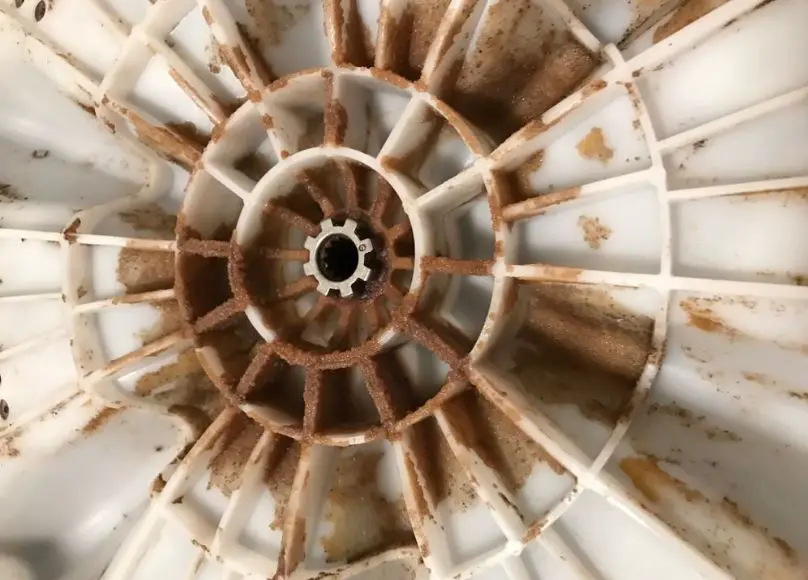 Flakes of dirt in the washing machine such a problem sometimes occur with washing machines. You wash the laundry, remove it from the washing machine, and notice some brown spots on the clothes. If you rub them with your fingers, they smear all over the clothes. You can see a brown residue in the washing machine. If you take apart the washing machine, you can see that this brown substance covers the surface of the tank and other parts of the washing machine. Various attempts to remove these flakes do not bring any results. And, as a rule, more such problems occur in washing machines with top laundry loading. But in washing machines with front loading, there are also such problems.
Why do brown flakes appear in the washing machine?
Many people think it is mold, but it is not mold, but iron or manganese. The water may contain iron or manganese oxide; visually, impurities in the form of oxide are impossible to notice. But when washing with detergents containing specific components, usually chlorine or active oxygen, a chemical reaction occurs, as a result of which iron and manganese particles crystallize and stick together, forming flakes. In turn, these flakes stick to the parts of the washing machine and sometimes form exciting patterns. We used to call these deposits rust. Why the flakes are brown – iron oxide oxidizes in the presence of oxygen and turns brown. If there were no catalysts in the form of detergent and heat, the oxidation would take a very long time. In the washing machine tank, the hot water plus the oxidizer do their thing, and that's how the brown flakes appear. They're very sticky and can linger on clothes.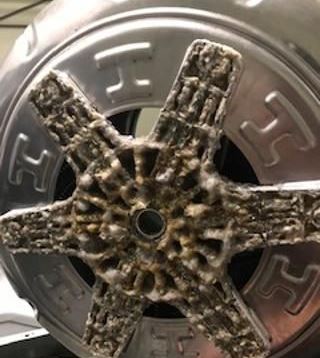 Why do brown flakes appear in top-loading washing machines?
Iron or manganese flakes form equally in both front-loading and top-loading washing machines. However, due to the design of front-loading washing machines, they are easily washed away before they have time to stick to the parts of the washing machine. In a vertical-loading washing machine, especially one where the tank rotates horizontally, the flakes accumulate in places where there is no strong water flow, that is, at the bottom of the tank, stick, and as the mass of deposits increases, they break off and fall into the laundry. This washing machine has some design flaws, but if you use water that does not contain iron oxides, there will be no problem. So, this is not a Samsung, LG, or GE problem. Most likely, the problem is the water.
Fake recommendations for removing brown flakes from your washing machine
There are many different recommendations for removing brown flakes from a washing machine. Unfortunately, there are a lot of made-up recommendations that could be more useful. Here are, for example, recommendations that will not help you.
Run a self-cleaning cycle, but this is ineffective; a self-cleaning cycle is washing at maximum temperature and without laundry. This self-cleaning removes some deposits, but it is ineffective due to the design of the washing machine. Iron particles must be dissolved; it is impossible to remove them mechanically. You can run the washing cycle ten times in a row without laundry, but as soon as you load the wash, you will see brown flakes again.
Pour vinegar and baking soda into the washing machine and wash – this is also ineffective; vinegar is an acid, baking soda is a dry alkali. If you mix vinegar and baking soda together, you get a neutral solution; it's like running a self-cleaning cycle.
Using chlorinated substances is also wrong; chlorine won't help either.

The use of rust removers can give results, but such products are very aggressive towards iron, so it is necessary to choose the right time of washing with this product. In addition, these substances can damage the iron parts of the washing machine and put it out of operation. This should not be done under any circumstances.
How to properly clean your washing machine of brown flakes
The best way to treat brown flakes is with citric acid or vinegar. It reacts with iron oxides and acts gently without damaging metal surfaces. You can take 20-30 grams (1 ounce) of citric acid or the juice of two or three lemons. Fill half a bucket of water, add the juice or citric acid, stir in the washing machine, and leave it for 3-4 hours.
If you have an automatic machine, pour a mixture into the washing machine, wait 3 hours, and start the washing cycle. Tip automatic washing machines as a rule: before starting a new wash, do not add the solution immediately; wait until the washing machine starts to draw water. Stop the program, wait until the door opens, and add the solution. Start the program again, wait until the washing machine draws water, stop the washing, and wait for three hours. Then, start the program and wait for the washing cycle to finish. Check if there are brown flakes; if there are none if they are, repeat the cleaning.
You can also use special tablets for washing machine cleaning: thanks to the right components, they have a more pronounced action and can show an effect even better than lemon juice or citric acid. In any case, try them; they are inexpensive and will help clean your washing machine.
How to get rid of brown flakes in washing machine
This problem can occur in any washing machine. Therefore, the question of how to remove brown flakes in the Samsung washing machine or how to remove brown flakes in the LG washing machine is not entirely correct. Simply removing the flakes will not solve the problem; you need to address the very cause that is causing the brown flakes. Even if you clean the washing machine, after 5-10 washes of laundry, the brown flakes problem will return, maybe even earlier.
You need a comprehensive approach to solve the problem of brown stains on clothes. Here is what needs to be done first and foremost.
Consider whether you have started using a new detergent – in many cases, this can cause brown flakes. Look at the laundry products you are using; if they have chlorine or active oxygen in their description, these products are unsuitable. Try using a different kind of laundry detergent.
If you use fabric conditioner, clean the washing machine of brown flakes and try not to use conditioner for a while. For example, LG says a reaction between laundry detergent and conditioner can occur if the detergent residue is left in the washing machine before adding the conditioner. However, this recommendation is listed on LG's New Zealand website.
Alternatively, you can install a water de-ironing station, but this is expensive. A cheaper solution is to install a filter. These filters have cartridges that trap manganese and iron. Try a filter.
How to test your water for chemicals that form brown flakes
Here are a few ways to test water for oxides as an example
Have your water chemically analyzed in a lab: if you don't have one, you can do this at home. 
Test the reaction of water with detergent: Put water in a pot, heat it, add detergent, stir, and see if brown spots or brown residue appear. Do this experiment with laundry conditioner as well. 
Check if a film appears on tea or coffee: brew tea or coffee and look at the cup in sunlight; if an iridescent sheen appears in the water, it means that oxides are present. The chemical elements in tea and coffee react with oxides. 
Check for oxides in potatoes: peel the potato and put it in water; if the potato turns black, it means there are oxides in the water – this is the reaction of starch with oxides.
Check the water for smell and taste: If the water is siderite iron oxides, it will have a specific smell and taste, as they usually say rust. Usually, such water comes from deep wells; water found in underground lakes without access to air will not oxidize. But this will only be the case if the water is fresh; in the open air, iron oxide oxidizes, and the smell and taste of iron disappear after a while. 
Forms of iron in tap water
Divalent iron ("clear water iron"): water comes out of the tap clear but turns red or brown after standing.
Trivalent iron ("red water iron"): water is red or yellow when it comes out of the tap.
Organic iron: usually yellow or brown, but can be colorless. Very shallow wells or wells exposed to surface water are more likely to contain organic iron than other wells.
Neutralization of divalent iron (clean water)
Water softeners and iron filters (such as a manganese sand filter) effectively remove iron from clean water.
Chemical oxidation using chlorine or hydrogen peroxide and filtration is also used. However, proper dosing can be difficult and carries a health risk if dosed incorrectly.
Neutralization of trivalent (red water) with iron
Iron filters (e.g., manganese green sand filter) are a standard means of treating iron levels in red water to 10-15 mg/L.
Aeration (air injection) or chemical oxidation (usually the addition of chlorine in the form of calcium or sodium hypochlorite) followed by filtration are options if iron levels exceed 10 mg/L.
A sediment filter, carbon filter, or water softener can remove small amounts of iron, but iron will quickly clog the system.
Organic iron removal
Organic iron and tannins create problems in water treatment. Organic iron and tannins can slow or prevent iron oxidation, so water softeners, aeration systems, and iron filters may not work correctly. An option may be chemical oxidation followed by filtration.
Distillation or reverse osmosis can remove any iron. If there is a lot of iron in the water, it can quickly clog devices, so it is best to use a whole-house purification system.
How do I know if there is iron oxide in the water in my region?
There is no unambiguous answer to this question, it all depends on what kind of water is used. If the water is extracted from wells, it all depends on the aquifer from which it is drawn. I would recommend reading government websites, if this is a common problem you will probably find information. For example, in Minnesota there is quite a bit of attention to this problem and you can find a lot of information about water, not only about oxides but also about pesticides, visit the water section of the state website.