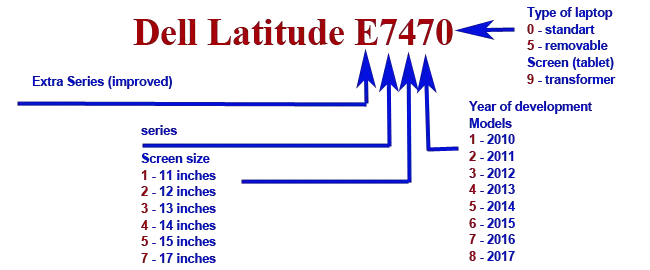 Dell latitude model number decode explained
On the manufacturer's website there are about 30 models of laptops, but in reality there are only about five models of laptops, and those presented on the site in such a huge amount are simply modifications, all the main differences are reflected in the marking.
Notebooks have a trade mark in which the series, the size of the laptop screen, as well as the year of model development are reflected. There is also a factory marking of the model, which is assigned to a particular model of the laptop with certain parameters, the type of processor, the amount of RAM, the capacity of the hard drive, but it is not particularly needed, since when buying, you still need to pay attention to the equipment.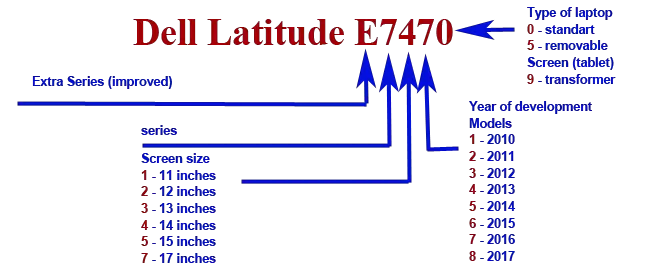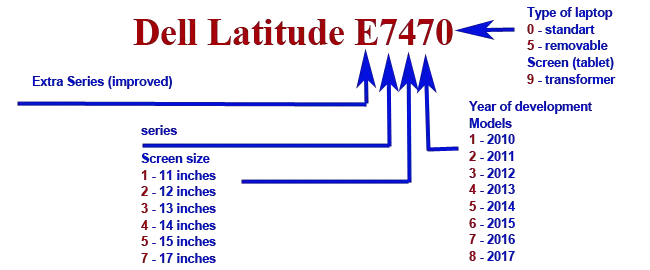 Latitude notebooks are labeled as follows.
Dell Latitude Model Number  Explanation  Latitude E7470
latitude – line laptop
E – Laptops are of a class, of a higher level.
7 – Notebook series
4 – Screen size,

2 – 12 Inches,
4 – 14 Inches,
5 – 15,6 Inches.
How to find out what year Latitude laptop
7 – Year of model development:

4 – 2013,
5 – 2014,
6 – 2015,
7 – 2016,
8 – 2017
9 – 2018
Latitude series laptops were discontinued in 2019.
0 – Type of laptop:

0 – standard,
9 – transformer,
5 – Removable screen (tablet).