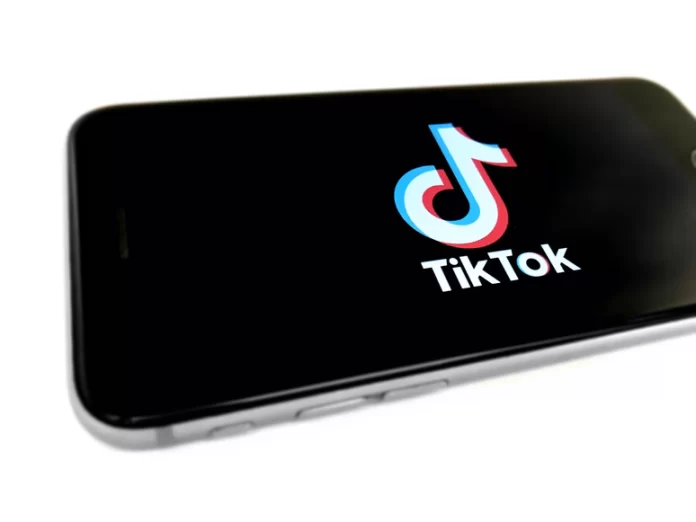 How to convert tiktok gifts to money
It is impossible to imagine today's world without the social network TikTok. The content of TikTok is completely different. That is the reason why this social network has so many users. But there is another reason why TikTok is so popular. It's a way to make money, but many don't know how to convert TikTok gifts into money. Luckily, it's easy to find out.
What to do to turn TikTok gifts into cash?
TikTok has long been considered the fastest growing social network in the world, providing a very simple platform for publishing and distributing content. It is so popular because its content is completely different, which users like. Some people may think that the target audience is teenagers, but that was not so long ago. This social network has long ago gained the attention of people of older age.
Because the content on TikTok is entertaining as well as educational and informative. On this platform, users can create short videos with music, filters and some other features. Many people think that this social network has become so popular because it is not like others. Also, you should know that you can make money with TikTok social network. This system of making money is not practiced in any other so popular social network.
Other popular social networks, like YouTube, pay for views. On Instagram and Facebook, you can gain popularity and earn money by promoting a product, for example. You can't earn directly from the number of likes. That is why there is so much interest in the possibility of earning money on TikTok through gifts and diamonds.
How monetization works in TikTok and how to turn TikTok gifts into money
The currency of TikTok is diamonds. This is the money that the blogger earns for live broadcasts. Diamonds on TikTok are one of the few ways to officially earn money on the social network without promoting products or companies. To get the diamonds, you have to host a live stream. The way it works is that a person broadcasts live on TikTok and the audience that watches his broadcast sends him gifts.
With virtual gifts during live broadcasts, you can show your support for your favorite presenters and writers. The virtual gift can then be exchanged for real money. Learn more about how much gift points cost on TikTok in this post. To send and buy gift points, the user must be over 18 years old.
To top up your TikTok balance, you need to follow the steps below:
If you suddenly need to fund your account in TikTok to start, launch the TikTok app.
Then click on the "Profile" icon in the lower right corner.
When your TikTok account is open, click the icon with the three bars in the upper right corner.
After that, you need to select "Settings and Privacy".
Once you have selected "Settings and Privacy", you need to click on the "Balance" section, which is fourth in the list.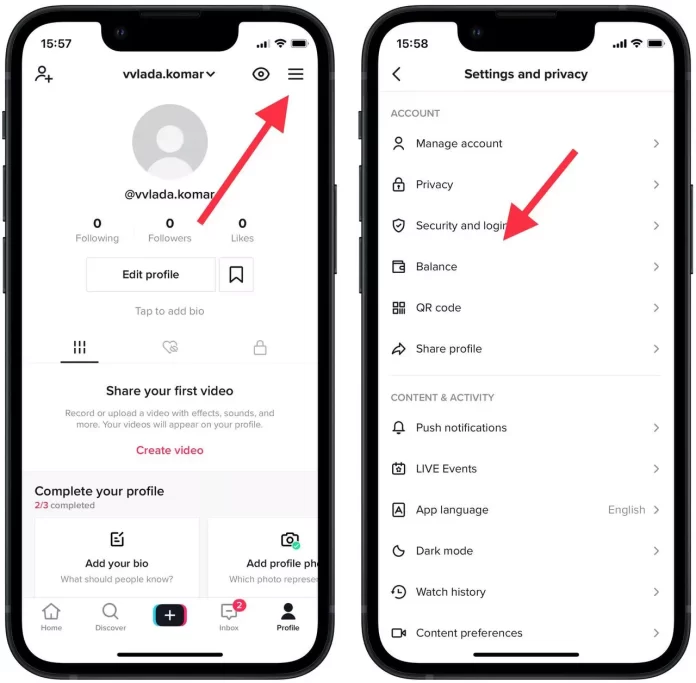 After you select "Credit", a new window will open where you need to click "Recharge" opposite the icon with the coin.
Under "Top up" you will see your coin balance and the number of coins you have purchased and their value. Click on the option that suits you.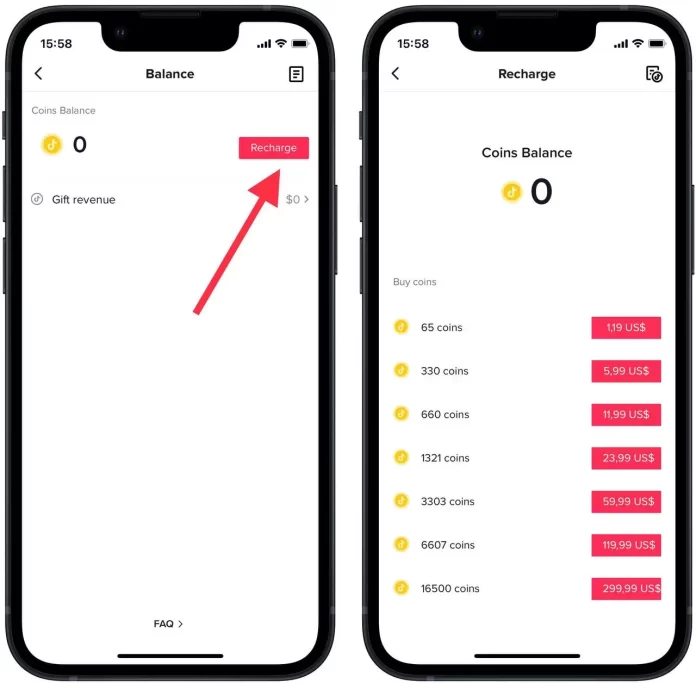 After you replenish your account, you will see the coins on the account balance, for which you can later buy gifts. After these actions, you can watch live broadcasts of any TikTok host. You can also give gifts to the presenter during the broadcast. After the gifts are credited to the presenter's account, TikTok converts them into diamonds. You can convert them into money using any of the available methods. Before withdrawing money, you can check the exchange rate in the "Account balance" section.
How to get diamonds out of TikTok
TikTok has an exchange rate for diamonds against money, but it changes all the time. You should also keep in mind that TikTok keeps quite a bit of money. To withdraw diamonds from TikTok, you need to accumulate a certain amount in your personal account. The minimum amount depends on the payment system.
Therefore, to withdraw money from TikTok, you need to follow the steps below:
First, you need to open the TikTok app. The algorithm is similar to the deposit of an account.
Then click on the "Profile" icon in the lower right corner.
Then select the icon with the three bars in the upper right corner. Then click on "Settings and privacy".
Then click on the "Balance" area.
In this section, select "Gift Receipts."
Then click on "Pick up".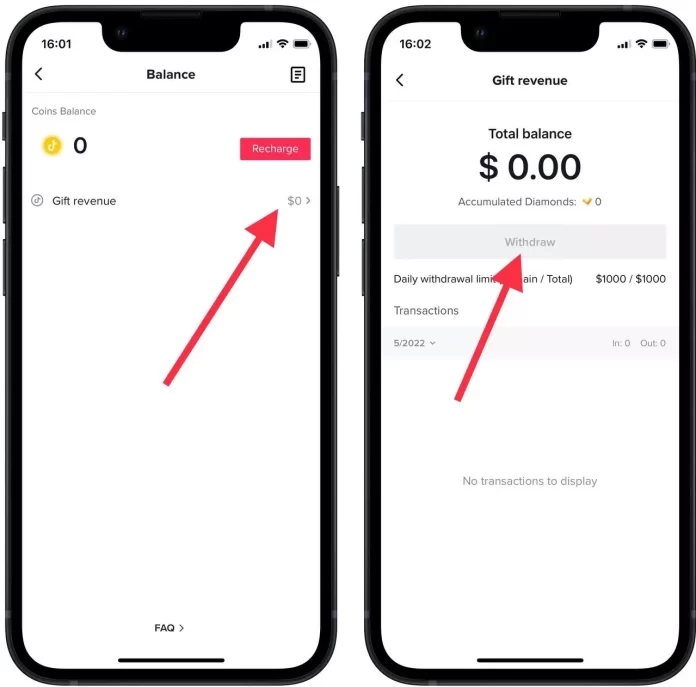 After you have followed all these steps, a payment system selection window will appear where you will see all the information and the amount that will be debited from your card or payment account.