You should know that Sharp TVs are no longer made for the US and Canada. If you see a Sharp TV for sale, it is an older model until 2019. There is a professional display with a TV tuner on sale that is sometimes called a TV set.
Sharp TVs brand history
In 2014, Sharp faced big losses in TV production. The company's management decided to stop producing TVs for the North American market and Europe. However, the rights to the Sharp brand for televisions belong to Sharp Corporation. And the practice of licensing another company's brand with the right to produce a product under well-known brands is very popular.
In mid-2015, China's Hisense Group bought a TV factory in Mexico, and with it the right to sell Sharp branded TVs made by Hisense in the United States, Canada and Mexico. The TV section was removed from Sharp's official U.S. websites. Hisense created its own website for Sharp TVs https://www.sharptvusa.com/.
As a result, the deal was completed and the Sharp TV brand was taken over by Hisense. But Hisense decided to make Sharp TVs cheap by using the brand image that the Japanese company had created earlier. They were essentially Hisense televisions, but with the Sharp logo. These televisions went on sale in 2016.
Sharp Corporation of Japan later claimed that the quality of Sharp-branded Hisense TVs was very poor. This caused great damage to Sharp's image because consumers thought that all Sharp products were bad. In court, Sharp decided to terminate the contract with Hisense. As a result, an agreement was reached between the companies in early 2019. Hisense agreed to transfer back the rights to the Sharp brand.
It was reported that Sharp Corporation of Japan had planned to resume production of televisions for the Americas in late 2019. However, this did not happen in the end.
Sharp TV models number for North America (made by Hisense)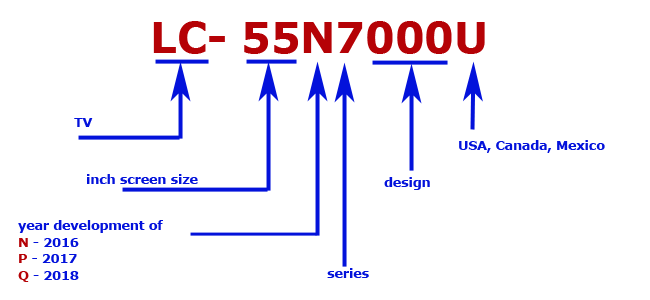 Example of decoding a Sharp TV model number
You should know that Hisense made TVs for the US and Canada for 3 years from 2016 to 2018. That's why the model numbers of the TVs are pretty simple.
LC- 55N7000U
LC – TV
55 – inch screen size
What year is the Sharp TV model, how do I know?
N – series of 2016
P – series 2017
Q – series – 2018
7 – series
000 – design
U  – TVs for the US, Canada, Mexico.
2019
In 2019, Hisense did not introduce any new TV models. Because the rights to the brand have reverted to the Japanese company Sharp. Hisense is simply selling the remnants of its TVs released in 2018.
2018
There's nothing new with TVs in 2018, the same 2017 models just with a new TV model number designation. The same Hisense but under the Sharp brand.
2017
A set of functions standard for HDR TVs, Smart TV, 4K screen resolution.
2016
Hisense begins production of Sharp televisions. Hisense class TVs. The TVs are assembled from Hisense components.