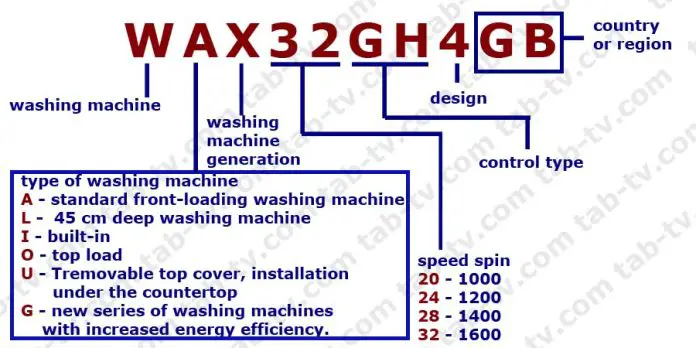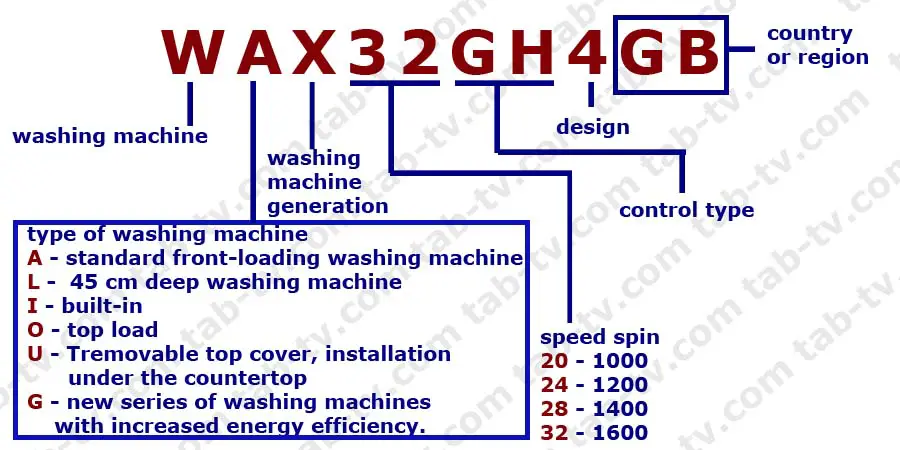 The production of appliances for clothes care is one of the Bosch-Siemens Group's main lines of business in the home appliance division. As with all appliances, Bosch washing machines have a model number; you should know that the model number tells you some information about the washing machine.
There is also information in the washing machine's serial number; for example, you can tell the date of manufacture from the serial number; I talked about this in the article "Bosch and Siemens Serial Number".
Bosch washing machines can be described as thoughtful, user-friendly appliances. The disadvantages can include the cost of post-warranty maintenance of the devices; in case of a breakdown, the repair cost can reach more than half of the cost of a new washing machine. This is due to the concerned policy to support the product during operation.
Bosch washing machine models
Bosch washing machine model numbers. The washing machine model number indicates some technical characteristics type of washing machine; you can find out what generation the washing machine belongs to. Since one model of the washing machine has been produced for several years, new models of washing machines can be both an upgrade of previous models and a new product.
New Bosch washing machine model number
In 2018, there was a change in the structure of the Bosch washing machine model number. In most cases, the model number I have given in the figure is used. The model number defines the following parameters: product type, technical features, generation, spin speed, control type, design (this is usually the color of the cabinet and the hatch), and the country for which the washing machine is made.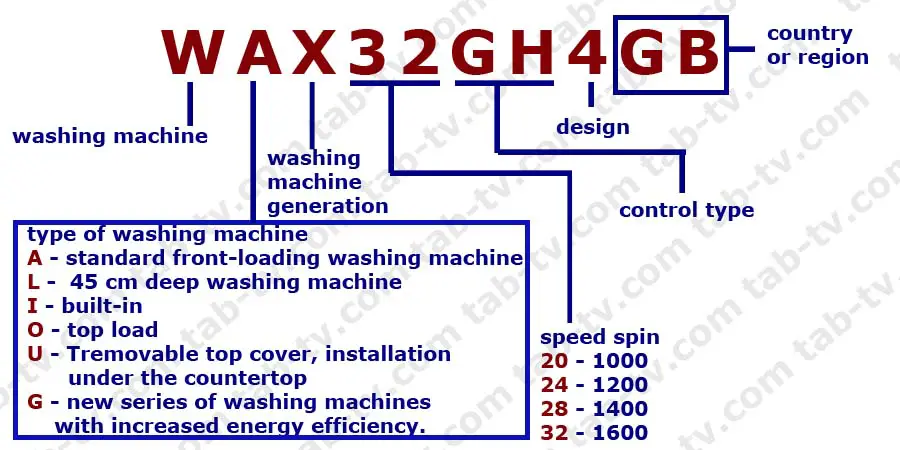 The model number of an old Bosch washing machine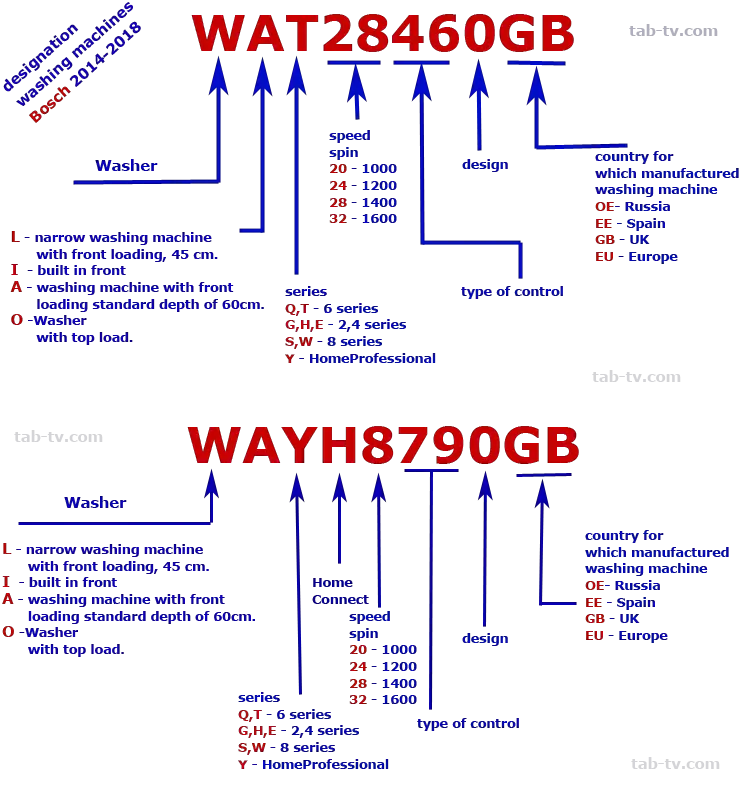 Decode model number of Bosch washing machine
As an example, consider the model number WAYH8790GB. Here's what information you can find out from the model number of your washing machine.
W – washing machine, the standard designation in the model number of the washing machine, means that this product belongs to the laundry care series.
A – front-loading washing machine with a standard depth of 60 cm. Other types of washing machines may be available:

L – washing machine is 45cm deep.
I – built-in,
O – top load
U – The under-countertop washer has a removable top cover, and the sink can be installed under a countertop in the kitchen or under other furniture that has a countertop; if desired, the sink can be used as a freestanding unit.
G – A new series of washing machines with increased energy efficiency.
Bosch washing machine generation
Y  – generation of the washing machine, so to speak more correctly. Each series of washing machines has its own letter. After some time the letter changes, it means that in this series of washing machines there was a transition to the production of new models of washing machines.

2015 – K, E
2016 – Y, Q, T
2018 – S,W, L
2019 – V
2020 – J, N, U, X
2021 – G,
2022 –

Y, V – series HomeProfessional, V – series 2019 year.
S, W, V, X – 8 series, V – series 2019 year.
Q, T, U, G, L – 6 series
G, H, E, T, K, N – 4 series
J – 2 series

H – there is an Internet connection, a washing machine belongs to smart home devices
8 –  speed spin, in home connect washing machines the first digit is missing

2 (20) – 1000
4 (24) – 1200
8 (28) – 1400
32– 1600

79 -type of control
0 – design
How to know what country your Bosch washing machine is made for
GB – Washer manufactured for UK
OE – Russia
EU – Europe
PL – Poland
ES – Spain
SN – Denmark, Finland, Norway, Sweden
NL – Netherlands
UC – US, Canada
BY – Bulgaria, Hungary, Czech Republic, Romania
FR – France
No – Germany
ES – Portugal
FG – Belgium
GR – Greece
IT – Italy
UA – Ukraine
AU – Australia, New Zealand
IN – India
Washing machines Bosch 2018
2018, washing machines with Home Connect, control of household appliances from a smartphone or tablet. Not a pretty clear feature for the washing machine implemented the ability to remotely turn on the machine or send a message that the laundry needs to be pulled out of the device. Not a much sought-after washing machine feature yet, but Bosch is promoting Home Connect.
Added an extra letter to the model number to identify washing machines with Home Connect.
Bosch washing machine series 2016

WAT28460GB
A

– washing machine with front loading standard depth of 60cm, I  – built in front, L – narrow washing machine with front loading 45 cm,  O – Top loading washing machine.

T

 – series washing machine

W

A

T

28460GB,

E

– 4 series,  К – 6 series 2015,

T, Q

 – 6 series 2016, G, N – 2, 4 series, S, W – 8 series, Y – series Home Professional.

28

 – spin speed

W

A

T

28460GB, 20 – 1000, 24 – 1200,

28

– 1400,

32

– 1600

46

– type of control WAT28

46

0GB, Various modifications of the display, the number of controls, the programmer.

0

– an embodiment, the color gamut body and door WAT2846

0

GB.

GB

 – country for which manufactured washing machine WAT28460

GB

,

OE

– Russia,

EU

– Europe,

PL

– Poland,

GB

– UK,

EE

– Spain,

UC

– USA.