Consider the situation you have a TV such as Samsung. At a certain point on the TV screen a message pops up a device named BT-09 (example) offers you to play sound from the TV through yourself. You press no, after 30-40 seconds this message appears again. If you click yes, nothing happens. The TV does not connect to this device.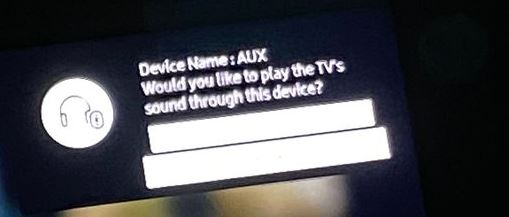 Why an unknown Bluetooth device offers to play sound.
If we consider the interaction of the two devices via Bluetooth. For the two devices to work together, pairing is required. You must allow the TV to pair with the Bluetooth device. If you receive a message on the TV with a suggestion to play sound, it means that your TV has already been paired with this device.
And the TV recognizes this device. In turn, this device is active and exchanges some information with the TV. But this information is not correct and you cannot connect to the device. But there is enough information to determine the TV of this device and initiate a connection attempt. Moreover, requests from the device come with a certain interval, which causes the message to appear.
How to solve the problem of connecting a sound device to the TV
What you can try to do. This problem is not entirely in the TV, but to some extent the TV is to blame, it responds to incorrect requests. But do the following do not touch the TV.
Find the device sending the requests; it cannot be the device of your neighbors. This is your device, using which you broadcast once, the content on the TV. It is possible that during the connection the TV was paired with this device. For example, you turned on some application on the phone. This application has asked for permission to show the video on the TV, you have allowed. We watched the video, turned off viewing, but the application remained active on your phone and continues to betray something through bluetooth.
What kind of device it can be. It can be a phone, computer, tablet. Disconnect these devices and see if the message disappears. If the message disappears, turn on the devices in turn and watch how the TV will react. This should help solve the problem.
Also look if there are unknown devices in the found Bluetooth devices. By default, the TV sees a smart-type remote control. Since the remote controls the TV using Bluetooth. If a new device appears in the menu with Bluetooth devices that you don't know, and the TV tries to it. Remove this device from the permitted connections on your TV.
Radical methods for solving the problem
You can of course turn off Bluetooth, this can be done from the engineering menu of the TV, but this is not the best solution, since when you turn off Bluetooth, the smart remote control will stop working.