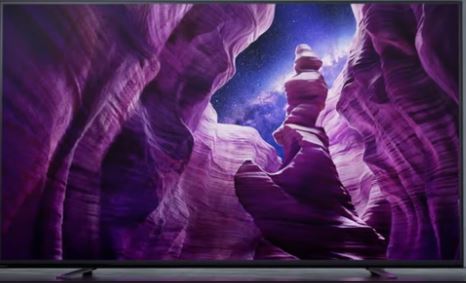 Comparison of TVs A8H vs A8G vs A8F
Sony OLED TVs are usually presented by the company with two models A8 and A9. Two UHD resolution models, Sony has been producing since 2018. Sony's OLED TVs are not fully developed by the Japanese company; screens are bought from LG. The boards and the operating system are already developed by SONY. Sony devotes quite a lot of attention to the hardware of the TVs and the design, the operating system is also constantly updated although this is Android. 2020 TV model numbers XBR 55A8H, XBR 65A8H for North America, Europe KD-55A8, KD-65A8.
OLED TV SONY A8H Review
The SONY A8H TV will be produced in two screen sizes of 55 and 65 inches. Only such screens Sony buys from LG for its TVs. This decision is justified by the fact that such screen sizes are most in demand and the price of the TV is high but acceptable for many buyers.
Screens and image TV Sony A8H
In more detail about TV screens, standard OLED screens, of course LG every year makes some changes designed to improve the screen and extend its service life. Yes, OLED TV screens lose their properties after some time of use, this is a problem of OLED LEDs, a gradual decrease in the brightness of blue pixels. But every year the quality of OLED screens improves. Also, to reduce the burden on blue, green, red pixels, OLED screens have a fourth pixel, white. OLED matrices in OLED LG WRGB TVs. The maximum frame rate of 120 per second. The image quality is very good.
Design OLED A8H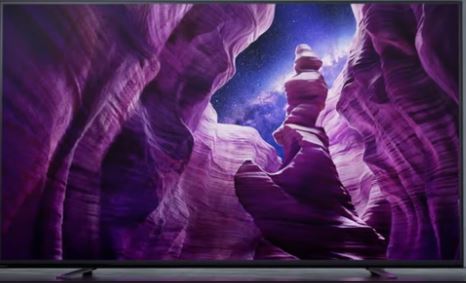 Sony pays a lot of attention to design in the manufacture of TVs. the frame around the screen is made of metal. Since modern TVs are a big screen, which is 97% of the design TV, it's difficult to single out something special.
Sony TV A8H sound and processors
Processors, it is stated that the new Picture Processor X1 Ultimate processor installed in the A8H is twice as fast as the 4K HDR X1 Extreme processor that was installed on the A8G and A8F TVs. But if previously Sony indicated on which cores the processor is assembled, then in 2020 this is a mystery. But the processor is very doubtful that it would be twice as powerful, it only for some parameters has indicators exceeding the processor of the previous generation.
Sound, Sony has always been a leader in the development of sound solutions. The sound on TVs is not bad. Surround sound technology is applied. But still, if you want really good acoustics, then it is better to buy speakers in 5.1 or 7.1 format.
Ports and gaming features of the Sony A8H TV
Ports on the TV, 4 HDMI standard 2.0. Despite the fact that the 2.1 standard has already been adopted, Sony does not use such ports, but it uses, for example, the eARC standard for transferring audio back that is included in HDMI 2.1. Using other features of the standard 2.1, from the point of view of Sony is not advisable. Technologies such as VRR, ALLM Free Sync are focused on using the TV as a monitor. But while game consoles do not support these technologies. And if the TV has a good processor, then the use of such technologies is not particularly necessary.
Comparison table for TVs Sony A8H vs A8G vs A8F
Comparison OLED TVs Sony 8 series A8H 2018-2020
A8H (2020)
A8G (2019)
A8F (2018)
screen
Screen Size inch
55, 65
55, 65
55, 65
Style
Flat Panel
Flat Panel
Flat Panel
Resolution
3,840 x 2,160
3,840 x 2,160
3,840 x 2,160
screen bit
10bit
10bit
10bit
type screnn
OLED
OLED
OLED
screen technology
OLED
OLED
OLED
Backlighting
No
No
No
Dimming Technology
Pixel Level Dimming
Pixel Level Dimming
Pixel Level Dimming
Video
refresh rate
120
120
120
Color
Live Color Technology
Precision Color Mapping
Super bit mapping HDR
TRILUMINO DisplayEnhancer, True Color Accuracy Pro
Live Color Technology
Precision Color Mapping
Super bit mapping HDR
TRILUMINO DisplayEnhancer, True Color Accuracy Pro
Live Color Technology
Precision Color Mapping
Super bit mapping HDR
TRILUMINO DisplayEnhancer, True Color Accuracy Pro
Contrast
Dynamic Contrast Enhancer
Object-based HDR remaster
Pixel Contrast Booster
Dynamic Contrast Enhancer
Object-based HDR remaster

Dynamic Contrast Enhancer
Object-based HDR remaster

Clarity
4K X-Reality PRO
Dual database processing
Object-based Super Resolution
4K X-Reality PRO
Dual database processing

4K X-Reality PRO
Dual database processing

Resolution Upscaler
Yes
Yes
Yes
HDR (High-Dynamic Range)
Dolby Vision, HDR10, HLG
Dolby Vision, HDR10, HLG
HDR10, HLG
Picture Processor
Picture Processor X1™ Ultimate
Процессор 4K HDR X1 Extreme
Процессор 4K HDR X1 Extreme
AI TV
Google Assistant
Yes
Yes
Yes
Alexa
Yes
Yes
Yes
Google Home Compatible
Yes
Yes
Yes
Amazon Alexa Compatible
Yes
Yes
Yes
Voice Recognition
Yes
Yes
Yes
SMART TV
OS
Android
Android
Android
Remote control
Voice remote control
Voice remote control
Voice remote control
Google Play Store
Yes
Yes
Yes
Web Browser
Yes
Yes
Yes
Audio
Dolby
Dolby Audio & Atmos
Dolby Digital, Dolby Digital Plus, Dolby Pulse
Dolby Digital, Dolby Digital Plus, Dolby Pulse
DTS
Yes
Yes
Yes
Sound Output
30W
40W
50W
Woofer
Yes
Yes
Yes
Speaker Type
2.2CH
2.2CH
4.1CH
Bluetooth Audio Playback
Yes ver.4.2
Yes ver.4.2
Yes ver.4.2
Acoustic auto calibration
Yes
No
No
Game Mode
Yes
Yes
Yes
GAMING
G-SYNC Compatible
No
No
No
VRR (Variable Refresh Rate)
No
No
No
Response Time
>1 ms
>1 ms
>1 ms
FreeSyn
No
No
No
ALLM (Auto Low Latency Mode)
No
No
No
HGiG
No
No
No
CONNECTIVITY
Wi-Fi
Yes
Yes
Yes
Bluetooth
Yes Version 4.2
Yes Version 4.2
Yes Version 4.2
Screen mirroring
Yes (Need to install Screen Mirroring For Sony Bravia TV)
Yes (Need to install Screen Mirroring For Sony Bravia TV)
Yes (Need to install Screen Mirroring For Sony Bravia TV)
HDMI-CEC (BRAVIA Sync)
Yes
Yes
Yes
Smart Phone Connectivity
Yes (Need to install Screen Mirroring For Sony Bravia TV)
Yes (Need to install Screen Mirroring For Sony Bravia TV)
Yes (Need to install Screen Mirroring For Sony Bravia TV)
HDMI
4 (2.0)
4 (2.0)
4 (2.0)
Audio Return Channel Support (ARC)
eARC/ARC
ARC
ARC
USB
3 (1 ver 3.0)
3 (1 ver 3.0)
3 (1 ver 3.0)
Ethernet
Yes
Yes
Yes
RF In (Terrestrial/Cable)
Yes
Yes
Yes
RF In (Satellite Input)
No US, Yes Europe
No US, Yes Europe
No US, Yes Europe
Digital Audio Out (Optical)
Yes
Yes
Yes
Digital Broadcasting US
ATSC/ClearQAM
ATSC/ClearQAM
ATSC/ClearQAM
Digital Broadcasting Europe
DVB T/T2/C/S/S2
DVB T/T2/C/S/S2
DVB T/T2/C/S/S2
Analog Tuner
Yes
Yes
Yes