In our days, for 4k or also named UHD (UltraHD)  TVs to connect them with other devices are used HDMI
What do HDMI ports mean (4K 60Hz)
For example. in TVs LG lastly 2014 they're named  HDMI (4K@60Hz) DVI IN (HDCP 2.2, ARC, 10Bit, MHL) What are them? And why they have  different names than earlier ports which were known like as HDMI (ARC, STB, DVI, MHL).  In this article I try to tell about diferents ones from anothers
dvi 4k 60hz 
HDMI 4k@60Hz/DVI IN, ( in the picrure above) and means that in this TV are HDMI standart 2.0. These ports support 4k Video ( 3840 x 2160 pixels )  and frame rate 60 frame per sec, they also support 3D image and these ports  are supported by DVI ports
HDMI (HDCP 2.2) 4K 60Hz
HDMI (HDCP 2.2) This is a  copy protection data version 2.2
At first, HDMI HDCP was developed as a protected data to connect devices  to transmit high-resolution video.  And a time again was developed a protocol 2.2 to provide better protection. And this version of protocol isn't supported by earlier versions of HDMI HDCP
A picture which shows a cheme of HDCP work

If one of the devices doesn't support HDCP 2.2.


HDMI (ARC) reverse audio channel 4K 60Hz
This standart make you abble to use only one type of ports without others. So you can connect your loudspeakers and listen all what you want without unnecessary ports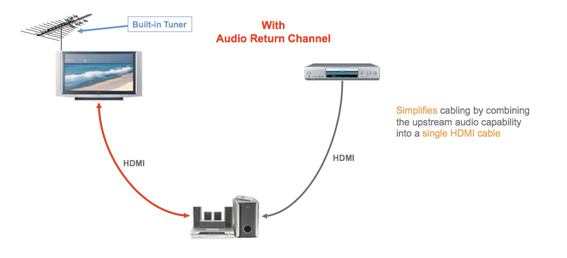 HDMI 10Bit 4K 60Hz
HDMI 10Bit This inscription tell as that picture which are shown by this port have color depth 10 or 12 bit. 
It is wonderful, but in television is only 3 colors and 1024 ( 10 bit color depth) shades, so these shades can create more than 1 billion  different colours ( Multiply 1024 x 1024 x 1024).
HDMI MHL 4K 60Hz
HDMI MHL (Mobile High-Definition Link) In this way, port support USB Data   (USB→HDMI). For example, you can share your photos, videos or music from your phone (USB) to your TV (HDMI)
MHL is only one type of HDMI ports which support USB Data