When the era of flat-screen TVs with large screens came, such large screens are convenient and as an option it became possible to install a TV in the courtyard of the house. But every time taking out a TV for viewing from home is not convenient. There is a demand for televisions that can be installed, for example, on the terrace constantly. So there was a segment of televisions that can be placed outside the home. The most common such televisions are in the United States.
Technical problems that need to be solved in TVs for outdoor installation
For TVs designed for outdoor installation, several problems need to be resolved.
The TV should be protected from moisture – it was decided quite simply, the TVs were placed in enclosures protected from moisture, and some companies started buying ordinary TVs and sealing the TVs, after additional protection the TVs are sold under a different brand.
After the TVs were placed in waterproof cases, there was a problem of overheating of the TV, it was decided using special radiators to remove heat, fans are also used to force the cooling radiators to be forced. On TVs, screens of which may be exposed to direct sunlight, cooling of the screen matrix is ​​also provided.
If the TV is designed to work in the cold season, a heating element is installed in the TVs.
The problem of poor visibility of the image in bright lighting. The solution is to increase the brightness of the screen in TVs designed for outdoor installation
Types of outdoor TVs
Only about three types of TVs are produced for use outdoors.
TVs are splashproof but not fully waterproof. Such televisions are intended for installation only in places protected from atmospheric influences in the form of rain or sun. Such TVs can only be placed under a canopy.
Televisions that can be installed in places that for a certain period of the day will be lit by the sun. In such televisions, it is necessary to solve the problem of overheating, as well as protection from moisture.
TVs that can be used in summer and winter. The most protected TVs, provides cooling and heating of the TV.
Who makes outdoor TVs
Only a few companies produce outdoor televisions. Such TVs are popular in the USA, Australia and other countries with a warm or temperate climate. Outdoor TVs are produced by the following companies: Samsung, SunbriteTV, Furrion, Sealoc, All Season, MirageVision.
Sunbrite Outdoor TVs
SunbriteTV – One of the leaders in the production of televisions for installation on porches, terraces or just on the street was SunbriteTV. The company was created to manufacture weatherproof televisions. Located in the USA and now owned by SnapAV. Televisions are made with a heating and cooling system, assembled from components purchased from third-party manufacturers. The use of heating and cooling allows them to be used outdoors in a wide temperature range from -24 ° to 122 ° F, (from -30 ° to 50 ° C). Some models can work at extremely low temperatures of -40. In total, three product lines are produced.
TVs for installation only under a canopy in the shade
TVs for installation in places partially lit by the sun
TVs for installation in open spaces, including the sun.
Furrion Outdoor TVs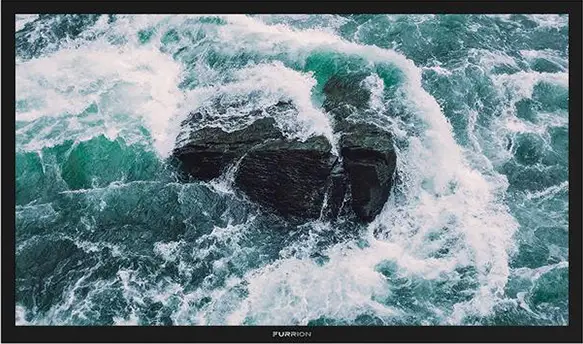 Furrion – Also produces outdoor televisions. Furrion is a Hong Kong-based company with offices in Elkhart, Indiana, and has been operating in the home appliance industry since 2013. TVs are classified by protection against external influences.
TV: IP54
Soundbar: IP45
Remote Control: IP67
The TV is splashproof and designed to be installed only under a canopy in the shade. It can be used at temperatures of -4 ° to + 122 ° F, (-20 ° to + 50 ° C)
Sealoc Outdoor TVs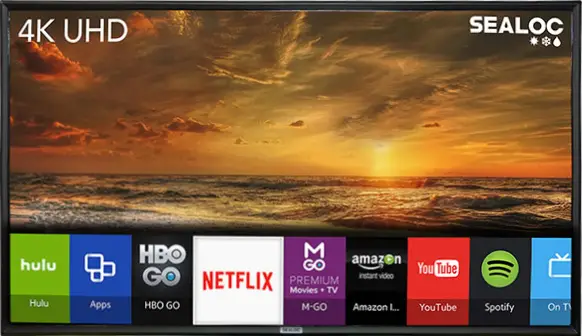 Sealoc is an American company that provides additional protection for standard televisions manufactured by Samsung, LG. Sealoc buys LG televisions, Samsung disassembles them, covers the circuit boards with special nanocoating, the TV case and screen are sealed. To improve the picture, an additional TV setup is made. Increases brightness and contrast. But this is not very good, the electrical components and screens of such TVs are not designed to work in low and high temperatures. Such televisions can only be used in the shade under a canopy and they are protected only from high humidity, but are not fully waterproof. Also, increasing brightness and contrast can shorten the life of the TV components. This is not the best solution for outdoor TVs. Operating temperature 14 ° to + 122 ° F, (-10 ° to + 50 ° С) Some models work in the range of -14 ° to + 140 ° F, (-10 ° to + 60 ° С)
It also produces its own line of Sealoc ProLoc televisions, these are televisions specially made in waterproof cases and are designed to operate in a wide temperature range from frost to heat. Positioned as televisions for commercial use. The price is quite high, the technical parameters are mediocre.
All Season Outdoor TVs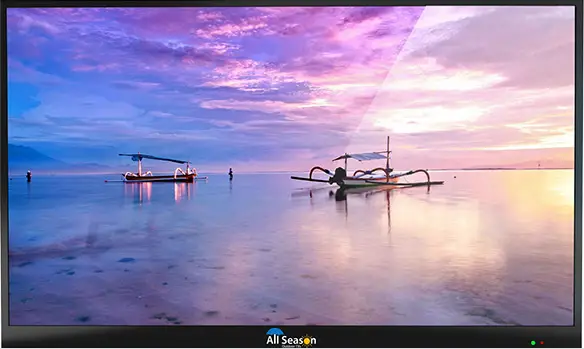 TVs are assembled from scratch from components, have mediocre technical parameters for image quality, but high brightness, designed to work in various conditions, protected from dust and moisture. They have a limited warranty, the warranty does not apply to televisions that are used without surge protection devices and televisions that operate for more than 12 hours a day. The manufacturer is unknown, the site does not have information about the manufacturer and manuals available for download. The declared operating temperature is -4 ° to + 122 ° F, (-20 ° to + 50 ° C).
Weatherized Outdoor TVs
Weatherized is a Canadian outdoor TV company. Weatherized buys standard LG or Samsung TVs and seals them using hydrophobic water-repellent technology. As a result, TVs with the declared characteristics of operating temperatures from -17 ° to 120 ° F, (from -27 ° to 49 ° C) are obtained. But such TVs can be placed only under a canopy and in the shade, the TV is protected only from splashes.
MirageVision Outdoor TVs
MirageVision is another company that deals with additional sealing of standard TVs. The internal electronic circuit boards of the outer housing of the TV are sealed. Claimed operating temperatures 5 ° F to + 125 ° F, (-15 ° C to + 50 ° C)
Séura Outdoor TVs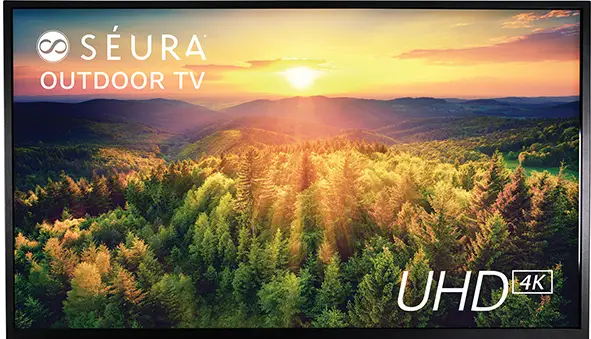 Séura is an American company that sells outdoor TVs, TVs are made from third-party components. TVs are IP54 protected against splashes. Designed to operate at temperatures of -24 ° to 122 ° F (-30 ° to 50 ° C).
Peerless-AV Outdoor TVs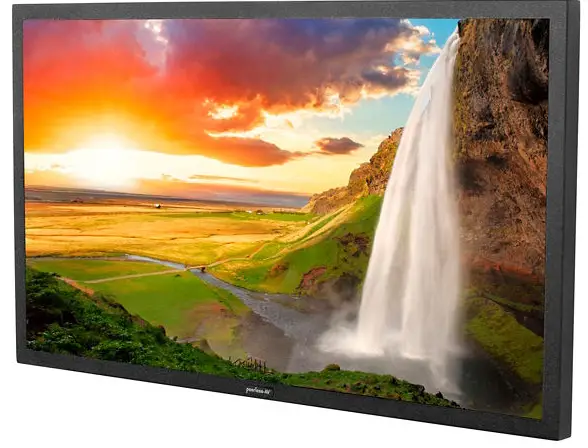 Peerless-AV – produces not quite TVs; external displays are produced. But they have the ability to connect streaming video. As the demand for outdoor televisions increased, the outdoor displays produced by Peerless-AV displays, sellers began to call televisions. The company has extensive experience in the production of products protected from external influences. Outdoor displays have a degree of protection IP68. Full tightness, maintain full immersion in water. Operate at -31 ° to 140 ° F (-35 ° to 60 ° C). Used as the basis for advertising signs or bulletin boards.
Samsung outdoor TVs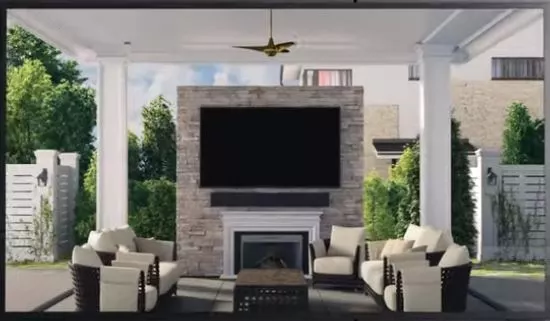 Samsung initially produced external displays as commercial products. But in 2020, it was decided to begin production of external televisions for household consumers. Such TVs are called The Therrace, TVs are protected from dust and moisture by IP55 class. In TVs, the brightness is increased, a QLED screen is installed. The TV has the same parameters as the TVs for the home.
LG outdoor TVs
LG does not yet produce televisions for residential consumers. Outdoor displays are available. These are products of the commercial class. They are used as information signs, advertising screens.