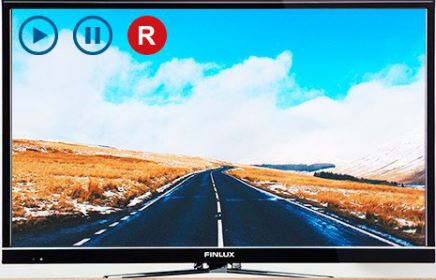 Whose brand Finlux
Finlux is a trademark owned by the Turkish company Vestel.
So historically, she was able to offer quite competitive TV models in the price category to win 25% of the UK TV market. In other countries, the brand is practically unknown, as for other countries TVs are produced under the brands MAXWELL, Telefunken, Techwood.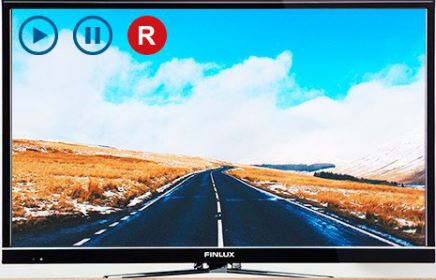 But recently the quality of TVs is deteriorating, users note problems with image scaling in TV models with UHD screens. If we consider TVs on the official website, then the user is given a minimum of information about the TV. There is no information about the type of the installed matrix and the bitrate of the matrix. This information is not provided to the user for several reasons.
Screen parameters are worse than those of other manufacturers.
In TV sets are installed, which are purchased from many manufacturers and in one series of TV sets can be installed using different technologies.
In the line of TVs Finlux there is no division of TVs on the series, if we consider the proposed models, then basically the marking can only be understood with what screen size the TV is offered.
Finlux TV line comparison
But still see what models of TVs are offered under the brand Finlux, you can see in the table in which you can see the models of TVs produced in 2015-2018
TV Finlux 2015-2018 comparison, differences
| Brand | Model | year | features | screen size | series | Smart TV | Refresh Rate Hz | Motion Rate | screen bit | resolution | tuner | ports |
| --- | --- | --- | --- | --- | --- | --- | --- | --- | --- | --- | --- | --- |
| Finlux | 65-UME249B-P | 2016 | x | 65 | ? | Yes | 50 | 50 | ? | UHD | DVB+freeview.. | 4xHDMI(2.0);3xUSB(2.0) |
| Finlux | 65-FUB-8022 | 2017 | x | 65 | ? | Yes | 50 | 50 | ? | UHD | DVB+freeview | 4xHDMI(2.0);3xUSB(2.0) |
| Finlux | 65FME249B-T | 2016 | x | 65 | ? | Yes | 100 | 100 | ? | Full HD | DVB+freeview | 4xHDMI(2.0);3xUSB(2.0) |
| Finlux | 55UTD297B-P | 2016 | x | 55 | ? | Yes | 50 | 50 | ? | UHD | DVB+freeview | 2xHDMI(2.0);3xUSB(2.0) |
| Finlux | 55-FUB-8022 | 2017 | x | 55 | ? | Yes | 50 | 50 | ? | UHD | DVB+freeview | 4xHDMI(2.0);3xUSB(2.0) |
| Finlux | 55FME290B-P | 2017 | x | 55 | ? | Yes | 50 | 50 | ? | Full HD | DVB+freeview | 3xHDMI(1.4);2USB(2.0) |
| Finlux | 55-FFA-5515 | 2017 | x | 55 | ? | Yes | 50 | 50 | ? | Full HD | DVB+freeview | 2xHDMI(1.4);1USB(2.0) |
| Finlux | 50-FFB-5522 | 2017 | x | 50 | ? | Yes | 50 | 50 | ? | Full HD | DVB+freeview | 3xHDMI(1.4);1USB(2.0) |
| Finlux | 50-FUB-5522 | 2017 | x | 50 | ? | Yes | 50 | 50 | ? | UHD | DVB+freeview | 4xHDMI(2.0);3xUSB(2.0) |
| Finlux | 50FFA-5615 | 2016 | x | 50 | ? | Yes | 50 | 50 | ? | Full HD | DVB+freeview | 3xHDMI(1.4);1USB(2.0) |
| Finlux | 49UTD297B-P | 2016 | x | 49 | ? | Yes | 50 | 50 | ? | UHD | DVB+freeview | 2xHDMI(1.4);2USB(2.0) |
| Finlux | 49UT3E310B-T | 2015 | x | 49 | ? | Yes | 50 | 50 | ? | UHD | DVB+freeview | 4xHDMI(2.0);3xUSB(2.0) |
| Finlux | 48UXE304B-P | 2016 | x | 48 | ? | Yes | 100 | 100 | ? | UHD | DVB+freeview | 4xHDMI(2.0);3xUSB(2.0) |
| Finlux | 48FPE304S-T | 2016 | x | 48 | ? | Yes | 50 | 50 | ? | Full HD | DVB+freeview | 2xHDMI(1.4);2USB(2.0) |
| Finlux | 48-FFB-5522 | 2017 | x | 48 | ? | Yes | 50 | 50 | ? | Full HD | DVB+freeview | 3xHDMI(1.4);2USB(2.0) |
| Finlux | 43UTD297B-P | 2015 | x | 43 | ? | Yes | 50 | 50 | ? | UHD | DVB+freeview | 2xHDMI(2.0);2xUSB(2.0) |
| Finlux | 43-FUB-8022 | 2016 | x | 43 | ? | Yes | 50 | 50 | ? | UHD | DVB+freeview | 2xHDMI(2.0);3xUSB(2.0) |
| Finlux | 43FFB-5522 | 2017 | x | 43 | ? | Yes | 50 | 50 | ? | Full HD | DVB+freeview | 2xHDMI(1.4);1USB(2.0) |
| Finlux | 43-FFA-5615 | 2016 | x | 43 | ? | Yes | 50 | 50 | ? | Full HD | DVB+freeview | 3xHDMI(1.4);1USB(2.0) |
| Finlux | 42FME249S-T | 2015 | x | 42 | ? | Yes | 50 | 50 | ? | Full HD | DVB+freeview | 3xHDMI(1.4);1USB(2.0) |
| Finlux | 40FMD294B-P | 2016 | x | 40 | ? | Yes | 50 | 50 | ? | Full HD | DVB+freeview | 2xHDMI(1.4);1USB(2.0) |
| Finlux | 40FCD274B-T | 2015 | x | 40 | ? | No | 50 | 50 | ? | Full HD | DVB+freeview | 2xHDMI(1.4);1USB(2.0) |
| Finlux | 32HME249S-T | 2015 | x | 32 | ? | Yes | 50 | 50 | ? | HD | DVB+freeview | 3xHDMI(1.4);1USB(2.0) |
| Finlux | 32FMD290B-P | 2016 | x | 32 | ? | Yes | 50 | 50 | ? | Full HD | DVB+freeview | 2xHDMI(1.4);1USB(2.0) |
| Finlux | 32-FHB-4210 | 2017 | x | 32 | ? | No | 50 | 50 | ? | HD | DVB+freeview | 2xHDMI(1.4);1USB(2.0) |
| Finlux | 32-FDB-5522 | 2017 | With DVD | 32 | ? | Yes | 50 | 50 | ? | Full HD | DVB+freeview | 2xHDMI(1.4);1USB(2.0) |
| Finlux | 22-FDMB-4200 | 2017 | With DVD | 22 | ? | No | 50 | 50 | ? | Full HD | DVB+freeview | 2xHDMI(1.4);1USB(2.0) |
| Finlux | 22FCE274B-NC | 2015 | With DVD | 22 | ? | No | 50 | 50 | ? | Full HD | DVB+freeview | 1xHDMI(1.4);1USB(2.0) |
| Finlux | 22FBE274B-NCM | 2014 | With DVD | 22 | ? | No | 50 | 50 | ? | Full HD | DVB+freeview | 2xHDMI(1.4);1USB(2.0) |