TCL Roku TV is a reliable TV at a low price. In recent years, Chinese manufacturers are gaining popularity, and this TV can be found in many living rooms. However, as with any other TV, a situation in which you lose your remote can happen. How to operate your TV in this case? The TCL has several options that you can use at once.
Since the TV uses the Roku TV operating system, you can connect to it via a particular app and control it from your phone. With this app, you can, for example, adjust the sound. You can also use the buttons on the TV or the universal remote control.
How to change the volume with TCL Roku TV mobile app
TCL Roku TVs stand out because they come with two remotes. However, don't feel bad if you are unlucky enough to lose both remotes. The easiest way that you can use to control your TCL Roku TV without a remote is to download the Remote for TCL Roku TVs app. It is available for free in both App Store and Google Play Store. After that, ensure your TV is connected to your smartphone's Wi-Fi network. Next, you need to:
Open the app on your smartphone and let it scan the Network for your TV.
Once the app finds your TV, select it from the list.
At the bottom right of the screen, click on Remote Control.
You will see the remote control icons. Use the speaker icons to adjust the volume.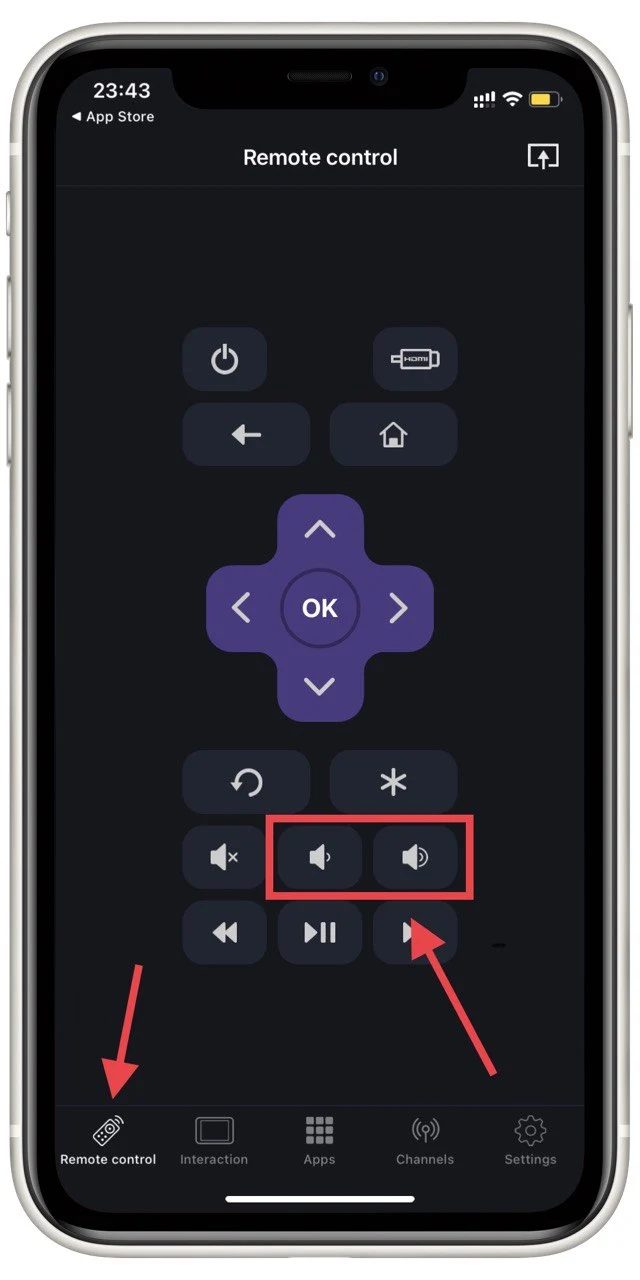 You can also use this app to control your TCL Roku TV fully. You can run apps from it, enter text instead of the on-screen keyboard, turn your TV on or off, and do all the same things you do with your remote.
What other options to turn up or down the volume on TCL Roku TV without remote
There are still alternative methods if you do not have your smartphone handy or your TV is not connected to any network. They are more "crude" but will also help you control your TV without a unique remote control. I can recommend two ways: through the physical buttons on the TV itself, or with
There are always physical buttons on every TV. These can be just a set of controls or a small "Joystick." Usually, they are either located on the side of your TV or the back panel in a corner. Or the buttons may be located on the bottom center of the TV. Finding the right button to turn the volume up or down would be best.
There is also such a thing as a universal remote. This is an ordinary remote that you can program to scan different frequencies and find the right one for your TV. In this case, you can use it just like a regular remote control. However, it would help if you kept in mind that it would be deprived of functions such as voice control or special buttons for fast streaming. I recommend holding 2 or 3 remotes like this in your house for emergencies.
Read also:
How to connect your TCL Roku TV to Wi-Fi
As I described above, for the remote control app to work correctly, you need the TV and the smartphone to be connected to the same local Network. You can connect with the buttons on your TV or your remote control. To do this:
Go back to the home screen first.
Find it in the Settings list and open it.
Here go to Network> Wireless.
Give your TV some time for it to scan the available wireless networks.
Select your Network from the list and click OK.
Enter your password and press OK.
Done, you're connected to your wireless access point. As a tip of the road, I advise you to connect your TV with an ethernet cable to your router. Also, if you don't have a Wi-Fi access point, you can always create a mobile hotspot on your smartphone and use it.