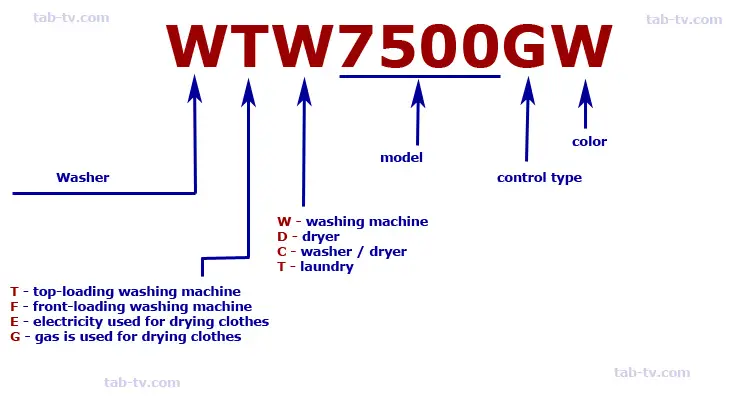 Whirlpool washer model number
Whirlpool brand washing machines can be found in any country. Household appliances are sold in 120 countries. Single labeling of washing machines does not exist. Marking may vary depending on the series of washing machines or the country in which the washing machine is made. It can be assumed that since the corporation includes a large number of subsidiaries, different companies are engaged in the development of washing machines. Then, in other factories, simply using technical documentation, they start production, assigning their designation to washing machines.
Whirlpool washing machine model number decoder
Whirlpool washing machine model number USA-Canada  2015-2019 decode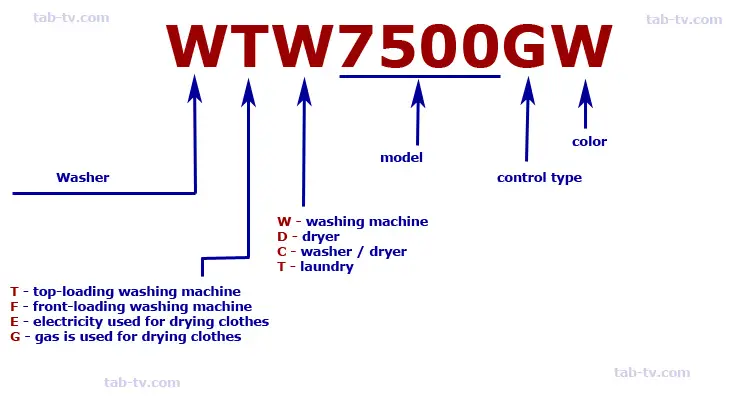 WTW7500GW-decode model number
W – washing machine
TW – Vertical loading, FW – frontal.
75 – series
00 – design
DW – control type
Whirpool washing machines model number 2016-2019  (Europe)
On the European continent, there are two types of designation of the model number of Whirlpool washing machines. One designation FWSD61053WCEU), it is possible to understand the main characteristics of washing machines. The second is mainly used in Western European countries FSCR90420.
Explain meaning of the model number Whirlpool washing machine.
FWSD61053WCEU
F – front-loading washing machine
W – product type washing machine.
S – a narrow washing machine, although there are models and without the letter but narrow.
D – is the type of motor installed.
61053 – washing machine model
W– body color (white)
C – control type
EU – the country for which the washing machine is made.
FSCR9040
F – front-loading washing machine
S – standard depth
CR – control type
90 – model
4 – The maximum spin speed 1400, 2 -1200
20 – design
Decode
Whirlpool washing machine Top loading model number (Europe)
TDLR 60810 – Whirlpool washing machine with top loading (T-top loader) and inverter motor.
AWE 6516/1 – a series of washing machines, with an ordinary engine.
Decode Whirlpool built-in washing machine 2015-2019
With built-in washing machines even easier, there is a series of AWOC, (AWOC 0714), these are washing machines with an ordinary engine.
There is a series BI (BI WDWG 75148 EU) – a series of built-in washing machines with inverter motors. Moreover, these washing machines are also available under the brands Indesit and Hotpoint-Ariston.
Decode Whirpool combined Washer / Dryer
WET4024EW
W – washing machine
E – electric drying, G – gas
T – Top load
40 – series
24 – design
EW – control type