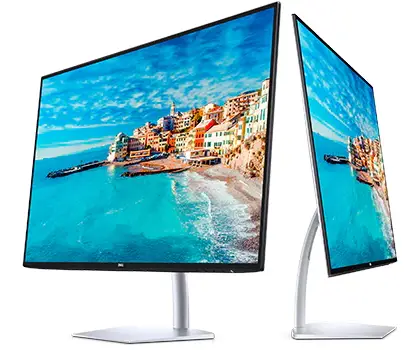 Dell monitor series comparison 2017-2018
Monitors Dell 2017-2018
| Brend | Type monitors | Line | Release | Size screen inches | Type screen | Aspect Ratio | Panel bit depth | Color space | sync Video | Panel manufacturer | Refresh Rate HZ | Resolution | Display Port | HDMI | USB/other |
| --- | --- | --- | --- | --- | --- | --- | --- | --- | --- | --- | --- | --- | --- | --- | --- |
| Dell | S2719HN | Ultrathin | 2018 | 27 | IPS | 16x9 | 8bit | sRGB-99% | x | ? | 76 | 1920 x 1080 | x | 2 (1.4) | x |
| Dell | E2219HN | | 2018 | 22 | IPS | 16x9 | 8bit (6bit+FRC) | NTSC-72% | x | ? | 75 | 1920 x 1080 | x | 1 (1.4) | x |
| Dell | S2719H | | 2018 | 27 | IPS | 16x9 | 8bit | sRGB-99% | x | ? | 76 | 1920 x 1080 | x | 2 (1.4) | x |
| Dell | S2419HN | | 2018 | 24 | IPS | 16x9 | 8bit (6bit+FRC) | sRGB-99% | x | ? | 76 | 1920 x 1080 | x | 2 (1.4) | x |
| Dell | S2419H | | 2018 | 24 | IPS | 16x9 | 8bit (6bit+FRC) | sRGB-99% | x | ? | 76 | 1920 x 1080 | x | 2 (1.4) | x |
| Dell | S2319HN | | 2018 | 23 | IPS | 16x9 | 8bit (6bit+FRC) | sRGB-99% | x | ? | 76 | 1920 x 1080 | x | 1 (1.4) | D-sub |
| Dell | S2319H | | 2018 | 23 | IPS | 16x9 | 8bit (6bit+FRC) | sRGB-99% | x | ? | 76 | 1920 x 1080 | x | 1 (1.4) | D-sub |
| Dell | S2719DM | Ultrathin | 2018 | 27 | IPS | 16x9 | 8bit | sRGB-99% | x | ? | 60 | 1920 x 1080 | x | 2 (2.0) | x |
| Dell | S2419HM | Ultrathin | 2018 | 24 | IPS | 16x9 | 8bit (6bit+FRC) | sRGB-99% | x | ? | 60 | 1920 x 1080 | x | 2 (2.0) | x |
| Dell | P3418HW | | 2017 | 34 | IPS | 21x9 | 8bit | sRGB-99% | x | ? | 76 | 2560 x 1080 | 1x(1.2) 1x(1.2)mini | 2x(HDMI 1.4) | 5xUSB(3.0) |
| Dell | AW3418HW | Alienware | 2017 | 34 | IPS | 21x9 | 8bit | sRGB-99% | x | ? | 160 | 2560 x 1080 | 1x(1.2) | 2x(HDMI 1.4) | 5xUSB(3.0) |
| Dell | AW3418DW | Alienware | 2017 | 34 | AH-IPS | 21x9 | 8bit | sRGB-99% | G-Sync | LG Display | 120 | 3440 x 1440 | 1x(1.2) | 2x(HDMI 1.4) | 5xUSB(3.0) |
| Dell | P2018H | | 2017 | 20 | TN | 16x9 | 8bit (6bit+FRC) | NTSC-72% | G-Sync | ? | 75 | 1600 x 900 | 1x(1.2) | 2x(HDMI 1.4) | 5xUSB(3.0)/D-sub |
| Dell | U2718Q | UltraSharp | 2017 | 27 | IPS | 16x9 | 10bit (8bit+FRC) | sRGB-99% | x | LG Display | 60 | 3840 x 2160 | 1x(1.2) 1x(1.2)mini | 1x(HDMI 2.0) | 5xUSB(3.0) |
| Dell | P2418D | | 2017 | 24 | IPS | 16x9 | 8bit | sRGB-99% | x | ? | 76 | 2560 x 1440 | 1x(1.2) | 1x(HDMI 1.4) | 5xUSB(3.0) |
| Dell | U3818DW | UltraSharp | 2017 | 38 | AH-IPS | 21x9 | 10bit | sRGB-99% | x | LG Display | 60 | 3840 x1600 | 1x(1.2) | 2x(HDMI 2.0) | 5xUSB(3.0) 1xUSB(Type-C) |
| Dell | AW2518HF | Alienware | 2017 | 25 | TN | 16x9 | 8bit (6bit+FRC) | NTSC-72% | x | AU Optronics | 240 | 1920 x 1080 | 1x(1.2) | 1x(HDMI 1.4) | 5xUSB(3.0) |
| Dell | AW2518H | Alienware | 2017 | 25 | TN | 16x9 | 8bit (6bit+FRC) | NTSC-72% | G-Sync | AU Optronics | 240 | 1920 x 1080 | 1x(1.2) | 1x(HDMI 1.4) | 5xUSB(3.0) |
| Dell | E2218HN | | 2017 | 22 | TN | 16x9 | 8bit (6bit+FRC) | NTSC-72% | x | ? | 75 | 1920 x 1080 | x | 1x(HDMI 1.4) | x |
| Dell | E2318H | | 2017 | 23 | IPS | 16x9 | 8bit | sRGB-99% | x | ? | 75 | 1920 x 1080 | 1x(1.2) | x | x |
| Dell | E2318HN | | 2017 | 23 | IPS | 16x9 | 8bit | sRGB-99% | x | ? | 75 | 1920 x 1080 | x | 1x(HDMI 1.4) | x |
| Dell | E2418HN | | 2017 | 24 | IPS | 16x9 | 8bit | NTSC-72% | x | ? | 76 | 1920 x 1080 | x | 1x(HDMI 1.4) | |
| Dell | U2518D | UltraSharp | 2017 | 25 | IPS | 16x9 | 8bit | sRGB-99% | x | ? | 76 | 2560 x1440 | 2x(1.2) 1x(1.2)mini | 1x(HDMI 2.0) | 5xUSB(3.0) |
| Dell | UP2718Q | UltraSharp | 2017 | 27 | IPS | 16x9 | 10bit | RGB-100% | x | ? | 75 | 3840 x 2160 | 1x(1.4) 1x(1.4)mini | 2x(HDMI 2.0) | 6xUSB(3.0) |
| Dell | UP3017Q | UltraSharp | 2017 | 30 | OLED | 16x9 | 10bit | RGB-100% | x | LG Display | 60 | 3840 x 2160 | 1x(1.2) | 1x(HDMI 2.0) | 1xUSB(Type-C) |
| Dell | S2718D | | 2017 | 27 | IPS | 16x9 | 8bit | sRGB-99% | x | ? | 75 | 2560 x1440 | x | 1x(HDMI 2.0) | 3xUSB(3.0) |
| Dell | S2718HN | | 2017 | 27 | IPS | 16x9 | 8bit (6bit+FRC) | sRGB-99% | x | ? | 75 | 1920 x 1080 | x | 1x(HDMI 2.0) 1x(HDMI 1.4) | x |
| Dell | S2418HN | | 2017 | 24 | IPS | 16x9 | 8bit (6bit+FRC) | sRGB-99% | x | ? | 76 | 1920 x 1080 | x | 1x(HDMI 2.0) | x |
| Dell | UP3218K | UltraSharp | 2017 | 32 | IPS | 16x9 | 10bit | RGB-100% | x | ? | 60 | 7680 x 4320 | 2x(1.4) | x | x |
| Dell | S2718HX | | 2017 | 27 | IPS | 16x9 | 8bit (6bit+FRC) | sRGB-99% | AMD FreeSync | ? | 75 | 1920 x 1080 | x | 1x(HDMI 2.0) | D-sub |
| Dell | S2718H | | 2017 | 27 | IPS | 16x9 | 8bit (6bit+FRC) | sRGB-99% | AMD FreeSync | ? | 75 | 1920 x 1080 | x | 1x(HDMI 2.0) | D-sub |
| Dell | S2418HX | | 2017 | 24 | IPS | 16x9 | 8bit (6bit+FRC) | sRGB-99% | AMD FreeSync | ? | 76 | 1920 x 1080 | x | 1x(HDMI 2.0) | D-sub |
| Dell | S2318M | | 2017 | 23 | IPS | 16x9 | 8bit (6bit+FRC) | NTSC-72% | Flicker-free | ? | 76 | 1920 x 1080 | x | x | DVI-D D-sub |
| Dell | S2318HX | | 2017 | 23 | IPS | 16x9 | 8bit (6bit+FRC) | sRGB-99% | Flicker-free | ? | 76 | 1920 x 1080 | x | 1x(HDMI 1.4) | D-sub |
| Dell | S2718NX | | 2017 | 27 | IPS | 16x9 | 8bit | sRGB-99% | AMD FreeSync | ? | 75 | 1920 x 1080 | x | 1x(HDMI 2.0) | D-sub |
| Dell | S2818NX | | 2017 | 28 | IPS | 16x9 | 8bit (6bit+FRC) | sRGB-99% | Flicker-free | ? | 76 | 1920 x 1080 | x | 1x(HDMI 2.0) | D-sub |
| Dell | S2318NX | | 2017 | 23 | IPS | 16x9 | 8bit (6bit+FRC) | sRGB-99% | Flicker-free | ? | 76 | 1920 x 1080 | x | 1x(HDMI 1.4) | D-sub |
| Dell | S2218M | | 2017 | 22 | IPS | 16x9 | 8bit (6bit+FRC) | NTSC-72% | Flicker-free | ? | 76 | 1920 x 1080 | x | x | DVI-D D-sub |
| Dell | S2218H | | 2017 | 22 | IPS | 16x9 | 8bit (6bit+FRC) | NTSC-72% | Flicker-free | ? | 76 | 1920 x 1080 | x | 1x(HDMI 1.4) | D-sub |
| Dell | P2418HT | | 2017 | 24 | IPS | 16x9 | 8bit (6bit+FRC) | NTSC-72% | Flicker-free | ? | 76 | 1920 x 1080 | 1x(1.2) | 1x(HDMI 1.4) | 5xUSB(3.0) d-sub |
| Dell | P2418HZ | | 2017 | 24 | IPS | 16x9 | 8bit (6bit+FRC) | NTSC-72% | Flicker-free | ? | 76 | 1920 x 1080 | 1x(1.2) | 1x(HDMI 1.4) | 5xUSB(3.0) d-sub |
Dell is one of the leaders in the production of computer equipment, the company's lineup also has monitors.
In general, Dell produces monitors with a resolution of Full HD, but in the company's line-up there are monitors and a large screen resolution. The company even had an attempt to release a monitor with an OLED screen, this monitor was widely advertised, but because of problems with the screen it never went on sale, one of the reasons that the producers called, the color reproduction of the screen did not match the claimed, but most likely the reason for burnout OLED screens, such a problem exists although it is not advertised by companies producing OLED screens.
Dell monitor 2018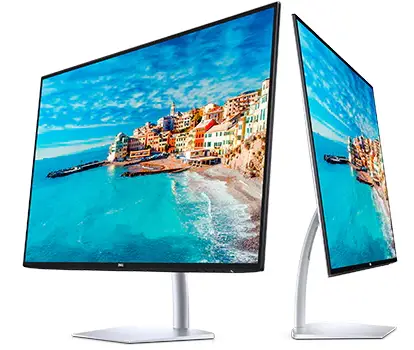 The monitors of the S series are presented with different screen sizes, basic parameters: Full HD resolution screen, screen mats are made using IPS technology, 8bit color depth, but some models use screen flicker technology to achieve a large number of color shades.
Dell monitor 2017 
In 2017, mostly Full HD monitors were released, but there were also models with a higher resolution, but there are not many of them, about 10 models, yet Dell is targeting a segment of inexpensive monitors with good matrices. A short list of Dell monitors with a resolution of more than Full HD is lower.
| | |
| --- | --- |
| P3418HW | 2560 x 1080 |
| AW3418HW | 2560 x 1080 |
| AW3418DW | 3440 x 1440 |
| U2718Q | 3840 x 2160 |
| P2418D | 2560 x 1440 |
| U3818DW | 3840 x1600 |
| U2518D | 2560 x1440 |
| UP2718Q | 3840 x 2160 |
| UP3017Q | 3840 x 2160 |
| S2718D | 2560 x1440 |
| UP3218K | 7680 x 4320 |
The ruler of monitors Dell presented in 2017-2018 years can be seen below in the table, as well as a comparison on the parameters you are interested in.