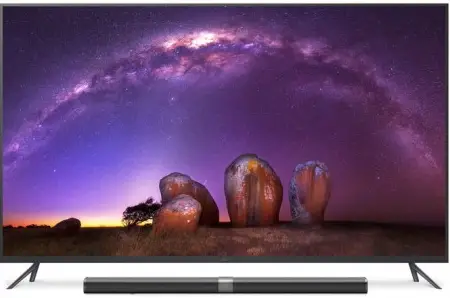 The Chinese company Xiaomi produces a variety of electronics, most users know mobile phones that have powerful processors have proven themselves as inexpensive high-quality smartphones.
But since 2014 the company has started experiments on the production of TV sets, TV models are not many, but it is most likely experiments to study the market. TV Xiaomi is a video panel or phone with truncated parameters but with a large screen.
The TV does not have a built-in digital tuner, only an analog one. This is most likely done specially, it's easier to release a universal video panel, and as a digital tuner, use a separate SMART box, which is offered in many countries as a free addition to the TV.
Xiaomi TVs do not have widely advertised technologies like those of other manufacturers. These TVs can be described as TVs of the middle price segment.
TV line up Xiaomi 2017-2018
| Brand | Model | Year | Screen | matrix manufacturer | Size screen | Series | Refresh Rate Гц | Screen bit | resolution | Processor | RAM Gb | CPU Ghz | Tuner | Ports |
| --- | --- | --- | --- | --- | --- | --- | --- | --- | --- | --- | --- | --- | --- | --- |
| Xiaomi | Mi TV4S 32" | 2018 | IPS | ? | 32 | 4S | 60 | ? | HD | 4 | 1 | 1.5 | Analog | 2xHDMI(2.0) |
| Xiaomi | Mi TV4C 50" | 2018 | VA | ? | 50 | 4C | 60 | ? | UHD | 4 | 2 | 1.5 | Analog | 3xHDMI(2.0) 2xUSB(2.0) |
| Xiaomi | Mi TV4S 55" | 2018 | IPS | ? | 55 | 4S | 60 | ? | UHD | 4 | 2 | 1.5 | Analog | 3xHDMI(2.0) 2xUSB(2.0) |
| Xiaomi | Mi TV4A 40" | 2018 | VA | ? | 40 | 4A | 60 | ? | Full HD | 4 | 2 | 1.5 | Analog | 3xHDMI(2.0) 2xUSB(2.0) |
| Xiaomi | Mi TV4C 43" | 2018 | VA | ? | 43 | 4C | 60 | ? | Full HD | 4 | 1 | 1.5 | Analog | 3xHDMI(2.0) 2xUSB(2.0) |
| Xiaomi | Mi TV4C 55" | 2018 | VA | ? | 55 | 4C | 60 | ? | UHD | 4 | 2 | 1.5 | Analog | 3xHDMI(2.0) 2xUSB(2.0) |
| Xiaomi | Mi TV4A 50" | 2018 | VA | ? | 50 | 4A | 60 | 10bit (8bit+FRC) | UHD | 4 | 2 | 1.5 | Analog | 3xHDMI(2.0) 2xUSB(2.0) |
| Xiaomi | Mi TV4 49" | 2017 | IPS | LG Display | 49 | 4 | 60 | ? | UHD | 4 | 2 | 1.8 | Analog | 2xHDMI(2.0) 1xUSB(2.0) 1xUSB(3.0) |
| Xiaomi | Mi TV4 55" | 2017 | VA | Samsung | 55 | 4 | 60 | ? | UHD | 4 | 2 | 1.8 | Analog | 3xHDMI(2.0) 1xUSB(2.0) 1xUSB(3.0) |
| Xiaomi | Mi TV4A 32" | 2017 | VA | ? | 32 | 4A | 60 | ? | HD | 4 | 1 | 1.5 | Analog | 2xHDMI(1.4) 1xUSB(2.0) |
| Xiaomi | Mi TV4 65" | 2017 | VA | Samsung | 65 | 4 | 60 | ? | UHD | 4 | 3 | 1.8 | Analog | 3xHDMI(2.0) 1xUSB(2.0) 1xUSB(3.0) |
| Xiaomi | Mi TV4A 43" | 2017 | IPS, VA | LG Display AU Optronics | 43 | 4A | 60 | ? | Full HD | 4 | 2 | 1.5 | Analog | 3xHDMI(1.4) 2xUSB(2.0) |
| Xiaomi | Mi TV4A 49" | 2017 | IPS, VA | Samsung LG Display CMOS | 49 | 4A | 60 | ? | Full HD | 4 | 2 | 1.5 | Analog | 3xHDMI(1.4) 2xUSB(2.0) |
| Xiaomi | Mi TV4A 55" | 2017 | IPS, VA | Samsung LG Display CMOS | 55 | 4A | 60 | ? | UHD | 4 | 2 | 1.5 | Analog | 3xHDMI(2.0) 2xUSB(2.0) |
| Xiaomi | Mi TV4A 65" | 2017 | IPS, VA | Samsung LG Display | 65 | 4A | 60 | ? | UHD | 4 | 2 | 1.5 | Analog | 3xHDMI(2.0) 2xUSB(2.0) |