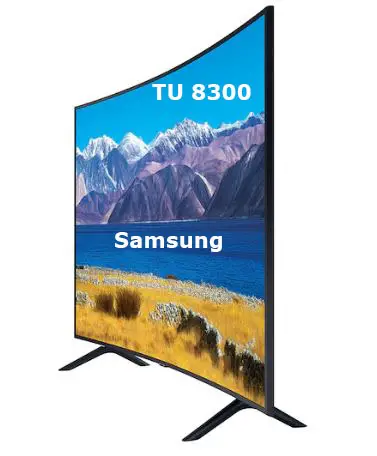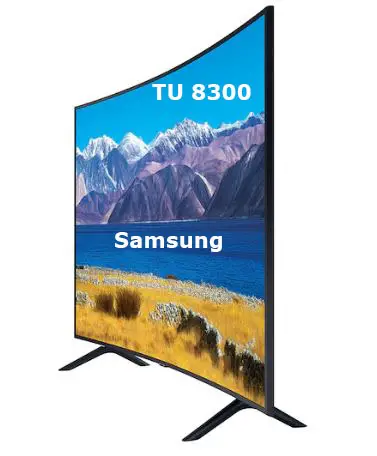 In the second half of 2020, Samsung announced the start of production of curved TVs 2020-2021. The first model with curved screen is TU8300. If we talk about the previous models then TU8300, it is a reincarnation of the model RU7300 2019 or model NU7300 2018. Just in 2020, we decided to move this model to the eighth series.
The Samsung TU8300 TV series.
Despite the fact that in 2020 the TV screen became known as Crystal UHD, this is just a new name, the production technology itself has not changed, and screens are produced on the same line, at least since 2018. LED screen, the simplest production technology. Maximum supportable frame rate, 60 frames per second. Edge backlighting, dimming technology only for large areas.
TU8300 processors
Processors TU8300, the name has adapted to the name of the line of TVs and now it is, the processor Crystal UHD. But it's a low-power processor, for nothing Samsung discloses the real technical parameters of the processor.
TU8300 comparison with previous models.
What's changed in TU8300, the software has been improved. When the Samsung TU8300 first appeared on the official Samsung website, AirPlay 2 support was added, but with a note that AirPlay2 may not be available at the time of purchase. A few days later the mention of AirPlay2 was removed from the Samsung websites, at least in the USA. This suggests that the TU8300 will most likely never receive AirPlay2 support.
Gaming mode now with ALLM (Automatically Detects Game Console Connection) support. Added Ambient Mode. Supports home office work.
TU8300, RU7300, NU7300 specifications.
| | TU8300 (2020) | RU7300 (2019) | NU7300 (2018) |
| --- | --- | --- | --- |
| | Price | | |
| screen | | | |
| Screen Size | 55, 65 | 55, 65 | 55, 65 |
| Style | Curved Panel | Curved Panel | Curved Panel |
| Resolution | 3,840 x 2,160 | 3,840 x 2,160 | 3,840 x 2,160 |
| screen bit | 10bit (8bits+FRC) | 10bit (8bits+FRC) | 10bit (8bits+FRC) |
| type screnn | | | |
| screen technology | VA | VA | VA |
| Backlighting | Edge-LED | Edge-lit LED | Edge-lit LED |
| Dimming Technology | UHD Dimming | UHD Dimming (Edge) | UHD Dimming (Edge) |
| Stand Type (Color) | Slim Feet (Black) | Simple Luminus (Dark Gray) | Simple Luminus |
| Bezel Width | Slim | Slim | VNB |
| Video | | | |
| Motion Rate | 120 | 120 | 120 |
| refresh rate | 60 | 60 | 60 |
| Color | PurColor | PurColor | PurColor |
| HDR (High-Dynamic Range) | HDR, HLG | HDR | HDR |
| Picture Engine | Crystal Processor 4K | 4K UHD Processor | UHD Engine |
| Audio | | | |
| Dolby | Yes | Yes | Yes |
| Sound Output | 20W | 20W | 20W |
| Woofer | No | No | No |
| Speaker Type | 2.0CH | 2.0CH | 2.0CH |
| Multiroom Link | Yes | Yes | Yes |
| Features | | | |
| OS | Tizen 5.5 | Tizen 5.0 | Tizen 4.0 |
| Wi-Fi | Yes | Yes | Yes |
| Bluetooth | Yes (ver.4.2) | Yes | No |
| Smart Hub | Yes (incl. Universal Guide and TV Plus) | Yes (incl. Sports, Music and TV Plus) | Yes (incl. Sports, Music and TV Plus) |
| Bixby | Yes | No | No |
| Digital Clean View | Yes | Yes | Yes |
| Ultra Black | No | No | No |
| ConnectShare | Yes | Yes | Yes |
| Closed Captioning | Yes | Yes | Yes |
| Game Mode | Yes | Yes | Yes |
| Eco Sensor | Yes | Yes | Yes |
| Mobile to TV - Mirroring, DLNA | Yes | Yes | Yes |
| Google Assistant | Yes | Yes | No |
| Alexa | Yes | Yes | No |
| AirPlay 2 | Yes (Depending on the region, OS update is required) | No | No |
| Auto Channel Search | Yes | Yes | Yes |
| InstaPort S (HDMI Quick Switch) | Yes | Yes | Yes |
| Channel Guide | Yes | Yes | Yes |
| Ambient Mode | Yes | No | No |
| Home office | Yes | No | No |
| Auto Power Off | Yes | Yes | Yes |
| AI Technology | No | No | No |
| Apps Platform | Smart TV Powered by TIZEN™ with Bixby Voice, Apps and Full Web Browser | Smart TV with Apps and Full Web Browser | Smart TV with Apps and Full Web Browser |
| Auto Motion Plus | Yes | Yes | Yes |
| Embedded POP | Yes | Yes | Yes |
| Anynet+ (HDMI-CEC) | Yes | Yes | Yes |
| V-Chip | Yes | Yes | Yes |
| TV to Mobile - Mirroring | No | No | No |
| USB HID Support | Yes | Yes | Yes |
| AI Upscale | No | No | No |
| Easy Pairing | No | No | No |
| Inputs & Outputs | | | |
| HDMI | 3 | 3 | 3 |
| USB | 2 (ver 2.0) | 2 | 2 |
| Ethernet | Yes | Yes | Yes |
| RF In (Terrestrial/Cable | Yes | Yes | Yes |
| RF In (Satellite Input) | No US, Yes Europe | Yes | Yes |
| Digital Audio Out (Optical) | Yes | Yes | Yes |
| Audio Return Channel | Yes | Yes | Yes |
| One Connect | No | No | No |
| System | | | |
| Digital Broadcasting US | ATSC/ClearQAM | ATSC/ClearQAM | ATSC/ClearQAM |
| Digital Broadcasting Europe | DVB T/T2/C/S/S2 | DVB T/T2/C/S/S2 | DVB T/T2/C/S/S2 |
| Analog Tuner | Yes | Yes | Yes |
| Accessories | Yes | | |
| Remote control | Standard Smart Remote (ready TM2050A) | TM1240A | TM1240A |
| Samsung OneRemote | Yes | No | No |