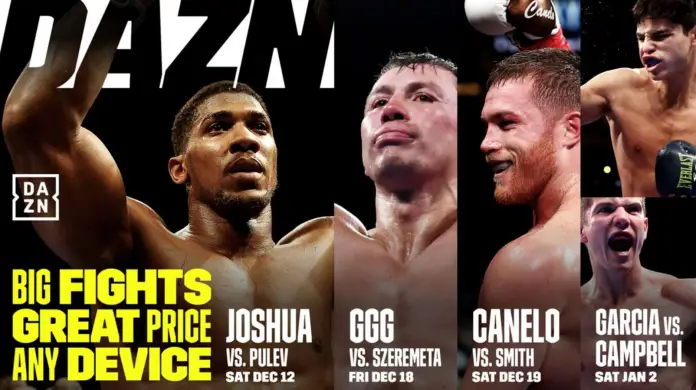 There are many sports fans among us. We all love to cheer on our favorite athletes at times and some of us devote all our free time to it. However, very often we are confronted with the problem of a mismatch between our desires and reality. We are talking about the cost of watching live sporting events. Not everyone can afford to sit down in the evening and watch a pay-per-view boxing match for the title without thinking about the cost. If you feel as we do that the price is unfair to ordinary people, well, the solution to that problem is waiting for you below.
What does DAZN stand for?
DAZN is a streaming platform launched in 2016. It was initially launched in Australia, Switzerland, and Germany. In the wake of its own success, DAZN was already available in more than two hundred countries around the world by the end of 2020. Initially, including only combat sports, team competitions are now also available to watch on the DAZN platform. The best thing about the platform is that a monthly subscription costs just £1.99. There is also a trial subscription which is completely free for thirty days. As you can see from the above, this streaming platform is a great balance between value and content. Sports fans who don't want to waste their time watching sport but do want to watch it for a reasonable price are going to love it. 
How many devices does DAZN work?
DAZN is available on virtually all devices, including Roku, Apple TV, Chromecast, Xbox One, Playstation, iOS, Android, and from Chrome, Firefox, Internet Explorer and Safari via the web. Generally, DAZN is available in more than two hundred countries, but it is worth checking whether it is available in your region before using it. It is very easy to do so. All you have to do is go to the DAZN website and info would be available, including pricing.
If you live outside of the regions where DAZN is available, this is no problem at all, as you can use the VPN function to browse the streaming service. 
What content is available on DAZN?
On DAZN Streaming you can enjoy a wide range of content, including shows such as the Premier League, NBA, NFL, MLB, NHL, F1, and of course boxing and MMA. DAZN also has exclusive content. In 2018, DAZN signed an agreement with Matchroom Boxing USA. The agreement was that 32 fights a year would be presented regularly exclusively on the DAZN streaming service. This agreement made DAZN the headliner as far as major sporting events in boxing were concerned. Soon after, they also became the exclusive streaming service for Canelo Álvarez.