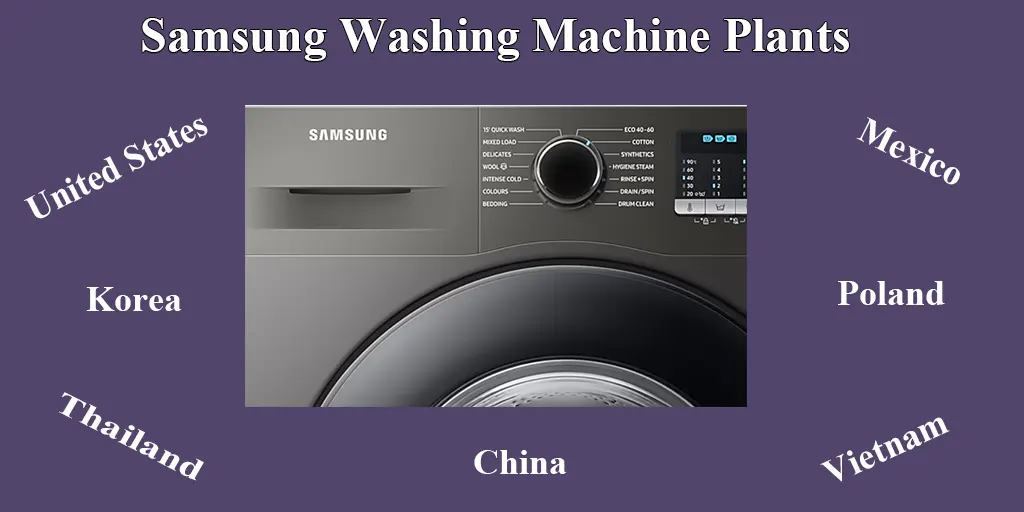 Samsung is a huge company that makes processors, semiconductors, and batteries. Samsung has an appliance segment; we all know that Samsung makes washing machines. If you are wondering in which countries and factories Samsung assembles washing machines, you can find out. Samsung assembles washing machines in countries such as the United States, China, Thailand, Korea, Russia, Mexico, Poland, India and Vietnam.
How can I find out which country my washing machine is assembled in?
It's easy: look at the serial number on your washing machine. The serial number encodes information about the country where it was assembled, as well as the assembly line number. Samsung usually indicates the country where the washing machine is assembled, but this information is still included in the serial number. 
If we take the serial number 058U5NAJ100621D as an example, we can see that the washing machine was manufactured in Vietnam on the first assembly line.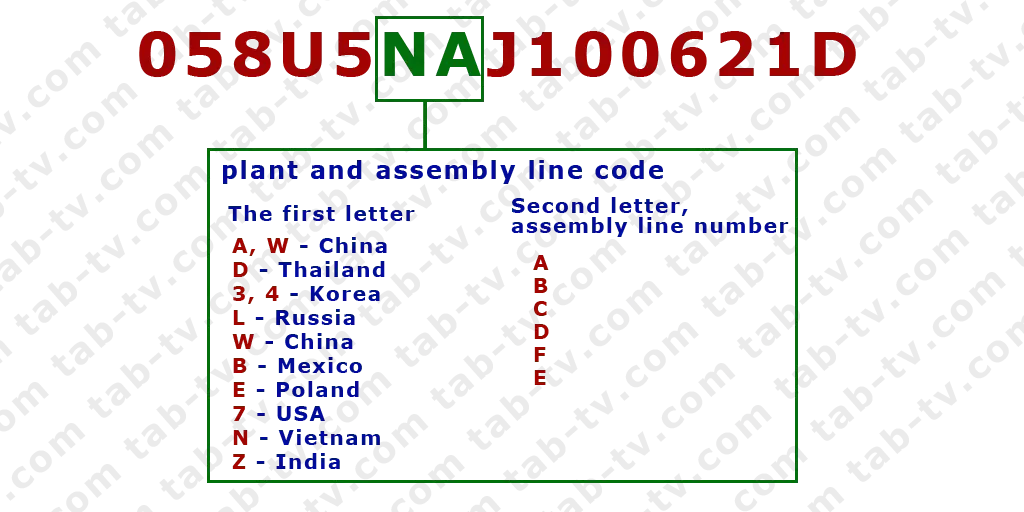 This information can be found in the 6th digit of the serial number. The factory code is followed by the assembly line number, which usually consists of alphabet letters. NA is the factory code in the serial number. 
N – is the factory in Vietnam
A – first assembly line
Suppose you are interested in how to decipher the entire serial number and find out not only the place of assembly but also the date of production. In that case, this information is in the article "Decode the Samsung washing machine serial number."
Samsung factory codes in the washing machine serial number. 
A, W – China
D – Thailand
3, 4 – Korea
L – Russia
W – China
B – Mexico
E – Poland
7 – USA
N – Vietnam
Z – India
Location of Samsung washing machine manufacturing plants
Now about the factories where Samsung washing machines are assembled.
Samsung washing machine factory in the USA

In the US, Samsung has started manufacturing washing machines in South Carolina. The plant began operations in 2018. Opening a factory in the US is a forced measure for Samsung. In 2017, the US government imposed duties on imports of home appliances, namely washing machines. The South Carolina plant is expected to meet the demand for washing machines in the US.
Moreover, washing machines from this plant will not only be supplied to the US but also to Canada. Two assembly lines have been built in the plant, and the plant's capacity is about 1 million washing machines per year. If you live in the US, you may see a washing machine labeled "Assembled in the USA." Most components are imported, but some company suppliers have also opened their plants in the US. Hence, KRA Operations, a company that makes plastic parts for washing machines, opened a plant next to Samsung in South Carolina.
Samsung washing machine factory in Mexico

Samsung's Mexican washing machine assembly plant is located in Queretaro in the industrial park of the same name. Until 2018, the washing machines produced were mainly supplied to the North American market and Mexico. After the opening of the washing machine assembly plant in the USA, the plant started to produce washing machines for Mexico and South America. This plant also produces refrigerators.
Samsung washing machine factory in Poland
Samsung's interests in Poland are represented by SAMSUNG ELECTRONICS POLAND MANUFACTURING SP. Z. O.O. The plant in Wronki produces refrigerators and washing machines. The plant's capacity for the production of washing machines is approximately 2 million units per year. The plant in Poland produces washing machines for European markets; according to Samsung, products from this plant are exported to 36 countries.
The factory code is E. I have seen washing machines with the code ES. In 2021, it has decided to expand and modernize the plant. When all the work is done, the factory should increase its output to 5.2 million pieces per year, that is, washing machines and refrigerators together. If you live in Europe, you will most likely see a washing machine made in Poland in a store.
Samsung washing machine factory in Russia
The Samsung washing machine factory is located in Kaluga. It is a large factory that produces quite a wide range of products; it also produces televisions. Washing machines will be produced in the factory from 2012 to the beginning of 2022. After the war with Ukraine started, and Russia came under international sanctions, the factory stopped its work. Previously, washing machines produced at the plant were delivered to Russia, Ukraine, Belarus, the republics of Central Asia and the Caucasus, Kazakhstan, and Mongolia. It is not known whether the factory will resume work; many companies consider Russia to be a very unreliable partner in the future, and investments in such a country are perilous.
Samsung washing machine factory in China
The washing machine factory is located in the city of Suzhou. It is a vast factory that started operations in 1995. In addition to washing machines, it produces refrigerators, air conditioners, and microwave ovens. The plant's capacity allows it to produce about 2 million washing machines annually. Recently, it has become impractical to produce home appliances in China, labor costs have risen, and the production of home appliances is becoming increasingly expensive. Vietnam is becoming a new global manufacturing base. Large companies prefer to move production to Thailand and Vietnam. Washing machines made in China are sold in China, Asia, and South America. Some models of washing machines are exported to the USA and Europe.
Samsung washing machine factory in Korea
Washing machines in Korea are manufactured at the Gwangju plant. This plant supplies washing machines to the South Korean market and other regional countries. Previously, washing machines from this plant were shipped to the USA. This plant focuses on the production of premium washing machines. In this segment, the impact of labor costs on the price is less. Production of less expensive washing machines has been shifted to Vietnam. The Gwangju plant is one of Samsung's largest plants, consisting of three campuses and 16 production lines. In addition to washing machines, the plant also produces refrigerators and air conditioners.
Samsung washing machine factory in Thailand
The Samsung factory in Thailand was built in the mid-90s of the last century. It is located in the industrial complex of Sriracha, Chonburi province. The plant produces washing machines, refrigerators, air conditioners, stoves, and dishwashers. The total capacity of the factory is about 10 million units per year. Washing machines are exported from this factory to other countries; 30 countries, including India and, Pakistan, Australia, are supplied from this factory.
Samsung washing machines made in India
In India, Samsung makes washing machines, refrigerators, and air conditioners in Sriperumbudur. Almost all products are sold in the local market. The production of home appliances for the Indian market is almost always localized. There is a lot of labor available but nowhere to use it, so imported electronics and appliances are subject to high taxes. Opening a local assembly plant makes the same washing machines competitive with other brands.
Washing Machine Manufacturing in Vietnam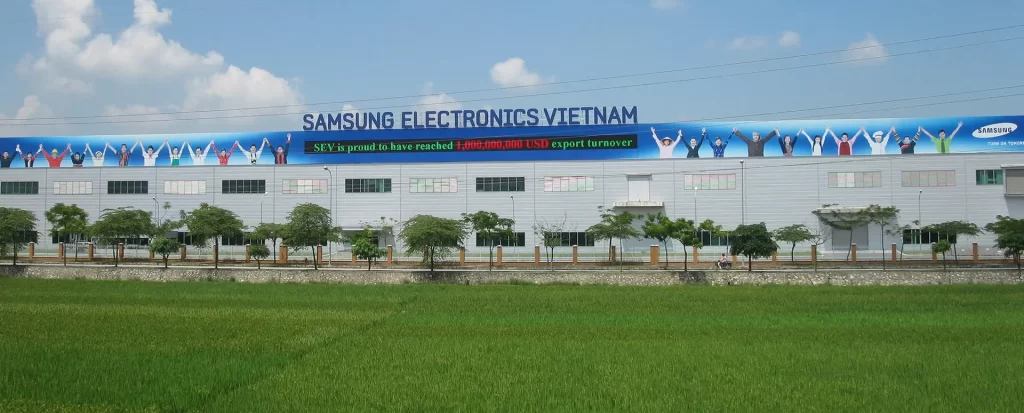 It is no secret that Vietnam is now seen as an alternative to China, and many companies are gradually moving their business from more expensive countries to countries with cheap labor. Samsung considers Vietnam as its second-largest overseas manufacturing base. Some factories in both Korea and China have been relocated to Vietnam. Samsung has built six factories in this country to produce various products. If we talk about washing machines, they are produced at the Ho Chi Minh City factory. Most of the produced washing machines are exported.
Do OEMs manufacture Samsung washing machines?
In today's world, some companies manufacture many home appliances and electronics but do not have their brand. The simplest example is Apple's iPhones and iPads, which third-party authorized companies manufacture. You should know that Samsung also orders some products from OEMs. These are primarily small appliances, vacuum cleaners, microwave ovens, and air purifiers. When it comes to large appliances, it is usually either a budget segment for some countries or specific household appliances. For example, the Kimchi refrigerator under the Samsung brand is manufactured by the Korean company DH Global. If we talk about washing machines, for example, the Samsung Baby Love washing machine model was manufactured by DK.Co, Ltd and the WW90T3000KW washing machine model was manufactured for Samsung by the Chinese company Wuxi Little Swan, which is part of the Midea Group, source.