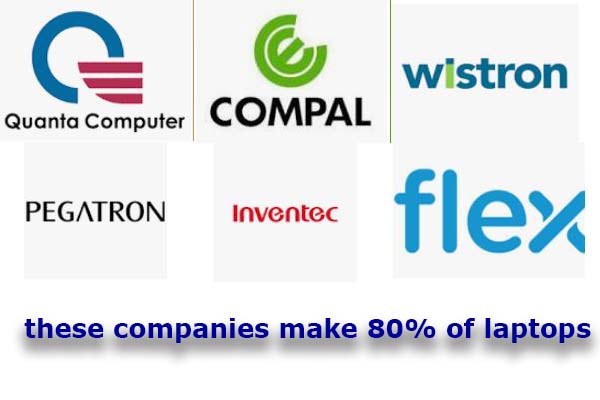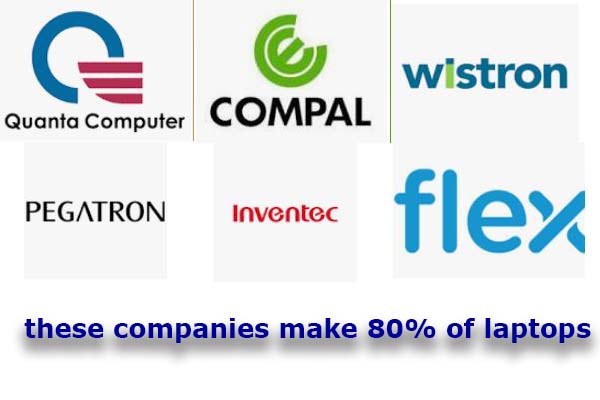 We all know and have heard of laptops of various companies with loud names. These companies sell dozens of models of different laptops, laptops can be bought anywhere in the world, these are such well-known companies as:
Lenovo, HP, Dell, Apple, Acer, Asus
And other smaller manufacturers, such as Huawei, Toshiba, Xiaomi, Microsoft. And you may think that these companies produce laptops, but they do not. The current globalization of manufacturing makes it unprofitable to produce their own laptops. That's why there are five huge companies with hundreds of thousands of employees and these companies specialize in developing and manufacturing laptops through outsourcing. And the companies that own the brands order the development and assembly of laptops from them.
The leading laptops manufacturers are Quanta, Compal, Wistron, Pegatron and Inventec. These five major manufacturers account for more than 80% of the total production and supply of laptops. laptops made by these companies are sold around the world but under other brands. You won't find a laptop from Pegatron or Foxconn, and these companies don't want to do that, they make their money from producing laptops and don't advertise their involvement in production. And already service support, promotion of laptop models in the market, it is the task of the owner or holder of the brand.
Leading manufacturers of laptops and components for laptops.
The main manufacturers of components and laptops are not world-famous brands, these are the following companies. Briefly we will tell you what these companies are, with whom they work and to whom they supply laptops for sale.
Quanta laptops production
Quanta Computer Incorporated, a Taiwanese corporation, includes several companies, is a major manufacturer of laptops, according to some data (unfortunately, detailed statistics do not exist) is the main manufacturer of laptops in the world 1/3 of all manufactured laptops produced by Quanta. In Quanta order the production of laptops Lenovo, HP, Dell, Apple, Huawei and many other brands. The main production is located in mainland China.
Compal laptops production
Compal Electronics is also a Taiwanese electronics manufacturer and the world's second largest laptop manufacturer. Works with Lenovo, HP, Dell, Acer and other brand owners. Laptops are mainly manufactured in China, and there are also assembly lines in other countries such as Brazil, India.
Wistron laptops production
Wistron Corporation is a Taiwanese company, a subsidiary of Acer Group. It specializes in the manufacture of various electronics, including laptops. It produces laptops for Lenovo, HP, Dell, Acer, Xiaomi. Assembly lines in Taiwan and China.
Pegatron laptops production
Pegatron Corporation is a subsidiary of Asustek. It is mainly responsible for the production of various IT products. Laptops are one of the production segments. It produces laptops for Asus, Lenovo, Apple. Production facilities are located in China and Taiwan.
Inventec laptops production
Inventec Corporation – Taiwanese company, the company is engaged in the development and production of various electronics, including laptops. It produces laptops for HP, Asus, Fujitsu, Xiaomi. Production facilities in China and Taiwan.
Flex laptop production
Flex Ltd is an electronics contract manufacturer, produces many components for laptops, also engaged in laptops assembly, produces or has produced laptops for Huawei and some models of Dell Alienware. The company is registered in Singapore and has offices in many countries. The factories are located in 30 countries, laptops are assembled mainly in China.
Lianbao LCFC laptops manufacturing
Lianbao (Hefei) Electronic Technology Co., Ltd is a Chinese company, a subsidiary of Lenovo, which produces Lenovo laptops.
Foxconn laptops production
Foxconn Technology Group is a Taiwanese company, a manufacturer of various electronics, including supplying components and assembling laptops for Apple, Huawei, Asus, HP. There are enterprises and assembly lines in various countries such as Taiwan, China, Vietnam.
Huaqin
Huaqin Communication Technology Co., Ltd – Chinese ODM developer of various equipment, develops laptops for Lenovo, Dell, Acer, Asus, Huawei. Huawei manufacture some models of laptops, Matebook 13/14 and Mate book X pro Huawei produced by Huaqin.
Wingtech
Wingtech Technology Co.,Ltd is a Chinese ODM developer, designer and manufacturer of some laptop models for Lenovo, Huawei, Asus, Acer. Huawei Matebook E laptop is designed and manufactured by Wingtech.
Baolongda
Baolongda Group is a brand of bitland, a Chinese company engaged in the development of components for laptops, with its participation developed laptops for Lenovo, Dell, Asus, Huawei, Xiaomi, Google. It supplies components for the production of laptops Compal, Wistron, Quanta, Hixih, Wingtech, Inventec, Lianbao, Foxconn, BYD and many other companies.
BYD
BYD Co., Ltd – the company is registered in Hong Kong, produces equipment for many industries. Mostly known for producing cars and components, but it also supplies batteries for laptops. It manufactures components for Asus, Huawei and many other laptop manufacturers.
Source:https://dy.163.com/article/EOATGKJI0511ARJJ.html.