The only manufacturer of OLED panels for TVs is the company LG. A lot of time and money was spent on the development of OLED panels. LG supplies its OLED panels to other manufacturers such as Sony, Panasonic, Philips. Of course, due to the high cost of production of OLED panels, OLED TVs have a higher price than LED TVs.
LG
OLED TV series B8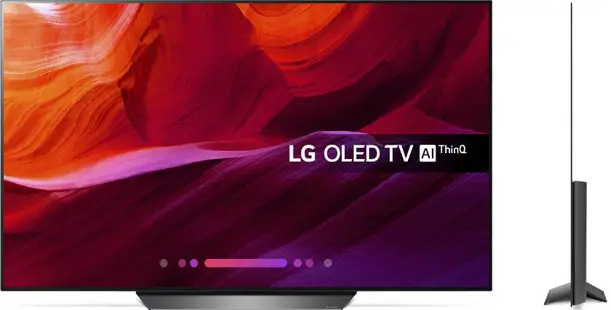 This is a replica of OLED TVs LG 2017. Added support for Dolby Atmos.
The TV has an alpha 7 processor installed, but the operating system has been upgraded to webOS 4. On the whole, the TV shows a fairly good performance but processes the image slightly worse than models with a more advanced Alpha 9 processor.




The manufacturer does not disclose the specifications of the processors. It is known that the alpha 7 processor has 4 processor cores and 2 graphics processor cores. RAM 2GB and built-in 8GB.
There are several versions of the TV B8S and B8P, differ in the number of speakers.
B8S – 2×10 watts. and 2×10 watts. subwoofers
B8P -2x10W.
In general, the TV shows well and received a score of 9 on tests.
OLED С8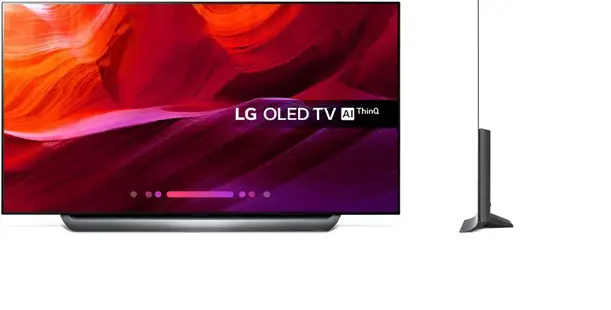 In OLEDC8, the new Alpha 9 processor is installed. In the Alpha 9 processor, there are also 4 cores of the main processor and 2 cores of the graphic processor. Increased RAM up to 3GB., 8GB internal memory. The operating system is WebOS 4.0. Sound format 2.2 two speakers at 10W, as well as two subwoofers also at 10W. The design has been slightly modified, but in terms of exterior design is very similar to the B8.
OLED E8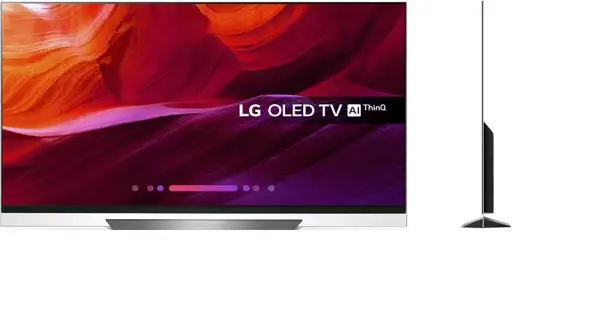 The model has a different design and number of speakers, the E8 has a 4.2 configuration (four speakers of 10 watts each and 2 subwoofers of 10 watts each). The remaining parameters are similar to the OLED C8 model.
OLED G8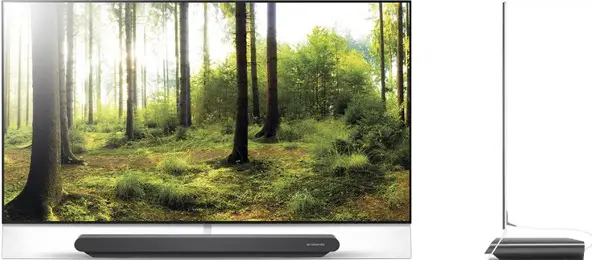 The technical characteristics of the TV series G8 is the same as the E8. The difference in the design of the control unit is in the stand. OLED screen is connected by cable to the control unit.
OLED W8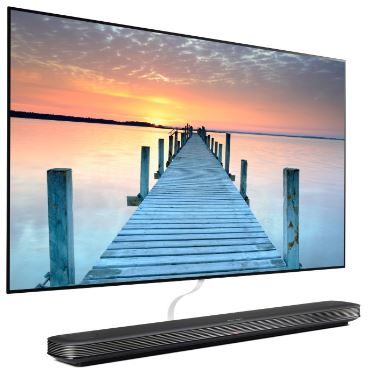 Technical parameters identical with E8 and G8. Differences in design, in the OLED TV panel is made separately, the control unit separately, they can be placed separately.
SONY
OLED screens for Sony TV supplies LG. Sony is one of the few companies that does not hide on which processors the chip is built in the TV. Sony's OLED TVs are distinguished by very good picture quality and natural colors. The operating system uses Android. In 2018, 2 models of OLED TVs were presented.
KD-AF8 alternative model XBR-A8F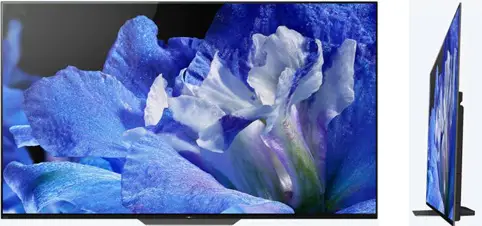 The TV is equipped with a Picture Processor X1 ™ Ultimate processor which has a main MediaTek MT 5891 processor with ARM Сortex А53 cores, 4 cores with a frequency of 1.1 GHz, it also has an integrated graphics processor built on an ARM Mali T860 MP2 processor with two 700 cores Mhz. Also installed 16 GB of internal memory and 2 GB of RAM. Sony does not support the HDR standard (Advanced HDR) – this standard was developed by Technicolor as an alternative to HDR10 + and Dolby Vision and is being promoted by LG.




Sound format 4.1, four speakers of 10W. and 1x10W subwoofer. The operating system is Android 7.0 or Android 8.0. Sound format 4.1, 4x10W and subwoofer 1x10W.
Standard design, TV on a stand or the possibility of installation on the wall.
KD-AF9 alternative model XBR-A9F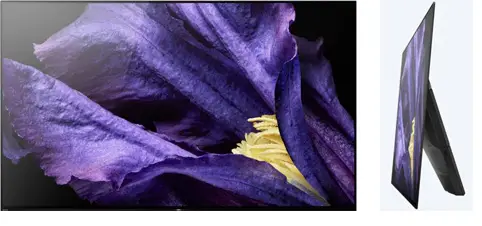 This TV model uses a Picture Processor X1 ™ Ultimate processor but an improved, mainstream MediaTek MT5893 processor developed specifically for Sony, it has 4 cores at 1.5 GHz and a Mali-G71 graphics processor with 2 cores and a frequency of 770-850 MHz. RAM installed 4GB, built-in 16GB.
Thanks to an improved processor, the speed of image processing has improved, although the operating system is Android 8.0. 6.2 sound format, six 13W speakers each and two 10W subwoofers.
The design is also unusual, the TV is made with a stand like in photo frames, unusually but stylish.
Panasonic
Panasonic also launches OLED TVs by buying OLED screens from LG. In 2018, presented 2 models of TVs. FZ800 and FZ950, in some countries these are models FZ802B, FZ952B. And for example in the US, Panasonic does not sell televisions at all. Panasonic OLED TVs are of good quality, thanks to well-thought-out software, have good speed and picture quality.
Panasonic FZ800 (FZ802B, FZW804)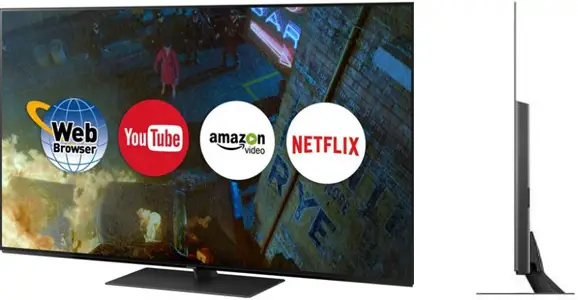 The design is quite original, sound format 2.2. 2x10W main speakers and 2x10W subwoofer. The processor is 4-core but the manufacturer does not disclose detailed specifications.
Operating system Home Screen 3.0 in which the basis is based on OS Mozilla Firefox which was once designed for phones. The design is simple but stylish.
Panasonic FZ950 (FZ950B, FZ950E, FZW954)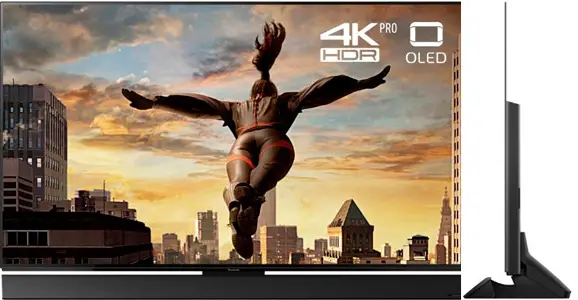 OLED TV 9 series, from the 8 series is distinguished by an improved sound, also of the format 2.2 but the speakers of 20W each, the total power of 80W The speakers are built into the soundbar, which is built into the stand.
PHILIPS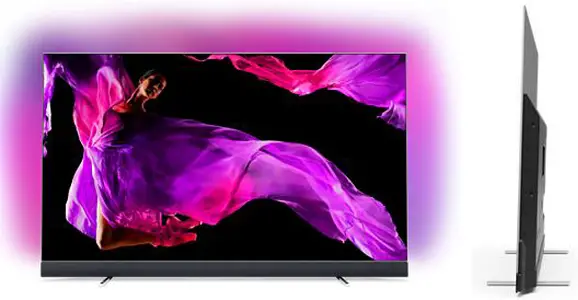 Philips, in spite of the ever-increasing lag in the quality of television sets, this happened after the Chinese company TP Vision bought a TV brand for Europe, Asia, and Oceania, trying to go at the level of leaders. Especially a lot of complaints about the quality of the software.
Matrix screens are also purchased from LG. The TVs are equipped with MediaTek MT5596A processors with 4 cores Cortex-A53 and a clock speed of 1.1 GHz. Mali-T860 MP2 with 2 cores and 700 MHz is installed as a graphics processor. 16GB internal memory, 2GB RAM. Android operating system.
Televisions differ in the number of speakers and design.
OLED803 – 4x10W + 1x10W subwoofer
OLED873 – 2х25W
OLED903 – 4x10W + 1x10W subwoofer
OLED973 – 2х30W
For America, OLED TVs are not made.