Wireless keyboard for Samsung Smart TV
After 2015, the release of new versions of keyboards only for televisions was discontinued.
The reason is that TVs began to support the device class HID (human interface device). Any third-party HID-class keyboard is compatible and will work with a TV. The need to manufacture keyboards only for the TV has become unnecessary.
Samsung keyboard for smart TV VG-KBD1000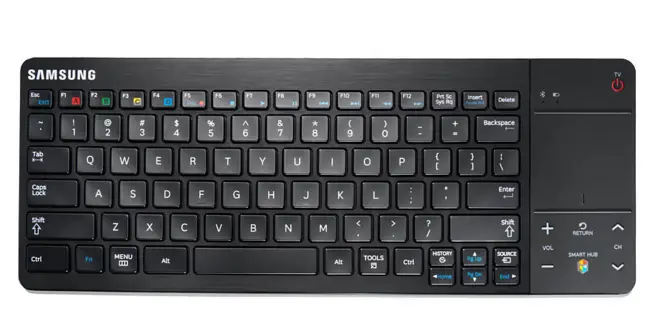 Samsung keyboard for smart TV VG-KBD2000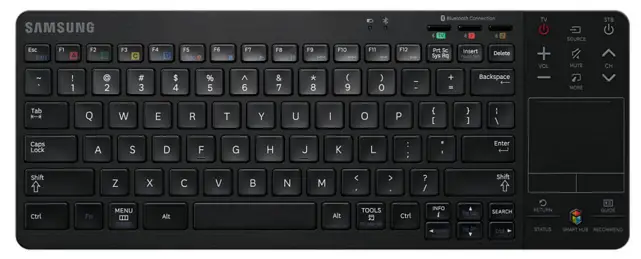 Samsung keyboard for smart TV VG-KBD2500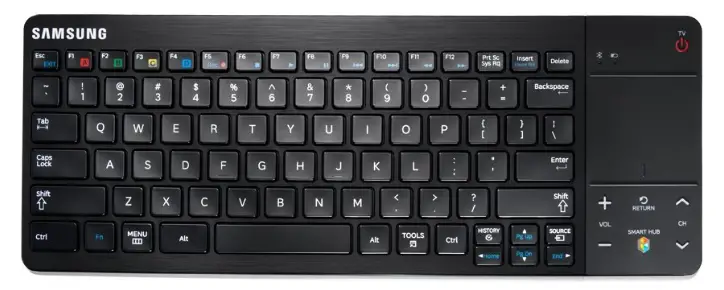 Samsung keyboard compatibility with TV models
Keyboard for Samsung TV with an internet connection.
VG-KBD1000
Keyboard works with Samsung TVs in 2012 and the subsequent series, ie series E, F, H, J. 2012-2013 with a TV compatible, but not with all models.
2012: LED ES6100 and above
2013: LED F6400 and above
Model VG-KBD2000
is a modification of a previous version, works with television sets since LED F6400. Suitable for the TV model from 2013, supplied the European market and the United States.
Model VG-KBD2500
it has a design as a keyboard KBD1000, compatible with TV 2015 Series J
2015 : J5500, J6300 all UHD TV series
2014 : H6400 and above
How does the keyboard for a Samsung TV work?
The keyboard is connected to the TV via Bluetooth 2.1 channel wireless keyboard.
The keyboard has a touchpad, and keyboard shortcuts to the main functions of management watching TV. For countries not using the Latin alphabet has additional lettering on the keyboard.
It is intended to facilitate the work of the user associated with typing. But user feedback works only with the browser and in multiple applications. Full use of it as a computer keyboard is not possible. It replaces only a standard remote control, and is an analogue remote control Smart Touch Control
with the addition of a keyboard.
Opinions about the keyboard is pretty interesting, people are quite happy with the European countries and the majority of the positive reviews, testimonials from Russia and other Russian-speaking countries, 80% negative.
Perhaps such a huge difference in the estimates of the keyboard is connected with the fact that the English-speaking audience mainly uses predefined services for watching videos or communicating online Skype, Facebook, Twitter, Netflix, in this case the keyboard is used purely for typing, and applications to adapt to it.
Russian-speaking audience is trying to use applications developed for one country, and application developers do not pay attention to application compatibility and keyboard.