Sony TV remote control
Sony offers a rather wide range of remote controls for your TV.
RMVLZ620 (RM-VLZ620)
Universal, programmable remote control can be used with TVs and DVD players, receiver, or stereo system. Supports electronic devices and other manufacturers about 1000 models.
A complete list of supported devices can be found in the list Manufacturers Code List

RMYD103 (RM-YD103)



Remote Control for Sony TV compatible with models:
KDL-32W700B 
KDL-40W580B 
KDL-40W590B 
KDL-40W600B
KDL-42W700B 
KDL-48W580B 
KDL-48W590B 
KDL-48W600B 
KDL-50W700B 
KDL-55W700B 
KDL-60W610B
KDL-60W630B
 XBR-55X800B
 XBR-65X800B
RMF-TX100E (RMF-TX100U)

One-Flick Touchpad TV for the TV remote with a touchpad to control the cursor on the TV screen. Built-in microphone, you can use voice dialing text and control your TV, depending on the model.
RMF-TX100E- Europa
RMF-TX100U- US
The model is compatible with TVs with the operating system Android
RMF-ED004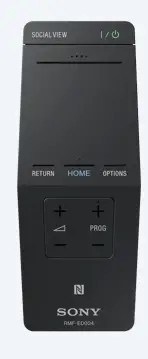 Remote One-Flick Touchpad TV analogue described above, the TV only on an old operating system until 2015.