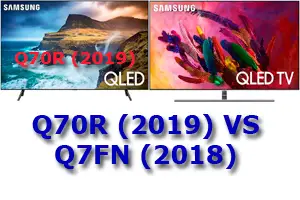 TV samsung q7 vs q70
Samsung TVs with screens made using quantum dots 7 series. Presented in 2018 by two models that differ in screen, in the model QN65Q7CN (2018), the screen is curved. 2019 Q70R new TV model.
The comparison will be between TVs for America with 65-inch screens. QN65Q7FN (2018), QN65Q7CN (2018) and the 2019 Series 7 TV QN65Q70R (2019).
Comparison and differences between the QN65Q7FN (2018), QN65Q7CN (2018) vs QN65Q70R (2019) TVs
First, consider the main differences that may affect the image quality and other technical specifications that are noticeable to the viewer.
Screen backlighting – in 2019 Q70R TVs, the Direct (Direct Full Array 4x) type backlight is illuminated evenly across the entire screen. In 2018 TVs (Q7FN Q7СN), the backlight is of the EDGE (Edge-lit LED) type, the backlight LEDs are located on the side. In 2019 TVs, the screen is better, the screen dimming control is more perfect.
Screen dimming technology – since the screen in 2019 Direct TVs, the dimming technology is more advanced 65Q70R (2019) is used by Ultimate UHD Dimming. Televisions 2018 Supreme UHD Dimming.
Color Sharing System – 65Q70R (2019) 100% Color Volume with Quantum Dot, 2019 TVs (Q7FN Q7СN) Q Color. These are just different names, but the quality of the transmitted image is identical. The new name is applied to increase the differences between the models.
HDR – the name of the technology is different, but standards support is standardized, there are no differences between the 2018 and 2019 TVs.
Picture Engine is a graphics processor, although different technologies are claimed, Quantum Processor 4K in 2019 and Q Engine in 2018, but if there are any differences, they are not noticeable to the viewer. Samsung does not report which processor in the TVs.
OS – updated to Tizen 5.0, the new version supports Google assistant and Alexa. These features were not on the 2018 televisions.
AI Technology is marketing, although it can be assumed that this is due to the support of the Google assistant and Alexa.
In 2019 Q70R TVs, two USB ports, there were three Q7FN (CN) ports.
In 2019, One Connect is not mentioned.
Samsung Q70R TVs (2019) got an improved screen, but a bit of trimmed sound functionality.
Comparison of TVs Samsung Q70R and Q7FN, Q7CN
| | QN65Q70R (2019) | differences | QN65Q7FN (2018) | QN65Q7CN (2018) |
| --- | --- | --- | --- | --- |
| | | | | |
| screen | | | | |
| Screen Size | 64.5" | | 64.5" | 64.5" |
| Style | Flat Panel | | Flat Panel | Curved Panel |
| Resolution | 3,840 x 2,160 | | 3,840 x 2,160 | 3,840 x 2,161 |
| screen bit | 10bit | | 10bit | 10bit |
| type screnn | Quantum Dot | | Quantum Dot | Quantum Dot |
| screen technology | VA | | VA | VA |
| Backlighting | Direct Full Array 4x | ✅❗ | Edge-lit LED | Edge-lit LED |
| Dimming Technology | Ultimate UHD Dimming | ✅ | Supreme UHD Dimming | Supreme UHD Dimming |
| Stand Type (Color) | Simple Stand | ✅ | T-Center | C-Center |
| Bezel Width | 4 Bezel-less | | 4 Bezel-less | 4 Bezel-less |
| Video | | | | |
| Motion Rate | 240 | | 240 | 240 |
| refresh rate | 120 | | 120 | 120 |
| Color | 100% Color Volume with Quantum Dot | ✅ | Q Color | Q Color |
| HDR (High-Dynamic Range) | Quantum HDR 8x | ✅ | Q HDR Elite | Q HDR Elite |
| Picture Engine | Quantum Processor 4K | ✅ | Q Engine | Q Engine |
| Audio | | | | |
| Dolby | Yes | | Yes | |
| Sound Output | 40W | | 40W | 40W |
| Woofer | Yes | | Yes | Yes |
| Speaker Type | 2.1CH | ✅❗ | 4.1CH | 4.1CH |
| Multiroom Link | Yes | | Yes | Yes |
| Features | | | | |
| OS | Tizen 5.0 | ✅❗ | Tizen 4.0 | Tizen 4.0 |
| Wi-Fi | Yes | | Yes | Yes |
| Bluetooth | Yes | | Yes | Yes |
| Smart Hub | Yes (incl. Sports, Music and TV Plus) | | Yes (incl. Sports, Music and TV Plus) | Yes (incl. Sports, Music and TV Plus) |
| Bixby | Yes | | Yes | Yes |
| Digital Clean View | Yes | | Yes | Yes |
| Ultra Black | No | | No | No |
| ConnectShare | Yes | | Yes | Yes |
| Closed Captioning | Yes | | Yes | Yes |
| Game Mode | Yes | | Yes | Yes |
| Eco Sensor | Yes | | Yes | Yes |
| Mobile to TV - Mirroring, DLNA | Yes | | Yes | Yes |
| Google Assistant | Yes | ✅❗ | No | No |
| Alexa | Yes | ✅❗ | No | No |
| Auto Channel Search | Yes | | Yes | Yes |
| InstaPort S (HDMI Quick Switch) | Yes | | Yes | Yes |
| Channel Guide | Yes | | Yes | Yes |
| Ambient Mode | Yes | | Yes | Yes |
| Auto Power Off | Yes | | Yes | Yes |
| AI Technology | Yes | ✅ | No | No |
| Apps Platform | Smart TV with Bixby Voice, Apps and Full Web Browser | | Smart TV with Bixby Voice, Apps and Full Web Browser | Smart TV with Bixby Voice, Apps and Full Web Browser |
| Auto Motion Plus | Yes | | Yes | Yes |
| Embedded POP | Yes | | Yes | Yes |
| Anynet+ (HDMI-CEC) | Yes | | Yes | Yes |
| V-Chip | Yes | | Yes | Yes |
| TV to Mobile - Mirroring | Yes | | Yes | Yes |
| USB HID Support | Yes | | Yes | Yes |
| AI Upscale | Yes | | Yes | Yes |
| Easy Pairing | ? | ✅ | Yes | Yes |
| Inputs & Outputs | | | | |
| HDMI | 4 | | 4 | 4 |
| USB | 2 | ✅❗ | 3 | 3 |
| Ethernet | Yes | | Yes | Yes |
| RF In (Terrestrial/CableР'В  | Yes | | Yes | Yes |
| RF In (Satellite Input) | Yes | | Yes | Yes |
| Digital Audio Out (Optical) | Yes | | Yes | Yes |
| Audio Return Channel SupportР'В  | Yes | | Yes | Yes |
| One Connect | No | ✅❗ | Yes | Yes |
| Dimensions | | | | |
| Product Size (W x H x D) Without Stand | 57.1" x 32.7" x 2.4" | ✅ | 56.9" x 32.6" x 1.8" | 56.8" x 32.6" x 4.1" |
| Product Size (W x H x D) With Stand | 57.1" x 35.8" x 11.3" | ✅ | 56.9" x 36" x 13.9 | 56.8" x 36" x 14.8" |
| Product Weight With Stand | 54.9 lb. | ✅ | 60 lb | 61.1 lb |
| System | | | | |
| Digital Broadcasting | ATSC/ClearQAM | | ATSC/ClearQAM | ATSC/ClearQAM |
| Analog Tuner | Yes | | Yes | Yes |
| Accessories | | | | |
| Remote control | TM1950C | ✅❗ | TM1850A | TM1850A |