TV LG SM9000 vs SK9000 series NanoCell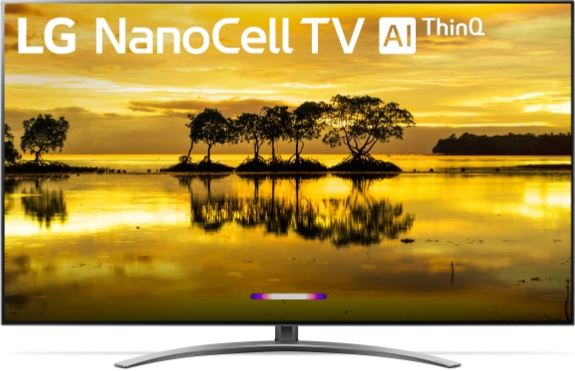 Let's make a comparison of LG TV series 9 Nano cell (premium LED series). On the example of televisions produced for North America.
LG SM9000 technical overview
LG TV series 9000 (2019), produced with a screen size of 55, 65 inches, with the same screen size as in 2018. Screens are made by IPS technology with LED backlit screen. LG series 9 TVs are the most technologically advanced TVs using matrices made using IPS technology. According to the manufacturer, in the manufacture of the screen materials were used in excess of small sizes, which makes it possible to transmit about 1 billion color shades. But in the model of the SM9000 TV, an 8-bit matrix is installed. The use of dithering technology (blinking backlight) allows you to visually make more shades.
Differences between LG SM9000 vs SK9000 TVs
SM9000 slim Direct, SK9000 Direct LED backlight technology. Differences only LED production technology and for the buyer there is no difference. Manufacturers come up with various new names for the best sales of new TVs. The embodiment of marketing ideas.
Processor – announced in the SM9000 TV, the second-generation a7 processor, but the difference between the a7 Gen 2 Intelligent Processor and the a7 Intelligent Processor is unknown.
Alexa support added to SM9000 TV.
The operating system in 2019 Web OS 4.5 updates only affected Alexa support.
Bluetooth – new version 5.0
Remote control, most likely also change. Every year a new remote control like Magic Remote Control comes out. Every year in new TV models, the new remote control is not compatible with previous versions of TVs.
HDMI on the SM Series TVs HDMI ports of the HDMI 2.1 standard In the new standard, you can transfer video at a frequency of up to 240 frames per second, the new standard of the reverse audio channel EARC supports DTS and Dolby audio.
In 2019, the 9000 series did not change much, if you do not use Alexa and the capabilities of the HDMI 2.1 ports, then the SK9000 is the same as the SM9000. Who plans to buy a new TV, the beginning of 2019 is the best time to buy a 2018 SK9000 TV. You buy a good TV is much cheaper than the new TV in 2019 SM9000.
LG Premium series SM9000 vs SK9000
| | LG SM9000 (2019) | differences | LG SK9000 (2018) |
| --- | --- | --- | --- |
| | | | |
| screen | | | |
| Screen Size inch | 55, 65 | | 55, 65 |
| Screen Size real | 54.6", 64.5" | | 54.6", 64.5" |
| Style | Flat Panel | | Flat Panel |
| Resolution | 3,840 x 2,160 | | 3,840 x 2,160 |
| screen bit | 10bit (8bit+FRC) | | 10bit (8bit+FRC) |
| type screnn | IPS | | IPS |
| screen technology | LED | | LED |
| Backlighting | Slim Direct | ✅ | Direct LED |
| Dimming Technology | Full Array Local Dimming | | Full Array Local Dimming |
| Video | | | |
| refresh rate | 120 | | 120 |
| TruMotion | 240 | | 240 |
| Color | Intense Color, Billion Rich Colors, Advanced Color Enhancer, True Color Accuracy Pro | | Intense Color Billion Rich Colors, Advanced Color Enhancer, True Color Accuracy Pro |
| Contrast | Object Depth Enhancer, Ultra Luminance Pro | | Object Depth Enhancer, Ultra Luminance Pro |
| Clarity | Quad Step Noise Reduction, Frequency Based Sharpness Enhancer | | Quad Step Noise Reduction, Frequency Based Sharpness Enhancer |
| Recolution Upscaler | 4K Upscaler | | 4K Upscaler |
| HDR (High-Dynamic Range) | 4K Cinema HDR (Dolby Vision, HDR10, HLG), HDR Dynamic Tone Mapping Pro | | 4K Cinema HDR (Dolby Vision, HDR10, HLG), HDR Dynamic Tone Mapping Pro |
| Picture Processor | a7 Gen 2 Intelligent Processor | ✅❗ | a7 Intelligent Processor |
| AI TV | | | |
| LG ThinQ AI | Yes | | Yes |
| Google Assistant | Yes | | Yes |
| Alexa | Yes | ✅❗ | No |
| Google Home Compatible | devise sold separately | ✅❗ | No |
| Amazon Alexa Compatible | devise sold separately | ✅❗ | No |
| Intelligent Voice Recognition | Yes | | Yes |
| SMART TV | | | |
| OS | Web OS 4.5 | ✅❗ | Web OS 4.0 |
| Remote control | Magic Remote Control | ✅ | Magic Remote Control |
| LG Content Store | Yes | | Yes |
| Web Browser | Yes | | Yes |
| Audio | | | |
| Dolby | Yes | | Yes |
| DTS | Yes | | Yes |
| Sound Output | 40W (20W Woofer) | | 40W (20W Woofer) |
| Woofer | Yes | | Yes |
| Speaker Type | 2.2CH | | 2.2CH |
| Bluetooth Audio Playback | Yes | | Yes |
| LG Sound Sync | Yes | | Yes |
| Game Mode | Yes | | Yes |
| CONNECTIVITY | | | |
| Wi-Fi | Yes | | Yes |
| Bluetooth | Yes Version 5.0 | ✅❗ | Yes Version 4.2 |
| IP Control | Yes | | Yes |
| HDMI-CEC (Simplink) | Yes | | Yes |
| Smart Phone Connectivity | Yes | | Yes |
| HDMI | 4 (version 2.1) | ✅❗ | 4 (version 2.0) |
| Audio Return Channel Support (ARC) | Yes | | Yes |
| USB | 3 | | 3 |
| Ethernet | Yes | | Yes |
| RF In (Terrestrial/Cable) | Yes | | Yes |
| RF In (Satellite Input) | Yes | | Yes |
| Digital Audio Out (Optical) | Yes | | Yes |
| Digital Broadcasting US | ATSC/ClearQAM | | ATSC/ClearQAM |
| Digital Broadcasting Europe | DVB T/T2/C/S/S2 | | DVB T/T2/C/S/S2 |
| Analog Tuner | Yes | | Yes |