LG TV UM7300 tech spec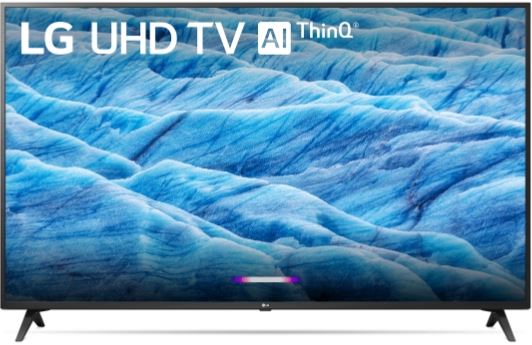 New TVs in 2019, while not all are represented, but some of the TV models are presented, and you can find out the technical specifications.
Since the beginning of the year, the first release of new TVs, LG starts for the United States, Canada, Mexico. The plant in Mexico is the first to receive the necessary components and begins to assemble TVs.
For 2019, LG is scheduled to manufacture the following TV models. This is a list of TVs assembled on the same chassis (TV main board). This category includes the entry level TVs of the 8 series model UM8070, all TVs of the 7 series and TVs of the 6 series model UM6900.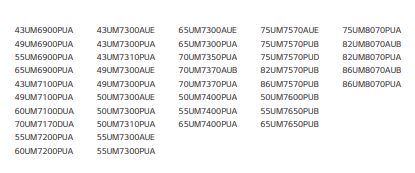 LG TV UM7300 technical specifications
Mid-level TVs (budget series) screens with support for a maximum image frequency of 60 frames per second, manufactured using IPS technology. Smart TV support; ability to install applications Netflix, Amazon, etc.
LG TV model UM7300 (2019) vs UK7700 (2018)
Color depth – an 8-bit matrix is ​​installed on the UM7300 TV, perhaps there is a flickering FRC screen backlight. But LG does not state the color depth of 10 bits. This is normal because when using FRC, the color depth is greater than 8 bits but not 10 bits. The value of 10bit (8bit + FRC) is conditional.
Backlight type – in the UM7300, the backlight type is Direct (the LEDs placed across the entire screen area in the UK7700 were Edge. Direct is certainly better, but for some reason they forgot to mention the type of local dimming in the description of the UM7300. But on TVs of the 7th series, this technology is applied by default. Perhaps this made specifically for the big differences between TVs.
OS – New OS, Bluetooth Version 5.0, Alexa support added.
HDMI – Reduced the number of HDMI ports in the UM7300, now there are only three.
Technical specifications LG TV UM7300 vs UK7700
LG 65UM7300 VS UK7700 2019
| | LG UM7300 (2019) | LG UM7370 (2019) | differences | LG UK7700 (2018) |
| --- | --- | --- | --- | --- |
| screen | | | | |
| Screen Size inch | 43,49, 50,55,65 | 70 | | 55, 65 |
| Screen Size real | 43.5",48.5",49.5", 54.5", 64.5" | 69.5" | | 54.5"64.5" |
| Style | Flat Panel | Flat Panel | | Flat Panel |
| Resolution | 3,840 x 2,160 | 3,840 x 2,160 | | 3,840 x 2,160 |
| screen bit | 10bit (8bit+FRC) | 10bit (8bit+FRC) | | 10bit (8bit+FRC) |
| type screnn | IPS | IPS | | IPS |
| screen technology | LED | LED | | LED |
| Backlighting | Direct | Direct | ✅❗ | Edge |
| Dimming Technology | no | no | | no |
| Video | | | | |
| refresh rate | 60 | 60 | | 60 |
| TruMotion | 120 | 120 | | 120 |
| Color | Advanced Color Enhancer, True Color Accuracy | Advanced Color Enhancer, True Color Accuracy | ✅❗ | Billion Rich Colors, True Color Accuracy |
| Contrast | no | no | ✅❗ | Active Depth Enhancer, Ultra Luminance |
| Clarity | Noise Reduction | Noise Reduction | | Noise Reduction |
| Recolution Upscaler | 4K Upscaler | 4K Upscaler | | 4K Upscaler |
| HDR (High-Dynamic Range) | 4K Cinema HDR (Dolby Vision, HDR10, HLG), HDR Dynamic Tone Mapping Pro | 4K Cinema HDR (Dolby Vision, HDR10, HLG), HDR Dynamic Tone Mapping Pro | ✅ | HDR10, HLG |
| Picture Processor | Quad Core Processor | Quad Core Processor | | Quad Core Processor |
| AI TV | | | | |
| LG ThinQ AI | Yes | Yes | | Yes |
| Google Assistant | Yes | Yes | | Yes |
| Alexa | Yes | Yes | ✅❗ | No |
| Google Home Compatible | devise sold separately | devise sold separately | ✅❗ | No |
| Amazon Alexa Compatible | devise sold separately | devise sold separately | ✅❗ | No |
| Intelligent Voice Recognition | Yes | Yes | | Yes |
| SMART TV | | | | |
| OS | Web OS 4.5 | Web OS 4.5 | ✅❗ | Web OS 4.0 |
| Remote control | Magic Remote Control | Magic Remote Control | | Magic Remote Control |
| LG Content Store | Yes | Yes | | Yes |
| Web Browser | Yes | Yes | | Yes |
| Audio | | | | |
| Dolby | No | No | | No |
| DTS | Yes | Yes | | Yes |
| Sound Output | 20W | 20W | | 20W |
| Woofer | No | No | | No |
| Speaker Type | 2.0CH | 2.0CH | | 2.0CH |
| Bluetooth Audio Playback | Yes | Yes | | Yes |
| LG Sound Sync | Yes | Yes | | Yes |
| Game Mode | Yes | Yes | | Yes |
| CONNECTIVITY | | | | |
| Wi-Fi | Yes | Yes | | Yes |
| Bluetooth | Yes Version 5.0 | Yes Version 5.0 | ✅❗ | Yes Version 4.2 |
| IP Control | Yes | Yes | | Yes |
| HDMI-CEC (Simplink) | Yes | Yes | | Yes |
| Smart Phone Connectivity | Yes | Yes | | Yes |
| HDMI | 3 | 3 | ✅❗ | 4 |
| Audio Return Channel Support (ARC) | Yes | Yes | | Yes |
| USB | 2 | 2 | | 2 |
| Ethernet | Yes | Yes | | Yes |
| RF In (Terrestrial/Cable) | Yes | Yes | | Yes |
| RF In (Satellite Input) | Yes | Yes | | Yes |
| Digital Audio Out (Optical) | Yes | Yes | | Yes |
| Digital Broadcasting US | ATSC/ClearQAM | ATSC/ClearQAM | | ATSC/ClearQAM |
| Digital Broadcasting Europe | DVB T/T2/C/S/S2 | DVB T/T2/C/S/S3 | | DVB T/T2/C/S/S2 |
| Analog Tuner | Yes | Yes | | Yes |