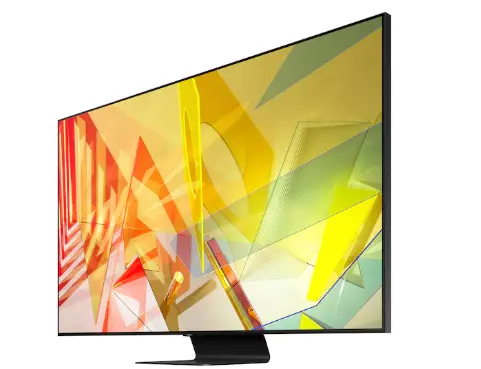 The line of QLED UHD TVs was positioned by Samsung as premium TVs. But in 2020, not all QLED TVs can be called premium TVs. Look at the table which shows the technical specifications of Q60T, Q70T, Q80T, Q90T TVs at the end of the article.
TV QLED Q60T vs Q70T vs Q80T vs Q90T review
2020 QLED TVs have the same layout. All TVs are assembled in one case, the power supply and control board along with the ports are located at the back of the screen. Samsung decided to abandon, at least in QLED 4K, the idea of ​​a separate OneConnect unit for the TV. The general tendencies of QLED TVs of 2020 are the reduction in the cost of production in TV models 6, 7 series, all the cheapest, 8 series of medium configuration, 9 series Q90T all the best.
Screens in QLED 4k 2020
In 2020, the Q60T, Q70T, Q80T series of TVs installed updated screens. They use a new type of backlight, a double LED (backlight consists of two types of bright white LEDs and warm white light), which improves the overall perception of the image. But the screens themselves use cheaper materials and technologies, so the screens have a color depth of only 8 bits, to increase the number of shades, dithering technology (backlight blinking) is used. Q60T and Q70T backlight side, Q80T and Q90T direct. The Q90T model is produced with screen matrices of the previous 2019 series with a color depth of 10 bits without dithering. Yes, and we note in the Q60T TV screen matrix only supports 60 frames per second.
Processors in QLED TVs
Processors of the Quantum series, but this is only advertising, these are ordinary processors, the widely advertised AI technology, in 2019, artificial intelligence in processors is a fiction. Processors in televisions do not have sufficient computing power to run analytics programs and perform analysis processes. And there are no such programs in the TV operating system. Therefore, in 2020, at least in the USA, in the description of TVs there is no mention of AI technology at all. All that remains is the AI ​​inscription on the processor.
Sound in TVs Q60T, Q70T, Q80T, Q90T
Since there is no way to offer consumers anything new in televisions, Samsung has worked on sound and software for televisions. The Q80T and Q90T incorporate new Object Tracking Sound, Q-Symphony technologies. These are technologies for creating surround sound, a number of speakers are added to TVs and they are placed on the side and on top of the TV and work is also implemented in tandem of the 2020 Q-series soundbars and TVs. But all these technologies work only with high-quality source sound in 5.1 and 7.1 format so that if you watch a TV show with stereo sound, the effect will be minimal.
Gaming features
For several years now, a new format for HDMI 2.1 has been approved. TVs, except for the model, Q60T now have one HDMI 2.1 format port and support new levels of synchronization of game video and Real Game Enhancer + TV. But in fact, these are standard technologies for HDMI 2.1, such as AMD FreeSync.
How to choose a TV Q60T, Q70T, Q80T, Q90T
If you decide to buy a TV, then it is definitely not recommended to buy a Q60T TV, this is the cheapest TV with a minimum set of features. The Q70T is a little better, but if you want a new sound quality, then buy the Q80T. Well, you get the maximum quality and support for all technologies by purchasing the Q90T.
Compare QLED 2020 TVs in the table
Samsung TV Q90T, Q80T, Q70T, Q60T Specifications Compare
| | Q90T | Q80T | Q70T | Q60T |
| --- | --- | --- | --- | --- |
| | | | | |
| screen | | | | |
| Screen Size | 55, 65, 75, 85 | 49, 55, 65, 75, 85 | 55, 65, 75, 85 | 43, 50, 55, 58, 65, 75, 85 |
| Style | Flat Panel | Flat Panel | Flat Panel | Flat Panel |
| Resolution | 3,840 x 2,160 | 3,840 x 2,160 | 3,840 x 2,160 | 3,840 x 2,160 |
| screen bit | 10bit | 10bit (8 bit+FRC) | 10bit (8 bit + FRC) | 10bit (8bit+FRC) |
| type screnn | Quantum Dot | Quantum Dot Dual LED | Quantum Dot | Quantum Dot |
| screen technology | VA | VA | VA | VA |
| Backlighting | Direct Full Array 16X | Direct Full Array 8x | Dual LED Edge LED | EDGE Led (Dual LED) |
| Dimming Technology | Ultimate UHD Dimming pro | Supreme UHD Dimming | Supreme UHD Dimming | Supreme UHD Dimming |
| Stand Type (Color) | Bending Plate (Titan Black) | TITAN BLACK | Slim Feet (Black) | Titan Gray |
| Bezel Width | Slim | 3 Bezel-less | Slim | Slim |
| Video | | | | |
| Motion Rate | 240 | 240 (49' 120) | 240 | 120 |
| refresh rate | 120 | 120 (49' 60) | 120 | 60 |
| Color | 100% Color Volume with Quantum Dot | 100% Color Volume with Quantum Dot | 100% Color Volume with Quantum Dot | 100% Color Volume with Quantum Dot |
| HDR (High-Dynamic Range) | Quantum HDR 16x | Quantum HDR 12X | Quantum HDR | Quantum HDR |
| Picture Engine | Quantum Processor 4K | Quantum Processor 4K | Quantum Processor 4K | Quantum Processor 4K Lite |
| Audio | | | | |
| Dolby | Yes | Yes | Yes | Yes |
| Sound Output | 60W | 60W (49' 40W) | 20W | 20W |
| Woofer | Yes | Yes | No | No |
| Speaker Type | 4.2.2 CH | 2.2.2 CH (49' 2.2. CH) | 2.0CH | 2.0CH |
| Object Tracking Sound | Yes | Yes | No | No |
| Q-Symphony | Yes | Yes | No | No |
| Active Voice Amplifier | Yes | Yes | Yes | Yes |
| Multiroom Link | Yes | Yes | Yes | Yes |
| Features | | | | |
| OS | Tizen 5.5 | Tizen 5.5 | Tizen 5.5 | Tizen 5.5 |
| Wi-Fi | Yes WiFi 5 | Yes WiFi 5 | Yes WiFi 5 | Yes WiFi 5 |
| Bluetooth | Yes (ver.4.2) | Yes (ver.4.2) | Yes (ver.4.2) | Yes (ver.4.2) |
| Smart Hub | Yes (incl. Sports, Music and TV Plus) | Yes (incl. Sports, Music and TV Plus) | Yes (incl. Sports, Music and TV Plus) | Yes (incl. Universal Guide and TV Plus) |
| Bixby | Yes | Yes | Yes | Yes |
| Digital Clean View | Yes | Yes | Yes | Yes |
| Ultra Black | No | No | No | No |
| ConnectShare | Yes | Yes | Yes | Yes |
| Closed Captioning | Yes | Yes | Yes | Yes |
| Game Mode | Yes (Real Game Enhancer+) | Yes (Real Game Enhancer+) | Yes (Real Game Enhancer+) | Yes |
| Eco Sensor | Yes | Yes | Yes | Yes |
| Mobile to TV - Mirroring, DLNA | Yes | Yes | Yes | Yes |
| Google Assistant | Yes | Yes | Yes | Yes |
| Alexa | Yes | Yes | Yes | Yes |
| Auto Channel Search | Yes | Yes | Yes | Yes |
| InstaPort S (HDMI Quick Switch) | Yes | Yes | Yes | Yes |
| Channel Guide | Yes | Yes | Yes | Yes |
| Ambient Mode | Yes | Yes | Yes | Yes |
| Auto Power Off | Yes | Yes | Yes | Yes |
| AI Technology | ? | ? | ? | ? |
| Apps Platform | Smart TV with Bixby Voice, Apps and Full Web Browser | Smart TV with Bixby Voice, Apps and Full Web Browser | Smart TV with Bixby Voice, Apps and Full Web Browser | Smart TV with Bixby Voice, Apps and Full Web Browser |
| Auto Motion Plus | Yes | Yes | Yes | Yes |
| Embedded POP | Yes | Yes | Yes | Yes |
| Anynet+ (HDMI-CEC) | Yes | Yes | Yes | Yes |
| V-Chip | Yes only US | Yes only US | Yes only US | Yes only US |
| TV to Mobile - Mirroring | Yes | Yes | Yes | Yes |
| USB HID Support | Yes | Yes | Yes | Yes |
| AI Upscale | Yes | Yes | No | No |
| Easy Pairing | No | No | No | No |
| Inputs & Outputs | | | | |
| HDMI | 4 (3 ver.2.0, 1 ver 2.1) | 4 (3 ver.2.0, 1 ver 2.1) | 4 (3 ver.2.0, 1 ver 2.1) | 3 ver.2.0 |
| USB | 2 (ver.2.0) | 2 (ver.2.0) | 2 (ver.2.0) | 2 (ver.2.0) |
| Ethernet | Yes | Yes | Yes | Yes |
| RF In (Terrestrial/Cable | Yes | Yes | Yes | Yes |
| RF In (Satellite Input) | Yes Europe, No US | No US, Yes Europe | No US, Yes Europe | No US, Yes Europe |
| Digital Audio Out (Optical) | Yes | Yes | Yes | Yes |
| Audio Return Channel Support | Yes | Yes | Yes | Yes |
| eARC | Yes | Yes | Yes | Yes |
| One Connect | No | No | No | No |
| Samsung OneRemote | Yes | Yes | Yes | Yes |
| System | | | | |
| Digital Broadcasting | ATSC/ClearQAM US, DVB Europe | ATSC/ClearQAM US, DVB Europe | ATSC/ClearQAM US, DVB Europe | ATSC/ClearQAM US, DVB Europe |
| Analog Tuner | Yes | Yes | Yes | Yes |
| Accessories | | | | |
| Remote control | TM2050C | TM2050C | TM2050C | TM2050C |