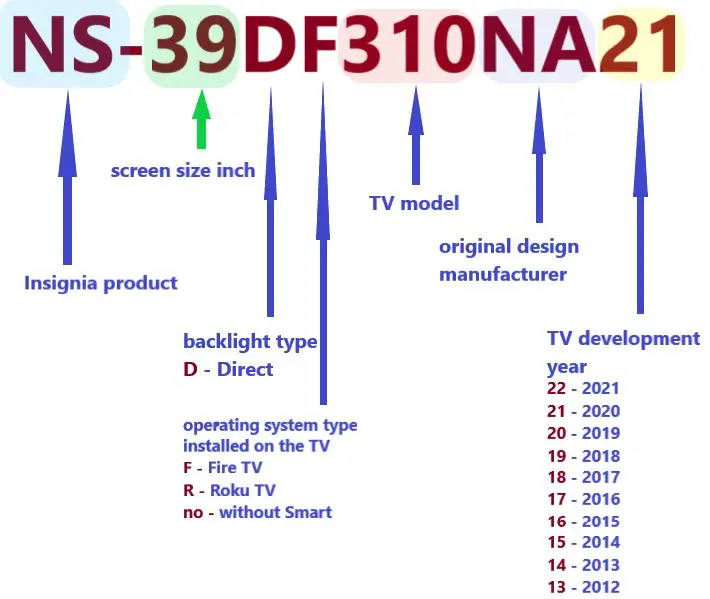 TV manufacturer Insignia assigns model numbers of TVs according to its own standard. But this allows you to somehow organize your TVs by model number. Although the televisions are manufactured by ODM manufacturers.
What information is included in the model number of Insignia brand TVs
Insignia TV Model Number is NS-39DF310NA21 and means the following
NS – Insignia products
39 – screen size in inches
D – type of screen backlighting, because direct backlit TVs have better characteristics. D -Direct
F – type of operating system, in fact, of course it is not quite so, the Android operating system, this is the basis, then the various manufacturers finish their own visualization shell and get the OS with its own name.

F – Fire TV, this is an operating system upgraded Amazon for its devices, but also Amazon licenses its shell for installation and in products of other manufacturers.
R – Roku TV, it is also a shell designed for the Roku TV streaming video service.
No is a TV without Smart operating system.

310 – TV model, the larger the model number, the more opportunities the TV has.
NA – original design manufacturer code, NA is Hisense. There may be other TV makers, although for the last three years, almost all Insignia TVs have produced Hisense.
21 – the year when the model of TV set started to be produced. It should be noted that in order to reduce the cost of TVs, the TV models are updated once in two years. And really successful models of TVs can be produced more than two years.

22 – 2021
21 – 2020
20 – 2019
19 – 2018
18 – 2017
17 – 2016
16 – 2015
15 – 2014
14 – 2013
Other designations of the model numbers of Insignia TVs
There are other model number designations for Insignia TVs, but they were previously used for TVs made by less well-known OMD manufacturers. Gradually Insignia gave up a great variety of models. This may have been done due to the complexity of the warranty even after warranty repair. Also, the buyer is more loyal to the manufacturers of TVs, whose model numbers can be at least some explanation and allows you to identify the TV by the date of manufacture.