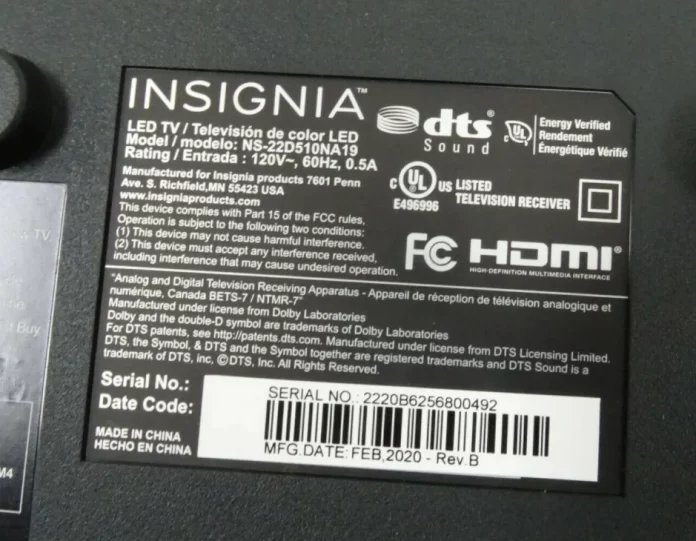 China's Hisense Corporation makes Insignia TVs with the Amazon Fire Smart TV operating system. Other Insignia models have been ordered from other Chinese manufacturers. But the leading supplier of Insignia TVs is Hisense. It's standard practice for a company to register a brand, usually a large trading company or a company that has decided to exploit it. An OEM manufacturer of TVs can produce a TV with any name; an order for TVs is placed with such a company.
Who owns the Insignia brand
Best Buy Co, Inc owns the Insignia brand. Under this brand, the company sells more than just televisions. The brand offers the following product categories: home appliances, computer accessories, digital cameras, phone accessories, and games.
Best Buy has registered its own brand and sells various products in its retail stores and on other platforms such as Amazon.
Insignia TVs are good or not, here's what you should know
Best Buy positions TVs as an inexpensive consumer brand; they are budget TVs with mediocre technical parameters, but they are reasonable. And they are designed for customers who want to buy a cheaper TV. So the TVs have modest screens with 8-bit color depth and a frame rate of 60 frames per second. In 2018, Best Buy signed an agreement with Amazon to use the Amazon Fire Smart TV operating system in its TVs. This allows Insignia TVs to integrate more deeply with Amazon services. Also, the Insignia brand of TVs, represented by Best Buy, has become an Amazon partner, and the TVs are sold through Amazon. I can't say that Insignia TVs are bad, they are in their class, but they are significantly inferior to new TV models from leading companies. I will say this if you want to buy a cheap TV, but one that you can watch videos on, you can buy an Insignia TV, but don't expect anything special.
Where Insignia TVs are made, Samsung components in Insignia TVs
Best Buy is a retail company that does not design TVs; the TVs are ordered under the Insignia label from OEMs and ODMs. There is a perception on the Internet that Insignia TVs are made from Samsung, LG, and Toshiba components of yesteryear. But that's not true; the policy of the leading manufacturers is that they only supply the screens. Electronics for LG and Samsung TVs are almost never supplied to third-party assemblers, except for premium brands, where premium TV components and circuit boards may be supplied. This is done to block the production of copy TVs. Speaking of Toshiba: Toshiba hasn't made televisions since 2015, has licensed the brand to Compal Electronics, Inc., and in 2018 Toshiba got rid of the video division entirely by selling its visual solutions division. That division was bought by the Chinese company Hisense. So Insignia TVs are Hisense TVs, but with the Insignia label.
So who makes the Insignia TVs? If we look at the sticker, all we see is a mention that the TV is made in China.
China's Hisense makes the Insignia TVs with Amazon Fire Smart TV. To understand Hisense, of the total number of TVs assembled, it sells about 50% of the TVs under its brand. The rest of the TVs are made under other brands, including Insignia.
Insignia TV warranty service
Best Buy, as a brand holder, provides warranty service for the televisions sold. Best Buy contracts with TV repair companies. There is also a one-stop call center that will take your request and direct the technician to you. The warranty repair policy is that for inexpensive TVs, in case of failure, replacing them with a new TV is cheaper than repairing it, as stated in the warranty document. More expensive TVs with larger screens are repairable, subject to the availability of spare parts.