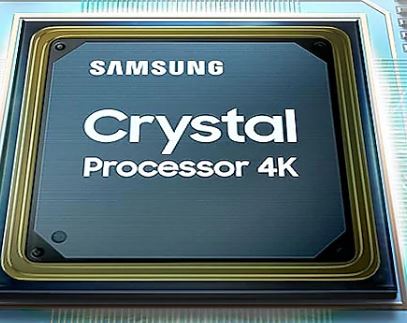 Samsung announced in 2020 that it will install Crystal Processor 4K processors in its Crystal TV series.
But the technical parameters of the processor cannot be found, and this is a trend among TV manufacturers. Television manufacturers mostly don't specify which ARM processor was taken as a basis. When you look online, you can only find the following Crystal Processor 4K specifications.
Samsung Crystal Processor 4K Specifications
Number of CPU cores 4 cores, 4K GPU. That's all, no more information about the processor can be found. But from user feedback you can roughly understand the level of the processor.
Crystal Processor 4K is the cheapest and low-power processor, its only task is to process video and display it on the screen. For this purpose, the main processor has a video processor that supports 4K resolution. The processor can do nothing more as it lacks computational power. Because of this the owners of TV sets note that programs for streaming services are loaded slowly, the TV set reacts to changes in settings for a long time.
What does Crystal Processor 4K mean?
Crystal Processor 4K is the commercial name of the processor, such processors are installed in budget models of Samsung TVs with the simplest screens. And they are installed in Crystal series TVs. But why is it impossible to make a more powerful processor. You can, but its price will be higher. The processor in the TV set has a layout all in one and most users are not ready to pay a lot of money for the TV. Although the processor is one of the most important parts of the TV, so is the screen.