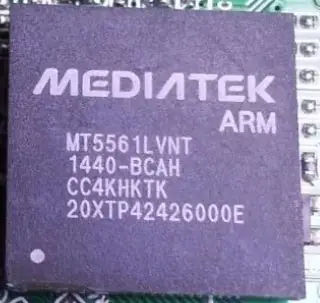 In modern conditions processors for TVs are made by the big companies specializing on development of processors, they deliver processors to manufacturers of the basic boards, and those in turn deliver boards to TV assemblers. The main processor manufacturers for TVs, the companies MediaTek, Novatek, Sigma, MStar.
What is the processor for television.
The processor is designed for specific tasks and represents everything in one. The processor manages the protocols of work and supports peripherals. For example, if the processor has to work with artificial intelligence programs, it means that the processor has to be able to work with multitasking processes, reserving some power for artificial intelligence programs, as implemented, at the program level or under AI there is a separate core, and there are certain algorithms of work, but it does not matter.
Also, a graphics chip supporting a certain resolution of Full HD, UHD or 8K screen is integrated into the TV processor, and this chip supports a certain screen refresh rate. If your TV supports 60 frames per second, not only is it a screen like this, the processor can also not produce more frames per second. The processor supports a certain number of HDMI ports, and the type of information protection protocol, such as HDCP 2.2, the processor is responsible for certain video and audio codecs and also supports HDR standards. If the TV works with voice assistants, it is also implemented in the processor.
Processor Range for TVs
Let's look at the MediaTek example of what processors are offered for TV producers.
S900 (MT9950) – processor for flagship 8K TV products
MT9613 – Premium UltraHD (4K) products, this processor supports voice control, artificial intelligence and an update rate of 120 frames per second.
MT9685, MT9602, MT5592, MT5582, MT5596, MT5597 – Main UltraHD (4K) mass processor products for 4K TVs, different generations and supported features.
MT5580, MT5561, MT5505, MT5398, MT5396 – Outdated processors, but still in production, this is a series of processors for Smart TV Full HD (2K).
MediaTek processors are installed in Samsung, Sony, Vizio and many other TVs.
Source: https://www.mediatek.com/products/entertainment/digital-tv