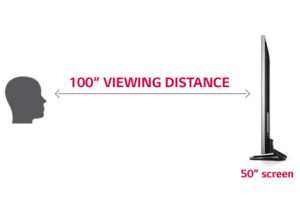 TV SIZE AND VIEWING DISTANCE
The easiest way to find out what size TV you need. This is to take the screen size and multiply by two. If you plan to buy a 50-inch TV, then the most comfortable distance for viewing is 100 inches.
What should be the distance to watch TV?
TV can be viewed from any distance, the correct choice of the diagonal of the TV and the distance from the screen depends on the comfort of watching TV.
TV programs are broadcast in the following formats: analog SECAM, PAL and digital formats.
What are the video formats
Of course, lately TVs have become more perfect and more or less normally transform the original image, for example, SD format into a screen format, such as UHD. And the Full HD format is generally converted to UHD format without any problems.
analog format (obsolete broadcasting in this format in some countries discontinued)
SD digital format
digital HD

digital format Full HD and UHD, 8K

The quality of the television signal depends on the distance at which comfortably watch TV.
TV Size to Distance and viewing
 
TV screen size
inches
Recommended viewing distance image HD, Full HD, UHD
Recommended distance
SD image viewer
Recommended distance
viewanalog image
ft
m
ft
 m
ft
m
26
3.28-5.57
1,0-1,7
3.28-8.2
1,0-2,5
3.28-10.17
1,0-3,1
32
3.94-6.56
1,2-2,0
3.94-9.84
1,2-3,0
3.94-13.12
1,2-4,0
37
4.59-7,87
1,4-2,4
4.26-13.12
1,3-4,0
4.26-15.09
1,3-4,6
40
4.92-8.2
1,5-2,5
4.92-14.76
1,5-4,5
4.92-16.4
1,0-5,0
42
5.24-8.85
1,6-2,7
5.24-15.41
1,6-4,7
5.24-17.38
1,6-5,3
46
5.57-9.51
1,7-2,9
5.9-16.4
1,8-5,0
5.9-19.02
1,8-5,8
50
6.23-10.5
1,9-3,2
6.23-18.04
1,9-5,5
6.23-21.32
1,9-6,5
52
6.56-10.82
2,0-3,3
6.23-18.7
1,9-5,7
6.23-21.98
1,9-6,7
55
6.88-11.48
2,1-3,5
6.88-19.68
2,1-6,0
6.88-22.96
2,1-7,0
58
7.21-12.4
2,2-3,7
7.55-21.32
2,3-6,5
7.55-24.6
2,3-7,5
65
8.2-13.45
2,5-4,1
8.53-22.96
2,6-7,0
8.53-26.9
2,6-8,2
70
8.86-14.76
2,7-4,5
9.84-24.6
3,0-7,5
9.84-29.52
3,0-9,0
The table shows the recommended viewing distance, which roughly can be used when choosing the diagonal TV.
Technologies allow the creation of the leading manufacturers of TVs with a diagonal of more than one meter and with a resolution of Full HD, that was not available before. The development of TVs do not have time to carry out a conversion of the company producing television and rebroadcast TV signal. And users come to look at the modern TV as an analog signal and digital, and TV with Full HD resolution has not originally intended for viewing analog signals and the SD as well. Large screens are good for watching HD movies and TV or the bigger the screen the more colorful and realistic film.
So if buy more TV, then obviously we know that it is not comfortable to watch TV analog formats and SD (SD even though more or less depending on the quality of the original signal) to SD also show and DVD players.
The requirements for comfortable video viewing are quite simple and can be formulated as follows.
The better the image, the less distance to view. Even with a small distance, watching TV will be comfortable. But here you have to choose, if you watch TV from a short distance, even UHD format, then with a very large screen, only part of the screen will fall into the field of view.