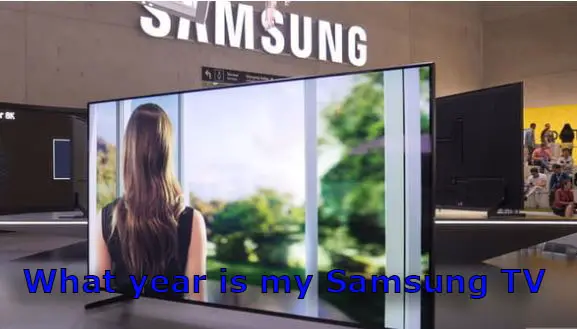 How do i tell what year my Samsung TV is
We live in a dynamic world, technology is developing rapidly. Electronics, including televisions, become outdated rather quickly. Your old TV works, but does not support some streaming services. If you go to the streaming video provider's website, you'll see information about supported TV models. As an example, our service is supported by Samsung TVs from 2016. Or the second example, our service is supported by TVs with the Tizen 3.0 operating system or higher. But it's hard to know what operating system your TV has and what year it is.
You can read a detailed description of how to determine the TV specifications by model number in the article Samsung TV models number 2002-2021 lookup, decode explained LED, QLED, LifeStyle.
How to determine the year of manufacture of my Samsung TV
In this article I want to tell you how to quickly determine the year of manufacture of your Samsung TV. You will be able to find out how old your Samsung TV. In the table at the end of the article you can find the model of your TV and find out what year this model of TV began to be produced.
How to know what operating system in your Samsung TV
Also the table besides the year of development of the TV, you can find out what operating system is installed in the TV. Since 2013 Samsung started installing TIZEN OS in its TVs. Each year the TVs received a slightly revised operating system. If the changes were small, it was just an improved version. When big changes were made, the operating system was assigned a new version.
Tizen 6.0 – 2021
Tizen 5.5 – 2020
Tizen 5.0 – 2019
Tizen 4.0 – 2018
Tizen 3.0 – 2017
Tizen 2.4 – 2016
Tizen 2.3 – 2015
Samsung Legacy Platform – 2012-2014
Samsung Legacy Platform is a predecessor operating system to OC Tizen that Samsung used in TVs. Samsung Legacy Platform was built on elements of Tizen and is very similar, but the source code from 2015 has been refined and many features of this OS became incompatible with later OS versions.
Samsung TV models by year
Year
Model Group
Lineup (TV Model Name)
Platform
2021
PREMIUM1
QAQ9X, QAQ9D, QAQ95, QAQ90_NS, QAQ90, QAQ8D, QAQ85_NS, QAQ85D, QAQ85, QAQ80_NS, QAQ80, QAQ7D, QAQ70_NS, QAQ70, LST5A, QAQ7A, LS03A_NS, LS03AP, LS03A, LS03APD, LS03AD
Tizen 6.0
PREMIUM2
QAQ900, QAQ850, QAQ800, QAQ700_P, MAWS1
PREMIUM3
QAQ700, QAQ700_S
STANDARD1
UAU9070, UAU9000, QAQ6D, QAQ60, UAU850D, UAU8000, LS05AL
BASIC1
QAQ6D_K, QAQ60_K, QAQ50_K, UAUE60A, UAU7500, UAU7000, UAUE70A, UAU850D_K, UAU8000_K, UAU7700, LSP3, BEA_HB
2020
PREMIUM
QTQ800, QTQ800_NS, QTQ850, QTQ900, QTQ950, QTQ950_NS, LSR9, LST7T, QTQ70, QTQ70_NS, QTQ72, QTQ7D, QTQ7X, QTQ80, QTQ80_NS, QTQ8D, QTQ8E, QTQ90, QTQ90_NS, QTQ95, QTQ95_NS, LS05T, LS03T, LS03T_NS, LS01T, LS01T_NS, MTWS1
Tizen 5.5
STANDARD
QTQ60, QTQ62, QTQ6D, QTQ6E, QTQ6X, UTU8500, UTU850D, UTU8510, UTU8570, UTU85A0, QTQ6AC, QTQ6SC, QTQ6XC, UTU8000, UTU800D, UTU8200, UTU8300, UTU8400
BASIC1
LS03TS, UTU7000, UTU700D, UTU7090
BASIC2
UT4310, UT4500, UT4700, UT5310, UT5500, UT5770, UT4300, UT4400, UT5300, UT430E, UT530E
2019
PREMIUM
QRQ900B, QRQ90, QRQ85_OC, QRQ80_OC, QRQ80, QRQ75S, QRQ75, QRQ70, QRQ6X, QRQ69, QRQ65A, QRQ60, LS03R, LS05R, LS01R, URU800D, URU8000, MLS07R
Tizen 5.0
STANDARD
QRQ50S, QRQ50, URU7800, URU7700, URU74A0, URU7470, URU7450, URU7410, URU740D, URU7400, URU730D, URU7300, URU710D, URU7100,URU7790,URU77FA
BASIC1
URU7000, URU6900, URUF58T, RUF58T
BASIC2
UR6000, UR5500, UR4500
2018
PREMIUM
QRQ900,QNQ9S, QNQ9F, QNQ8FB, QNQ8F, QNQ8C, QNQ7FH, QNQ7F, QNQ7C, QNQ75F, QNQ75C, QNQ6FK, QNQ6F, QNQ65FB, QNQ65F,UNU850D, UNU8500, UNU80A0, UNU800D, UNU8000,UNU76A0, UNU7500, UNU74A0, UNU7450, UNU7400,ULS03NU
Tizen 4.0
STANDARD1
UNU730D, UNU7300, UNU710D, UNU7103, UNU7100
STANDARD2
URU7000, UNU7120, UNU709D, UNU7090, UNU7080, UNU7050, UNU6950
STANDARD3
UN5510, UN5500, UN5350, UN5305, UN5300, UN5200, UN4510, UN4500, UN4350, UN4310, UN4300, BERTB, BERTA
2017
PREMIUM
QMS9Y, QMQ9FR, QMQ9F, QMQ8CR, QMQ8C, QMQ7FVRE, QMQ7FRE, QMQ7FR, QMQ7FDR, QMQ7FD, QMQ7F, QMQ7CRE, QMQ7CR, QMQ7CDR, QMQ7CD, QMQ7C, QMQ6FRE, UMQS9, UMU900R, UMU9000, UMU800R, UMU8000, UMU750R, UMU7500, UMU70AR, UMU70A0, UMU700R, UMU7000, UMU66A0, UMU6500, UMU64A0, UMU6470, UMU6400,  UMLS003, ULS003U, UMU66AR, UMU650R, UMU64AR, UMU640R, UMU6303, UMU6302, UMU6300, UMU6310,UMU6320,UMU6103, UMU6102, UMU6100, UMU6070, UMU6000,UMUF31E, UMUF30E
Tizen 3.0
STANDARD
UM6303, UM6302, UM6300, UM5603, UM5602, UM5600, UM5523, UM5522, UM5520, UM5513, UM5512, UM5510, UM5503, UM5502, UM5500, UM5300, UM4500, UM4300,TH39S,VF39S
17TV_ENTRY_CN1
UNU7000, UMU6100
Tizen 2.4
2016
PREMIUM
UKU9518, UKS9800, UKS9500, UKS9000, UKS8500, UKS8000, UKS7500, UKS7000, UKS6900,UKU66A0, UKU6510, UKU6500, UKU64A0, UKU6400
STANDARD1
UKUC30S, UKU6390, UKU630D, UKU6300, UKU6310, UKU6100, UKU6090, UKU6070, UKU6000, UKUF31E,UKUF30E
STANDARD2
VF39S, UK6300, UK6250, UK6200, UK5600, UK5520, UK5510, UK5500, UK5310, UK5300, UK4300,UKF21E, UKF20E
2015
PREMIUM
UJS9900, UJS9800, UJS9500, UJS9000,UJS9100
Tizen 2.3
STANDARD1
UJU5900,UJU5910,UJU5920,UJU8000, UJU7800, UJU7500, UJU7000, UJS8500, UJS8000,UJU6900, UJU6410, UJU6400, UJU6300, UJS6900,UJU6390, UJU6000,UJU6100, US9A, UJU6800, UJU6740, UJU6700, UJU6600, UJU6510, UJU6500, UJS8600, UJS6700,UJU7090
STANDARD2
UJ6400,UJS6000, UJ6330, UJ6300, UJ6240, UJ6200, UJ5520, UJ5510, UJ5500, UJ5300, TE390S
ENTRY
UK5200, UJ6203, UJ5373, UJ5370, UJ5303, UJ5300,UJ5290,  UJ5278, UJ5270, UJ5248, UJ5205, UJ5202, UJ5201, UJ5200, UJ5190,UJ4700,UJ4600, UJ4570, UJ4500, UJ4303, UJ4300,UJ4290,UJ4200, UH4501
Samsung Legacy Platform
2014
PREMIUM
US9WB, US9WAF, US9CAF, US9VF, US9BF,US9B, UHU9800, UHU9300B, UHU9300, UHU9000, UHU8500CV, 85S9GLF, UHU8800, UHU8700, UHU8550, UHU8500, UHU8200, UHU7500,UH8800, UH8000
STANDARD1
UH7100, UH7000, UH6900, UH6850, UH6800, UH6700, UH6600, UH6500, UH6400,UH6410,UH6350, UH6300, UH6200,UH6088,UJ5800, UH5600,UH5570, UH5510,UH5500, UH4570, UH4500
STANDARD2
UH7000, UH6700, UH6600, UH6510, UH6500
STANDARD3
UHU8800, UHU8700, UHU8550, UHU8500, UHU8200, UHU7800, UHU7500, UHU7250, UHU7200, UHU7100, UHU7000, UHU6950, UHU6900, UHU6830, UHU6000, UHU5900
ENTRY
UH6203, UH6103, UH5303, UH5203, UH5103, UH4500, UH4303, UH4250, UH4203, TD390S
2013
PREMIUM
UF8500, UF8200, UF8000, UF7500, UF7450, UF7400, UF7000, PF8500, KS9C, KF9500,US9, UF9000,US9V,US9VCN,US9CN
STANDARD
UF7200, UF7150, UF7120, UF7100, UF7050, UF6900, UF6800, UF6700, UF6600, UF6540, UF6510, UF6500, UF6470, UF6450, UF6420, UF6400, UF6370, UF6360, UF6350, UF6330, UF6320, UF6300, UF6203, UF6200, UF5700, UF5500, UF5400, UF5303, UF5300, PF5200,UF4500, UF4300,PF5500
2012
7Group
UES9500, UES9010, UES9000, UES8000, UES7500, UES7000, PE8000,UEA6950,PE7000
6Group
UE7200, UE7150, UE7100,UE6900, UE6820, UE6800, UE6760, UE6710, UE6700, UE6600, UE6580, UE6540, UE6530, UE6500, UE6400, UE6330, UE6320, UE6300, UE6200, UE6100, UE6150, UE5800, UE5700, UE5600, UE5500, UE5450, UE5400, UE5330, UE5300, UE4530, UE4500, PE7000, PE6500, PE570, PE550, PE540,UF6200, UF6088
6Group
TB750, TB550