Time passes, ports for connecting external devices to the TV are improved. So almost disappeared scart connector, because of the reduction in the thickness of the TV connectors become more miniature. Consider which devices can be connected to the TV.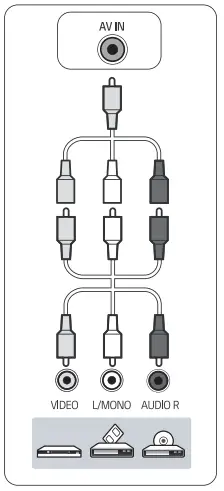 Port IN AV
IN AV– (Input) analog (legacy connector) to connect a VCR or DVD player that does not have a digital output (HDMI) to the TV. It's just a smaller connector like the headphones. Simply TVs have become thinner and the placement of obsolete connectors having large dimensions has become impossible.
OUT Optical digital audio port
OUT Optical digital audio – (Output) through this connector you can output sound to external speakers.

OUT Sync only port
OUT Sync only – A connector for synchronizing video and audio between different devices.
LAN Port
LAN – Connecting the TV to the Internet. Using an Internet connection, you can watch videos over the network. Or online cinema type Netflix

USB IN port
USB IN – Input for connecting various devices, phones, flash drives.

HDMI port on TV
HDMI – A connector for connecting to a TV set of a computer or a player, the information is transmitted in the figure. In some HDMI there is support for a reverse digital channel.

Port Antenna (cable)
Antenna (cable) – Connector for connecting an external antenna or cable television.